Wanderlust 2022 Instant Access is now available!

Please note: Wanderlust 2022 has now concluded, but you can join the self-paced version of the course right now and get full access to all of the lessons. 
OVER 50 hours of content with instant access!
To see the current course Wanderlust 2023 click here or click the button below to join W22 Instant Access and do the course at your own pace.

Do you want the most powerful tool to help you practice art regularly whilst learning all about supplies and techniques through step-by-step videos?
Do you want to finally unlock your full artistic potential?
Do you want your art practice to finally feel freeing and joyful, rather than limited and rigid?
Do you want to start using the supplies that you've collected but never used to their full potential?
Do you long for connection with people who share your desire for self-expression?
Do you want to get to grips with art supplies and start using them with joyful confidence?
Read on if you answered a big sparkly YES to any of these questions, because Wanderlust is for YOU!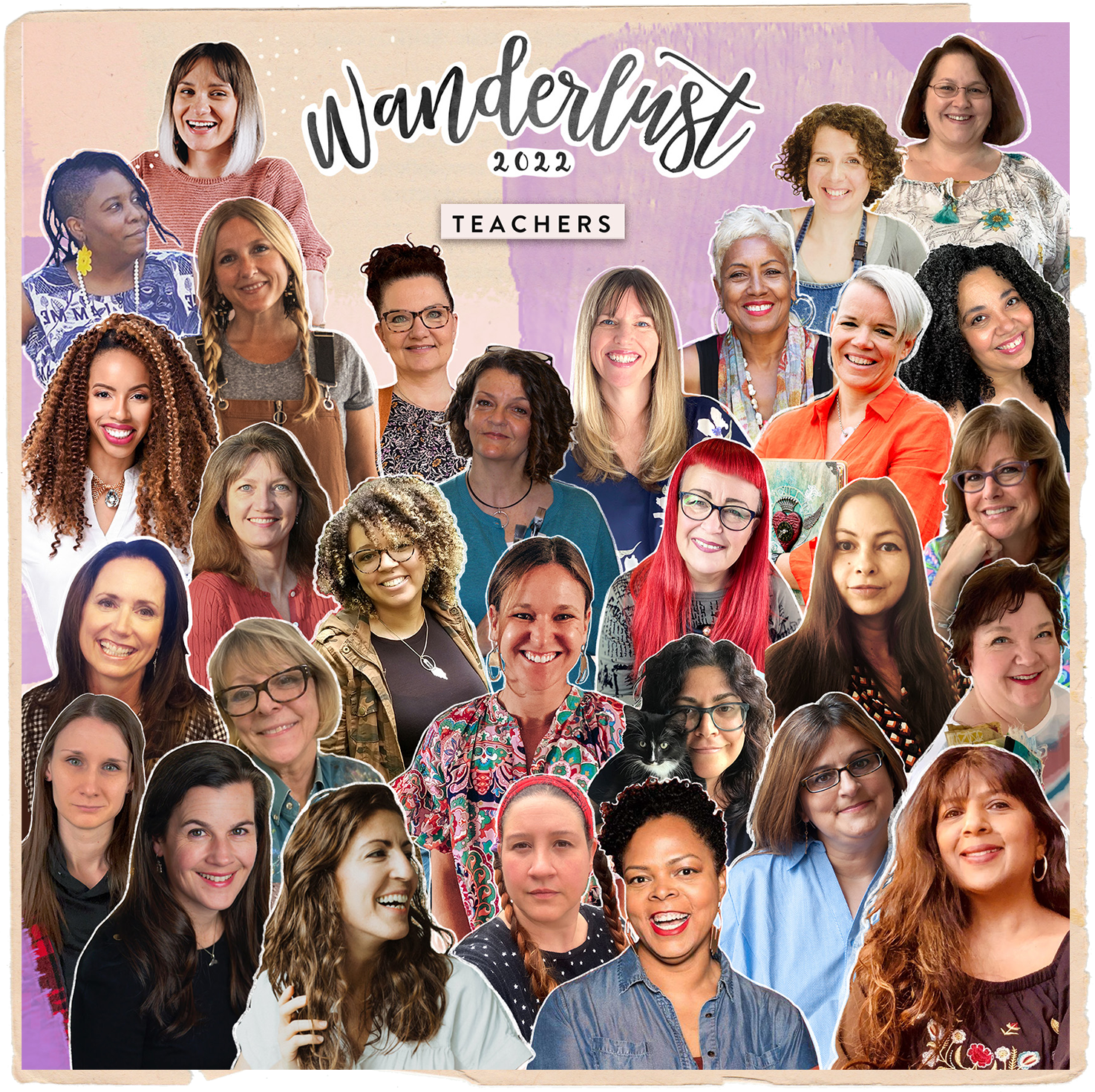 A year of learning and inspiration!
We bring together 28 inspiring Teachers, and we give you 57 high-quality video lessons, one for almost every week in 2022. Each lesson comes with a printable handout to help you through the process.
Wanderlust 2022 Teachers include Kasia Avery (the Host), Laly Mille (Guest Host), Carolyn Dube (Guest Host), Dyan Reaveley, Jeanne Oliver, Shay Michelle, Mary Beth Shaw, Melissa Fink, Kate Crane, Robyn McClendon and more!
Click the button below to see the full list of Teachers and to learn more about them.
Have you ever...
...followed a step-by-step tutorial and ended up with a result that was almost dot to dot your instructor's project? There are no feelings expressed, no story told, no experience shared. Just a process repeated. It leaves a bitter aftertaste.
On Wanderlust there's none of that. Step into the classroom and you'll see a different way of following lessons. We will introduce you to our signature teaching style that encourages expressing your own personality on EACH of the pieces that you make.
Our lessons are not about the teachers and products, they are about you and all the practical ways in which you can make every project a feast of self-expression. 
Above - artwork by our 2022 Teachers. These are examples, not actual projects from the course but you can expect the Teachers to do similar art in keeping with their style. From top left: Jerney Marisha, Alyssa Griese, Eulalia Mejia, Kasia Avery, Laly Mille, Kasia Avery, Jeanne Oliver, Sukari Phoenix, Nicole Warrington.
Learn more about our Teachers here.
Join Wanderlust 2022 and follow the weekly lessons with life-time access! Show up to discover numerous techniques, products and approaches. Do the work with us and your art skills and confidence will go through the roof. Pinky promise!
Each week there will be a new project and a new idea to try out. With our Teachers' expert guidance you'll be lead through every step to create your unique and personal piece of art.
There's something special about Wanderlust 2022!
In 2022 we're introducing a new structure to our best-selling course.
We will be focusing on groups of Star Supplies and learning all about them. Proper in-depth knowledge with lots of tips and mini techniques, product comparisons and projects. 
There will be 7 groups of Star Supplies: 
Gesso and gel medium.
Modeling paste and image transfer.
Artist acrylics.
Craft acrylics.
Watercolours.
Inks.
Papers and fabrics.
We're also introducing Hero Techniques!
Each lesson will be built around one Hero Technique. Each Teacher chose a star technique for their lesson to provide a focus and a structure to the course. This also ensures that the techniques won't repeat and that you're learning experience is balanced and more varied than ever.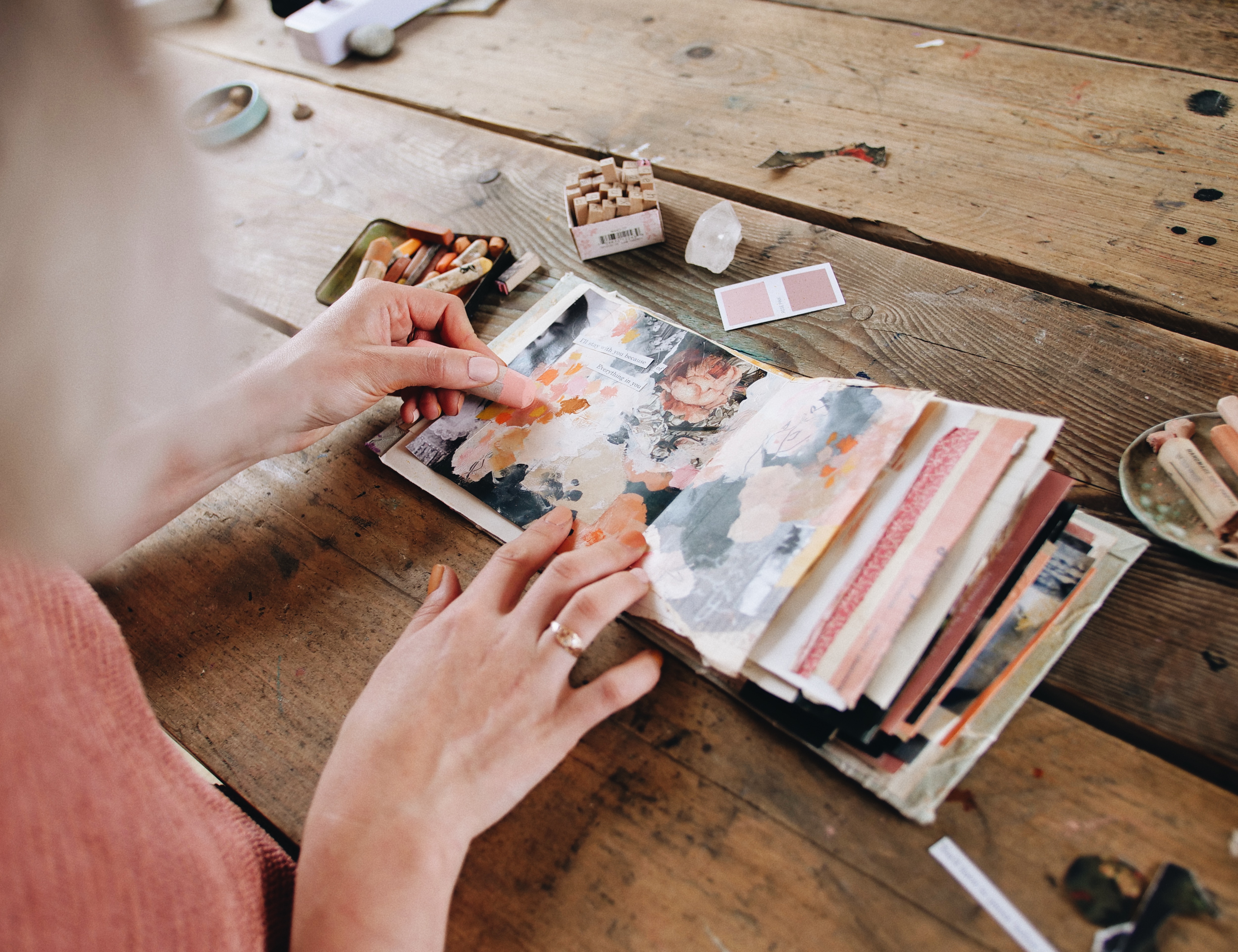 Discover art journaling!
We will introduce you to the most freeing form of art - art journaling using mixed-media techniques. All lessons will be based in a book (art journal) but they are easily translatable into a canvas, paper pad or a canvas board.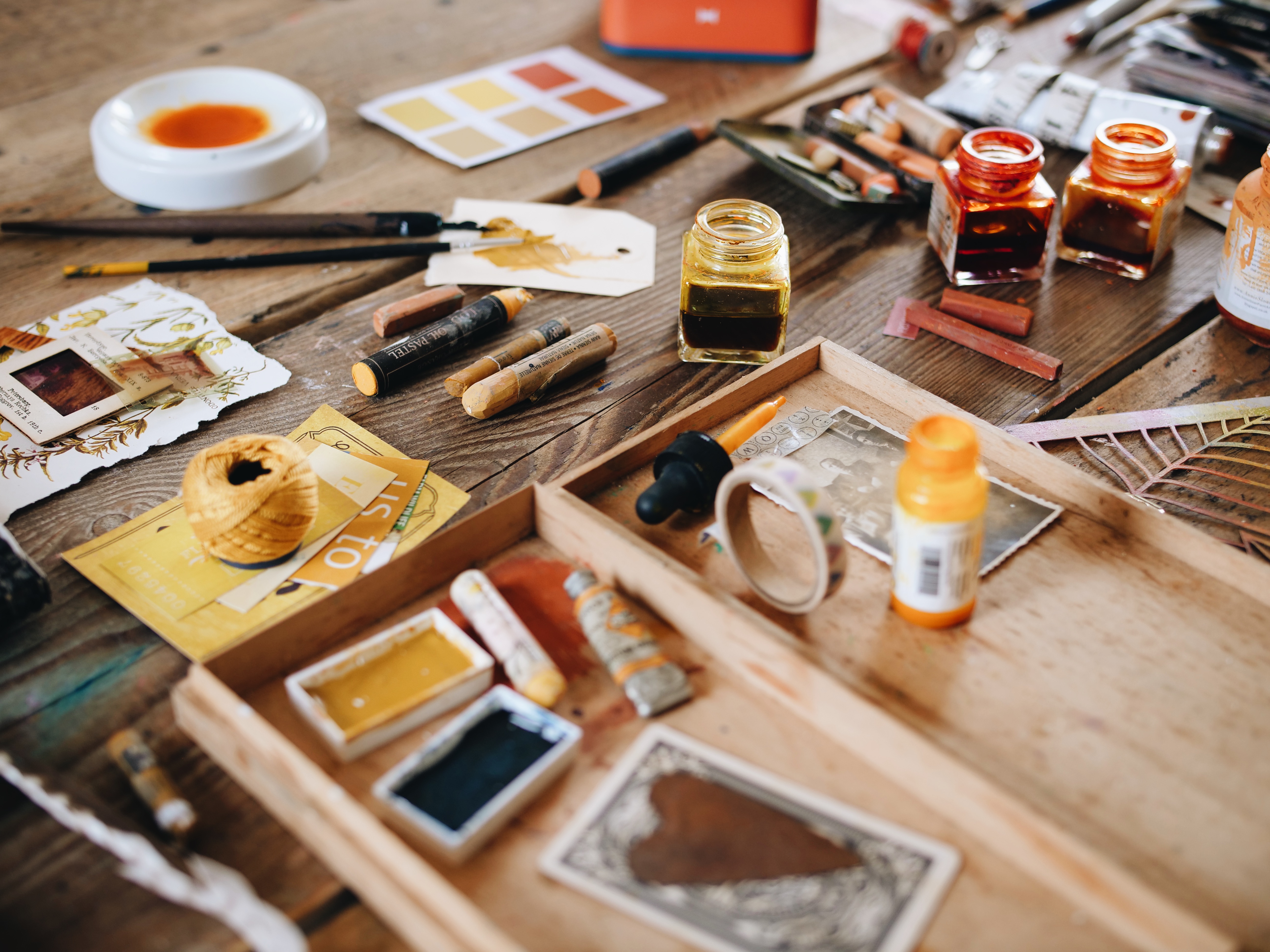 Learn about supplies!
We'll teach you all you need to know about the supplies. Wanderlust 2022 is for learners! There will be lots of knowledge presented in an easy to understand way and an immediate call to action through techniques and projects. You'll be learning while having fun.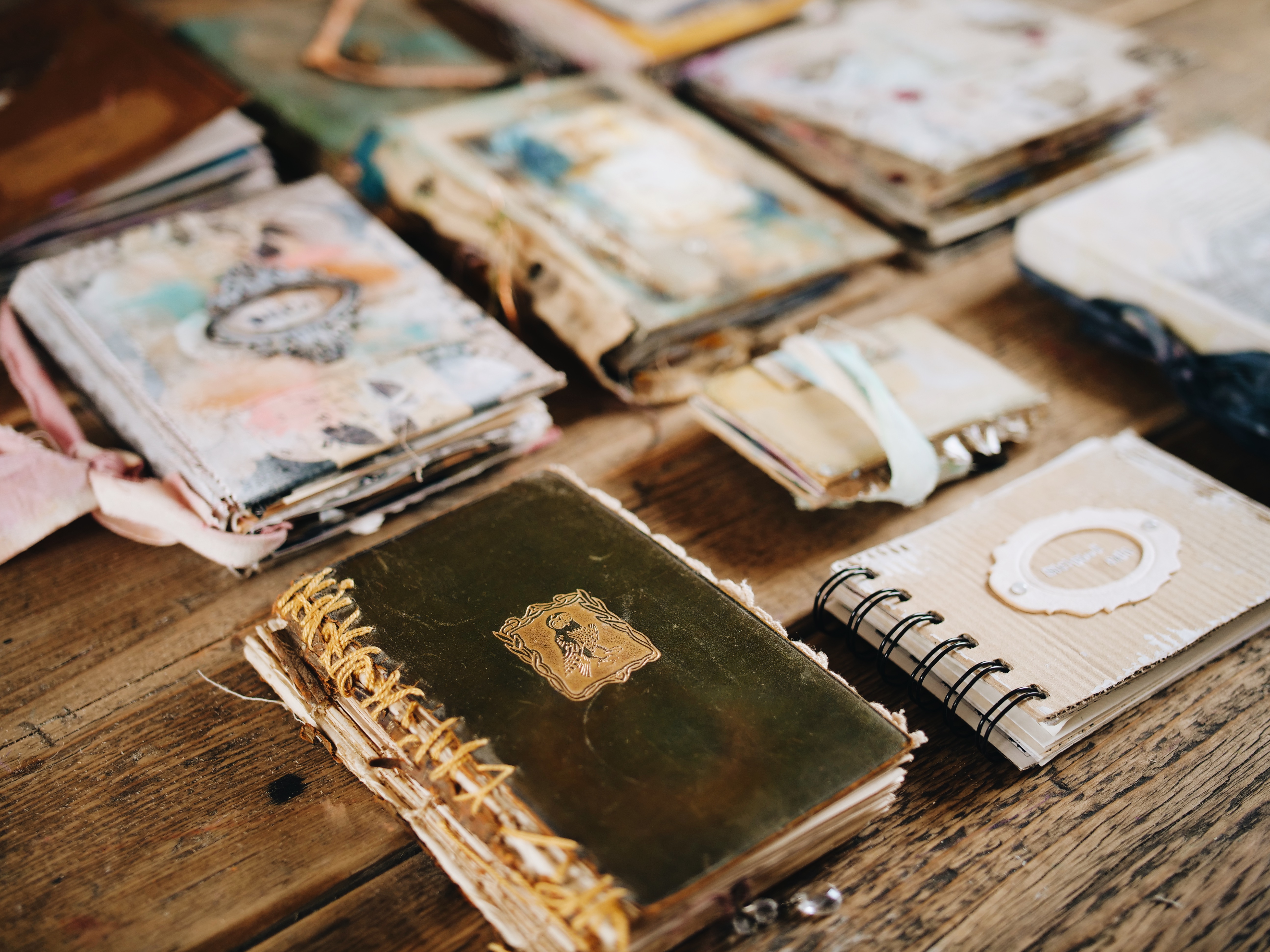 Fridays will be your favourite!
Join Wanderlust and you'll have our brilliant weekly lessons, new projects and a supportive community to look forward to. You'll be itching to go back to your desk and dive in deeper. And get a drink and snacks too, because you won't want to leave!
Wanderlust 2022 in a nutshell:
57 video lessons released weekly, on Fridays starting from the 7th of January 2022.
26 Guest Teachers (each teaching at least one lesson) + 3 hosts - Kasia Avery (12 videos), Carolyn Dube (5 videos), Laly Mille (5 videos)
incredibly easy to use platform and help whenever you need it from our tech man Jamie.
printable handouts and supply lists with every lesson
life-time access 
weekly encouraging emails
all materials are downloadable, including the videos
18 bonuses already waiting for you in the classroom
introductory pack already waiting for you in the classroom (including beginners guide to art journaling)
enrolments extended - now available to join until the end of January 2022
4500+ people already joined!
Above artwork by our 2022 Teachers. These are examples, not actual projects from the course but you can expect the Teachers to do similar art in keeping with their style. From top left: Melissa Fink, Tammy Garcia, Wendy Solganik, Birgit Koopsen, Christa Forrest, Misty Granade, Kristy Kensinger, Julie Valentine, Kate Crane. Learn more about the Teachers here.
Course Curriculum
Click the "preview" buttons to learn more and  get a taste of what it's like to be a Student of Wanderlust.

Joining Wanderlust = helping the environment.
This year we've partnered with (more:trees) and we will be planting a tree for everyone who joins our course.
This is an automated process and so as soon as you enrol in Wanderlust you'll get an email confirming that we've paid for planting a tree on your behalf. Somewhere in Madagascar, Kenya or Haiti there will be a tree growing thanks to your passion for art.
This will sequester an estimated 0.30 of carbon and is equivalent to 732.90 miles in a standard car.
F.A.Q.
When does this course start and finish?
The course starts on the 7th of January 2022, but if you sign up now there is already content available in the classroom. Simply scroll up to the Curriculum to see what's in there already.
How long do I have access to the course?
How does lifetime access sound? After enrolling, you have unlimited access to this course for as long as you like - across any and all devices you own. You can also download all of the videos, so you can watch them even when you are offline.
What is your refund policy?
We would never want you to be unhappy! If you are unsatisfied with your purchase, contact us in the first 30 days and we will give you a full refund.
What sort of art will I be learning on this course?
Wanderlust is about mixed-media art journaling. All lessons will be done in an art journal, but can be easily translated into a canvas, a paper pad or a board. There are no dimensional projects on Wanderlust, but we tackle lots of different styles, techniques and subjects.
Do I have to buy lots of supplies to do the course?
You will need to have some basics. Please find out more here.
Can I find out what each lesson during the year is going to be about?
Yes! Check out our printable schedule.
Are there any extra costs during the year?
Nope! This is a one-off payment and there are no extra costs that this course requires. You pay once and you get full access to all lessons released weekly.
Do you have a payment plan, can I pay in instalments?
At this moment we cannot offer instalments.
Can I use my smartphone to watch the lessons?
Yes! Our website and classrooms work very well on tablets and smartphones.
Are the lessons all new content from the teachers (never been offered on any other platform)?
Yes! It's all new and exclusive to Wanderlust. All of the lessons on Wanderlust are brand new, available only through Wanderlust and have been made for us. You won't find them anywhere else.
I've done Wanderlust last year. Is this a repeat?
No, Wanderlust never repeats. This year we are diving deeper into supplies exploring Star Supplies and Hero Techniques. Every year there are new teachers, new subjects, new lessons, new techniques.
Will there be any price reductions?
Yes! We will have a limited-time offer later this year. Please scroll up and put your email address in the form and click the purple button - we will then notify you when the offer is close.
Why is there tax added on top of the price?
As tax rates vary all over the world, adding tax on top of the price is the only way we can now continue to offer our classes on sale globally.
This has been further complicated by Brexit, and international clamp downs on online tax collection.
Sales tax is worked out and added to the cart if applicable on a country by country basis.
Is Wanderlust suitable for everyone? I'm struggling with mental health, will the course help me deal with those issues?
Please be aware that we'll have several lessons on Wanderlust 2022 which explore self-discovery questions. We will be working with expressing our feelings and emotions so if you're not comfortable doing it this course may not be for you. If you're struggling with mental health please seek professional help and if you decide to join the course use it as a tool to finding new passion.
Wanderlust 2022 is closed, but
Wanderlust 2023 enrolments are open at a lower price!
Click the button below to learn more...