We're so glad you're here!
You + Wanderlust might just be the perfect fit...
Do you want to

practice self-care

through joyful, expressive art?

Do you yearn to

expand your

knowledge

and learn about art techniques and supplies?

Do you crave an

outlet to express yourself

with zero-judgement?

Do you want to

connect with mixed-media teachers

and

engage with likeminded creatives

?

Do you want to cherrypick different techniques to

build your own personal style

and

create art that FEELS GOOD

?
Answered a big sparkly YES to any of these questions?
Read on because Wanderlust is for YOU!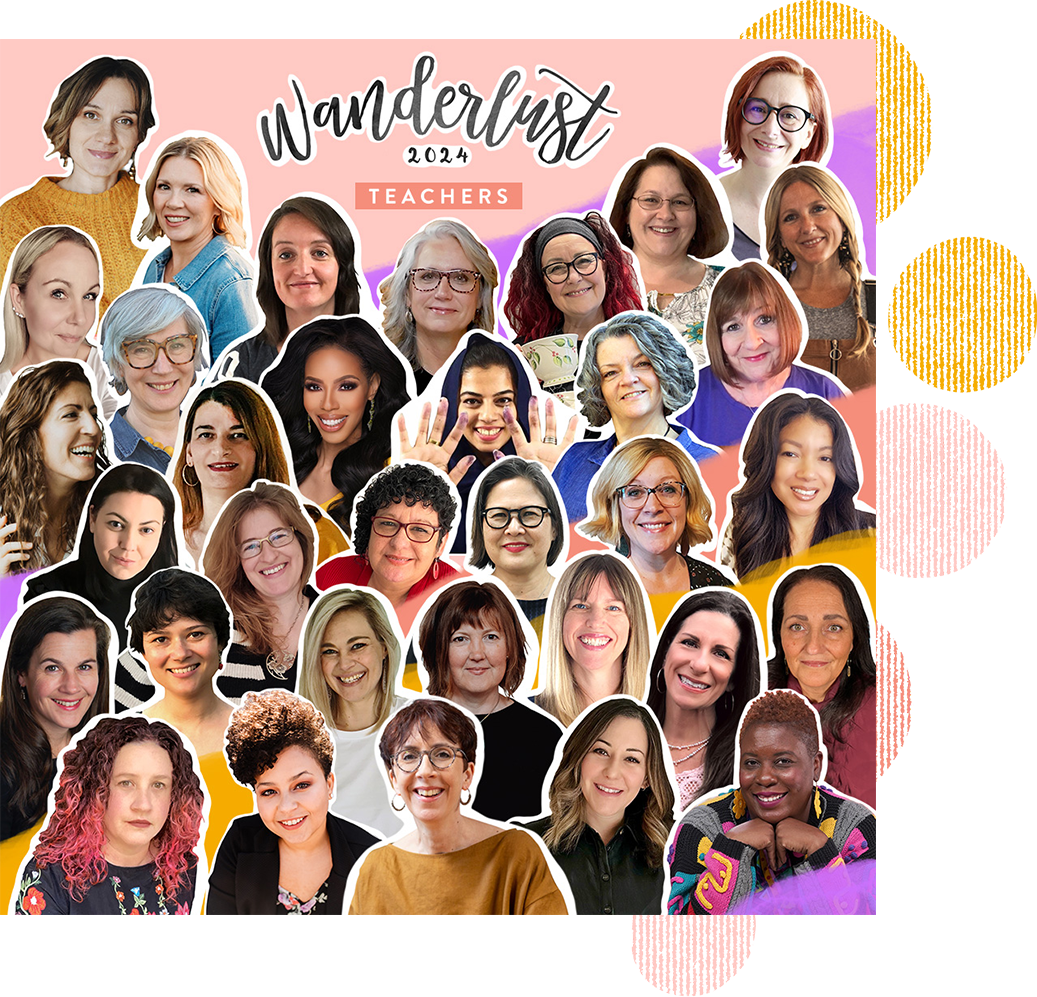 A year of learning and inspiration!

We've brought together 34 inspiring Teachers (well known faces AND new talent!) to give you 49 high-quality video lessons, one for almost every week in 2024. Each video has the option for English subtitles, and comes with a printable handout to help you through the process. All weekly lessons are fully downloadable AND with lifetime access.
Wanderlust 2024 Teachers include Kasia Avery (the Host), Francisca Nunes (Guest Host), Jeanne Oliver, Dyan Reaveley, Carolyn Dube, Kate Crane, Traci Bautista, Nicki Traikos + lots more!
Click the button below to see the full list of Teachers and to learn more about them.

Above - artwork by our 2024 Teachers. These are examples, not actual projects from the course but you can expect the Teachers to do similar art in keeping with their style. From top left: Guest Host Francisca Nunes, Arlyna Blanchard, Helen Colebrook, Claudette Hasenjager, Sarah Gardner & Nicole Warrington.

Seek JOY through art with us!
Self-expression, self-discovery & self-care, all wrapped up in one.

Joyful, zero-judgement, freeing art can be a real game changer. Join Wanderlust to fill your cup, make a best friend out of your art journal, and get busy creating art that expresses who you are, even if it's for your eyes only!

Even when (or especially when) you're experiencing a hard season of life, or a day that isn't going as planned, art journaling can be used as a cathartic and healthy escape from daily troubles. Your journal will become a mirror to help you express yourself and have a chance to listen to your inner voice. 

Let go of perfectionism - with Wanderlust, there's no right or wrong
There's only exploration and learning!
Have you ever experience it - a blank sheet of paper in front of you, art supplies are ready, you've carved out some time... but you just don't know what should be the first step, or how to create that 'perfect' piece of art that you are envisioning.
Wanderlust shows you how to get started and jump over the most common obstacles. Each week, there's a different springboard of inspiration from a teacher who's genuinely invested in your art journaling experience. We're here to take you by the hand and help you on this journey of self-discovery through laid-back art.

Read our Students' Wanderlust Stories to learn more about the powerful ways that art journaling with us can impact your life! 

Above - artwork by our 2024 Teachers. These are examples, not actual projects from the course but you can expect the Teachers to do similar art in keeping with their style. From top left: Tania Ahmed, Lisa Goddard, Emily McBride, Joanne Sharpe, Traci Bautista & Carolyn Dube. Learn more about our Teachers here.

Connect with your Teachers, fellow likeminded creatives, and the Everything Art team!


Join thousands of likeminded, supportive creatives in the Adventurers Circle, our dedicated student space. Ask questions of other students as well as teachers, share tips and tricks, build friendships and get inspired by others. The course has been joined by more than 23000 people so you'll be joining a BIG LOVING family!

YOU are at the heart of Wanderlust. Thanks to valuable student feedback over the years, we are continuously making improvements so that we can offer the most user-friendly, welcoming and inspiration-rich online artist community possible.

Uncover your personal art style
Want to create art that you feel genuinely excited by? You're in the right place!

Develop your personal style by trying a whole plethora of techniques with the Wanderlust teachers throughout the year, and then cherrypick the ones that you love. Your Wanderlust journal will become not only a confidante, but also a visual diary that you can flip through and take inspiration from. 

Above - artwork by our 2024 Teachers. These are examples, not actual projects from the course but you can expect the Teachers to do similar art in keeping with their style. From top left: Kasia Avery, Melissa Fink, Jeanne Oliver, Christine Karpiak, Eugénie Billotte & Jane Chipp.


Learn more about our Teachers here.


Join Wanderlust 2024 and follow the weekly lessons with life-time access! Show up to discover numerous techniques, products and approaches. Do the work with us and your art skills and confidence will go through the roof. Pinky promise!
Each week there will be a new project and a new idea to try out. With our Teachers' expert guidance you'll be led through every step to create your unique and personal piece of art.

Wanderlust 2024 is set to be magical!
In 2024 we'll be focusing on Star Themes and Hero Techniques throughout the year.
There will be 6 Star Themes: 
Brushes & Tools
Texture
Writing
Printmaking
Drawing
Alternatives
Every class focuses on a Hero Technique!
Each lesson will be built around one Hero Technique, that each Teacher has chosen for their lesson to provide a focus and a structure to the course. This also ensures that the techniques won't repeat and that your learning experience is balanced and each week brings something new to your repertoire!

Above - artwork by our 2024 Teachers. These are examples, not actual projects from the course but you can expect the Teachers to do similar art in keeping with their style. From top left: Nicki Traikos, Iris Fritschi-Cussens, Eulalia Mejia, Froyle Davies, Kate Crane & Sarah Matthews.

Learn more about our Teachers here.



Artful Musings

Now more than ever we need to take care of our wellbeing. And there's no better way to do it than through a gentle, joyful art practice.
Artful Musings will be returning in Wanderlust 2024, exploring inspiring and enriching themes like mindfulness and self-awareness through art, healing through creative practice, experiencing awe and wonder, honouring pivotal moments plus more.
Gain extra insight into artist processes, approaches and wholesome experiences through a series of curated videos from Claudette Hasenjager, Christine Karpiak, Jeanne Oliver and more!


Wanderlust 2024 in a nutshell:
49 video lessons released weekly, on Fridays starting from the 5th January 2024.
32 Guest Teachers (each teaching at least one lesson) + 2 hosts - Kasia Avery (7 videos), Francisca Nunes

(6 videos)

incredibly easy to use classroom and help whenever you need it from our team
access to the Adventurers Circle, our private, super suppportive student platform

printable 

handouts and supply lists 

with every lesson

life-time access 
weekly encouraging emails
weekly self-care challenge printables
all video lessons and handouts are downloadable
exciting bonuses already waiting for you in the classroom
 introductory pack already waiting for you in the classroom (including beginners guide to art journaling)


We are super passionate about offering maximum learning & inspiration for minimum cost. Enjoy all this for about the cost of a takeaway coffee a week!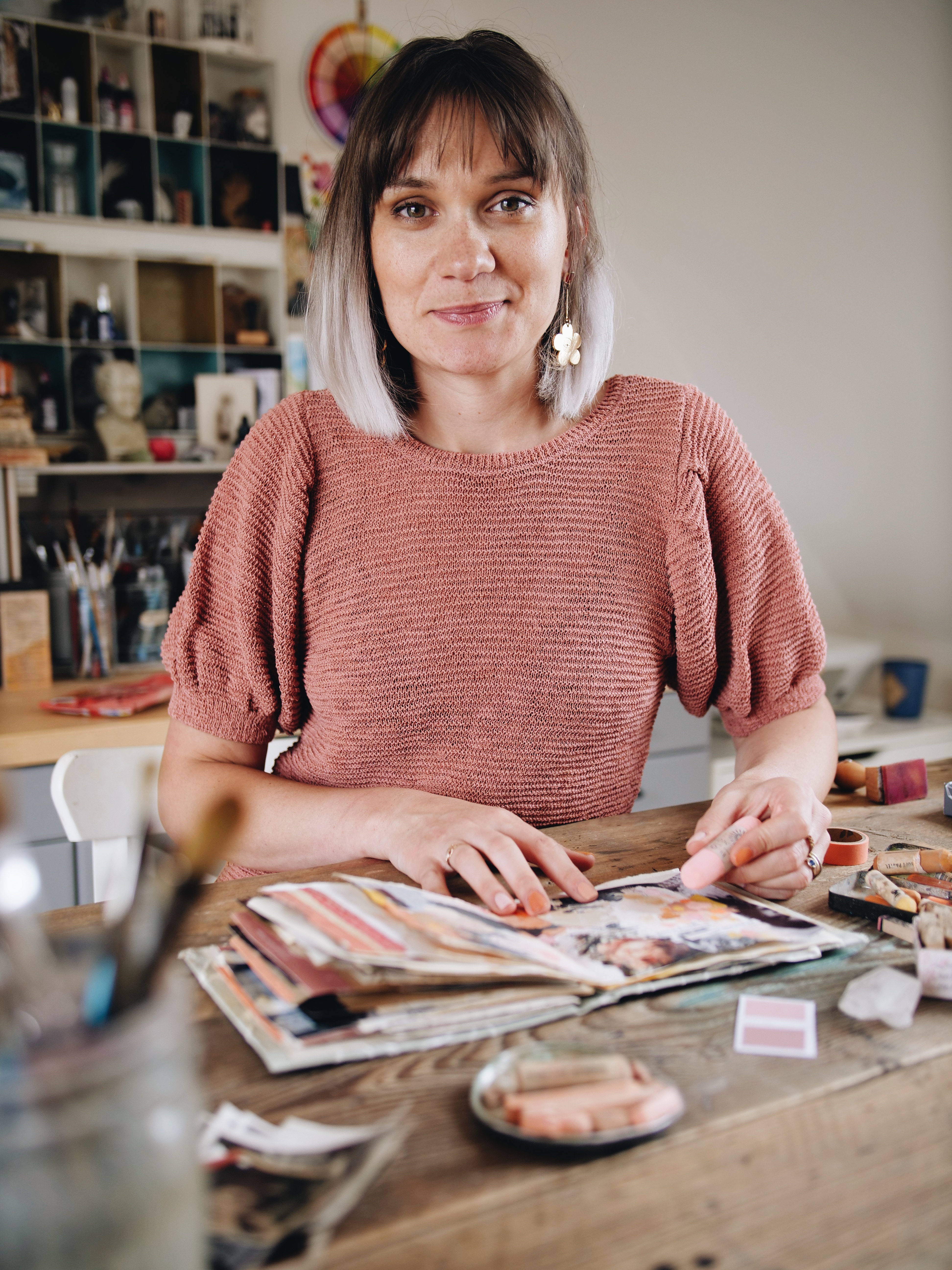 Discover art journaling!

Let Kasia and her Guest Teachers introduce you to the most freeing form of art - art journaling using mixed-media techniques. All lessons will be based in a book (art journal) but they are easily translatable into a canvas, paper pad or a canvas board.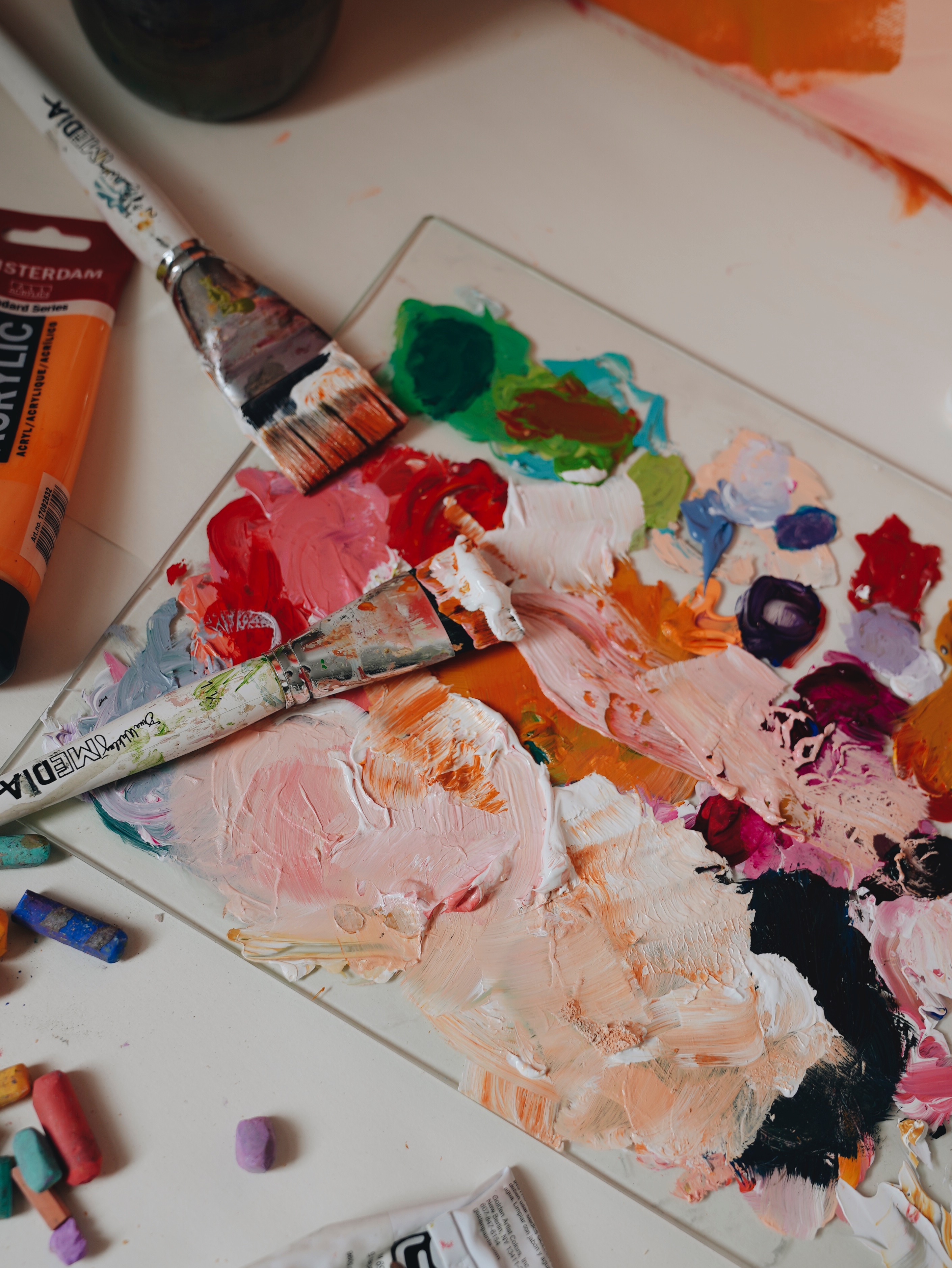 An abundance of techniques!

Each Wanderlust class has a different Hero Technique to ensure that you get a sense of development throughout the course. You'll be exploring a real abundance of techniques and supplies, and find what you love.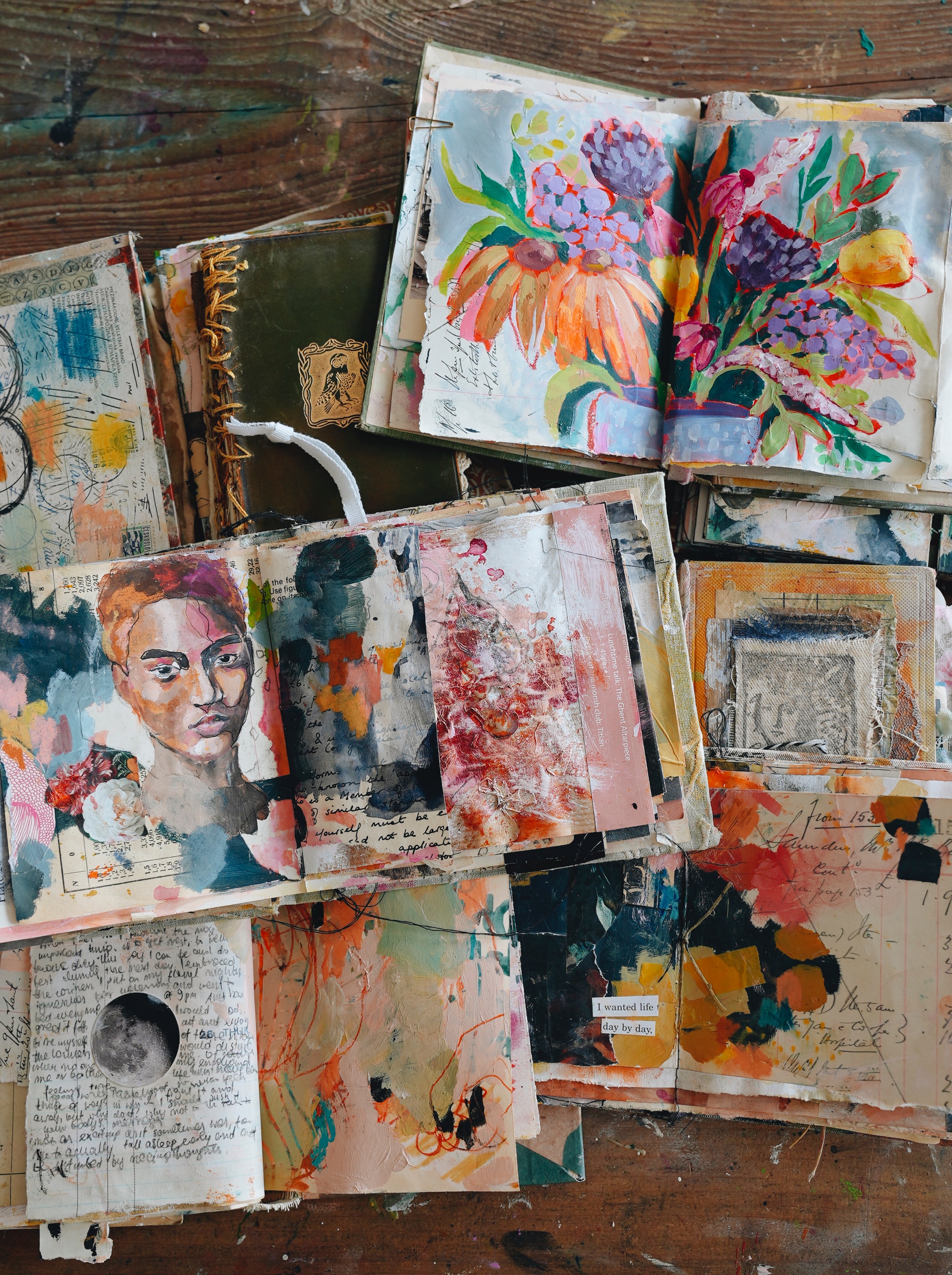 Fridays will be your favourite!

Join Wanderlust and you'll have our brilliant weekly lessons, new projects and a supportive, private community to look forward to. You'll be itching to go back to your desk and dive in deeper. And get a drink and snacks too, because you won't want to leave!


Discover what's already available
in the curriculum!
This is a pre-sale. The course starts on the 5th of January, but we made sure that there's plenty in the classroom for all you early birds to do. Introductory lessons from Kasia Avery plus 14 super bonuses from our teachers will help you get inspired and ready for the course.


Click the "preview" buttons to learn more and  get a taste of what it's like to be a Student of Wanderlust...

Wanderlust 2024 Curriculum


Joining Wanderlust = helping the environment.
Through Wanderlust, with your help, we have planted nearly 10,000 trees and counting!
This year we are partnering once again with (more:trees) to plant a tree for everyone who joins our course!
As soon as you enrol in Wanderlust 2024 you'll get an email confirming that we've paid for planting a tree on your behalf. Somewhere in Madagascar, Kenya or Haiti there will be a tree growing thanks to your passion for art.
This will sequester an estimated 0.30 of carbon and is equivalent to 732.90 miles in a standard car.

F.A.Q.
When does this course start and finish?
The course starts on Friday 5th of January 2024, but if you sign up now there is already content available in the classroom. Simply scroll up to the Curriculum to see what's in there already.
How long do I have access to the course?
Wanderlust comes with lifetime access. After enrolling, you have unlimited access to this course for as long as you like - across any and all devices you own. You can also download all of the videos, so you can watch them even when you are offline. Forget about any pressure to 'keep up'. We encourage you to come as you are, whenever you can.
What is your refund policy?
We would never want you to be unhappy! If you are unsatisfied with your purchase, contact us in the first 14 days and we will give you a full refund.
What sort of art will I be learning on this course?
Wanderlust is about mixed-media art journaling. All lessons will be done in an art journal, but can be easily translated into a canvas, a paper pad or a board. There are no dimensional projects on Wanderlust, but we tackle lots of different styles, techniques and subjects.
Do I have to buy lots of supplies to do the course?
You will need to have some basics, but we encourage students to substitute supplies and use what you have to hand where possible. With each class, we ask our teachers to provide alternative suggestions for less common supplies, and students often turn to the Adventurers Circle to share alternative ideas, too.
If you're considering a buying new supply for a class, we encourage you to watch the class first and make sure you like the technique before committing to purchasing it.
You can read more about the basic supplies for Wanderlust 2024 here.
Do you offer subtitles?
Yes! The course is in English and we are excited to be able to offer French, Polish, Chinese simplified, Dutch (Nederlands) Farsi, German, Spanish, Swedish and Norwegian subtitle options for our students.
Can I find out what each lesson during the year is going to be about?
Yes! Check out our printable schedule.
Are there any extra costs during the year?
Nope! This is a one-off payment and there are no extra costs that this course requires. You pay once and you get full access to all lessons released weekly.
Do you have a payment plan, can I pay in instalments?
Yes! We offer a payment plan where you can pay for the course in 3 instalments.
Can I use my smartphone to watch the lessons?
Yes! Our website and classrooms work very well on tablets and smartphones.
Are the lessons all new content from the teachers (never been offered on any other platform)?
Yes! It's all new and exclusive to Wanderlust. All of the lessons on Wanderlust are brand new, available only through Wanderlust and have been made for us. You won't find them anywhere else.
I've done Wanderlust last year. Is this a repeat?
No, Wanderlust never repeats. This year we are diving deeper into Star Themes and Hero Techniques. Every year there are new teachers, new subjects, new lessons, new techniques.


Why is there tax added on top of the price?
As tax rates vary all over the world, adding tax on top of the price is the only way we can now continue to offer our classes on sale globally.
This has been further complicated by Brexit, and international clamp downs on online tax collection.
Sales tax is worked out and added to the cart if applicable on a country by country basis.
Is Wanderlust suitable for everyone? I'm struggling with mental health, will the course help me deal with those issues?
Please be aware that we'll have several lessons on Wanderlust 2024 which explore self-discovery questions. We will be working with expressing our feelings and emotions so if you're not comfortable doing it this course may not be for you. If you're struggling with mental health please seek professional help and if you decide to join the course use it as a tool for finding new passion and to support your healing process.
Have a question we didn't answer? Ask us at [email protected]
You can get Wanderlust 2024 on its own or if you need a little extra help with understanding mixed-media sign up for one of the bundles. Perfect for all mixed-media beginners and those who want to widen their supply knowledge! Get ready for the year of Wanderlust with the Studio Basics courses! Enjoy the savings when buying in a bundle!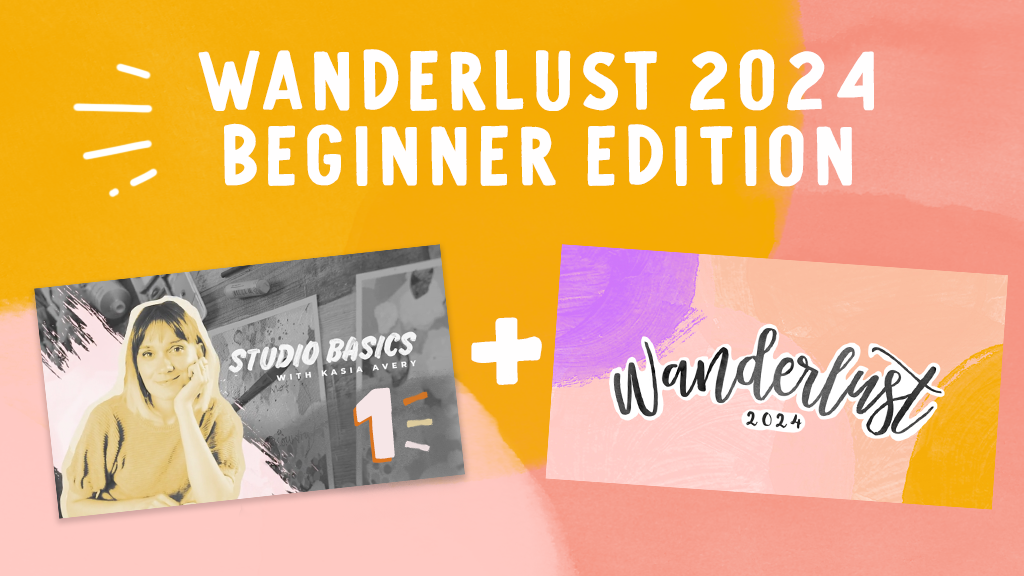 Learn all the basics!

Studio Basics 1 is over 8 hours of video content where you'll be learning all about the most important supplies used in mixed-media (gesso, acrylics, watercolours and more!) Perfect preparation for a year of Wanderlust!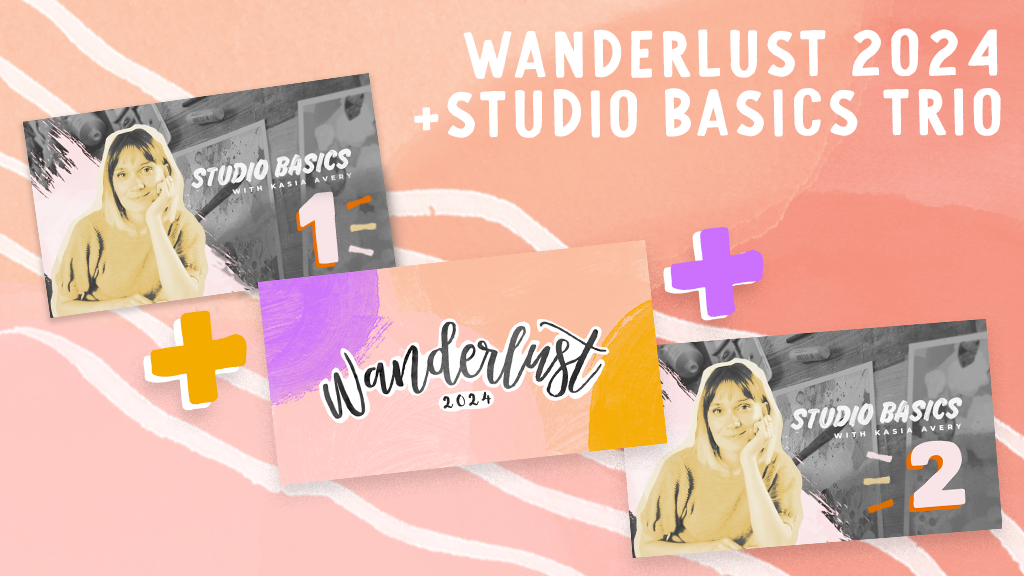 W24 + Studio Basics Trio

All Studio Basics are included in this bundle. Studio Basics 1 is all about the most commonly used supplies, Studio Basics 2 will help you learn about more advanced art materials such as pastels, monoprinting supplies and more.