Are you interested in art, craft, mixed-media and art journaling? Then Wanderlust 2019 may be just the perfect class for you!
Wanderlust is a whole year-long journey - an online event offering you videos from 24 guest teachers and 2 resident teachers on a weekly basis and access to the Wanderlust Classroom with a supportive and friendly atmosphere, where all of the classes and Adventurers are gathered.
The Wanderlust class is carefully handcrafted to
teach you different styles of mixed-media and art journaling
stimulate your creativity
motivate you to enjoy the process of making art and overcome the inner critic once and for all
In 2019 once ag
ain we will be working within themes. Every four weeks will be dedicated to one theme that is going to be followed by the resident Teachers (Kasia & Anneliese) and Guest Teachers. This will bring even more variety to the whole class and will keep you creativity stimulated throughout the whole year.
Wanderlust will push you to create more, to create boldly, to be brave with the supplies that you were always shy to try. Art shouldn't be reserved for just professionals, we all can create it!
Main features of Wanderlust 2019:
a full-length and high quality lesson every week - each streamable, with life-long access* but also fully downloadable
26 Teachers with different styles to show you a massive variety in the art-making process (scroll down to Curriculum to see the full Schedule)
instant and simplified access to the Classroom - the whole course is hosted here, at everything-art.com so once you enroll you'll be instantly redirected to the classroom in which there are already videos to watch
a lesson every Friday starting from 4th of January 2019
you can follow regularly or at your own pace, since you have life-long access*
A space to interact with other Adventurers within the classroom + a secret Facebook group for the members - both design to be a judgment free spaces for you to share art, love and support
every four weeks you'll receive a bonus - a mini Art Jar from Eliza Trojanowska
printable handouts with every lesson (excluding Wanderlust Book videos)
a chance to chat with the Teachers and learn from their experience
Once you sign up, Wanderlust 2019 never expires - you have a life-long access* so you can enjoy the lessons at your own pace.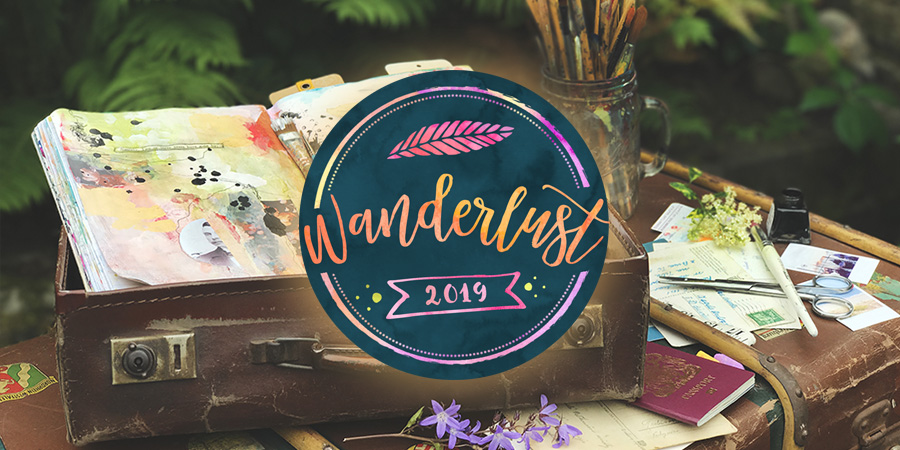 Want to see what each lesson will be about and who's teaching? We have prepared a detailed printable Wanderlust 2019 Schedule for you! Scroll down to the Class Curriculum to see it and to download it.
This year we have 12 fabulous new themes, these are: Typography, Faces, Rivers, Steampunk, Patterns, Floral, Inspired by, Layers, Monochrome, Wings, Imaginery and Seasons, all will be interpreted differently by our fantastic teachers.

How much does it cost?
The price for our Wanderlust 2019 class is $150 USD (approx £117/€130/$212AUD/$202CAD)
For this price you are going to get:
four different, never published before, high quality videos each month with life-long access* - in total 49 videos!
a printable handout (PDF) with all the lessons (excluding Wanderlust book videos).
Mini Art Jar from Eliza Trojanowska - every four weeks
a printable collection of Wanderlust Book prompts for the whole year - available from January
"Basics of Art Journaling" video lesson by Kasia Avery - available straight away
"Get your art journals ready for Wanderlust 2019" video lesson by Kasia Avery - Free preview available to everyone, scroll down to the curriculum
"Composition Building & Colours" video lesson by Kasia Avery - available straight away
Eliza's Collage Collection - a fantastic resource of printable images for you to use
access to the Community within the classroom and a secret Facebook group for members only
monthly exclusive Adventurer of the Theme apron giveaway - a chance to win one out of only 12 ever made unique Everything Art aprons
An exclusive printable "Building Blocks" printable mini-journal from Everything Art.A bonus full-length lesson from Kasia Avery - "Beautiful Backgrounds"
This is our fourth year of Wanderlust and each year we were joined by more than 1500 Adventurers. We are very grateful for each and every one of them as they made it feel like we now have a huge extended family of Wanderlust members. We hope that you too can join us this year as we feel that thanks to the new simplified and intuitive classroom this will be the best one ever. Here are some of the testimonials about previous year of Wanderlust: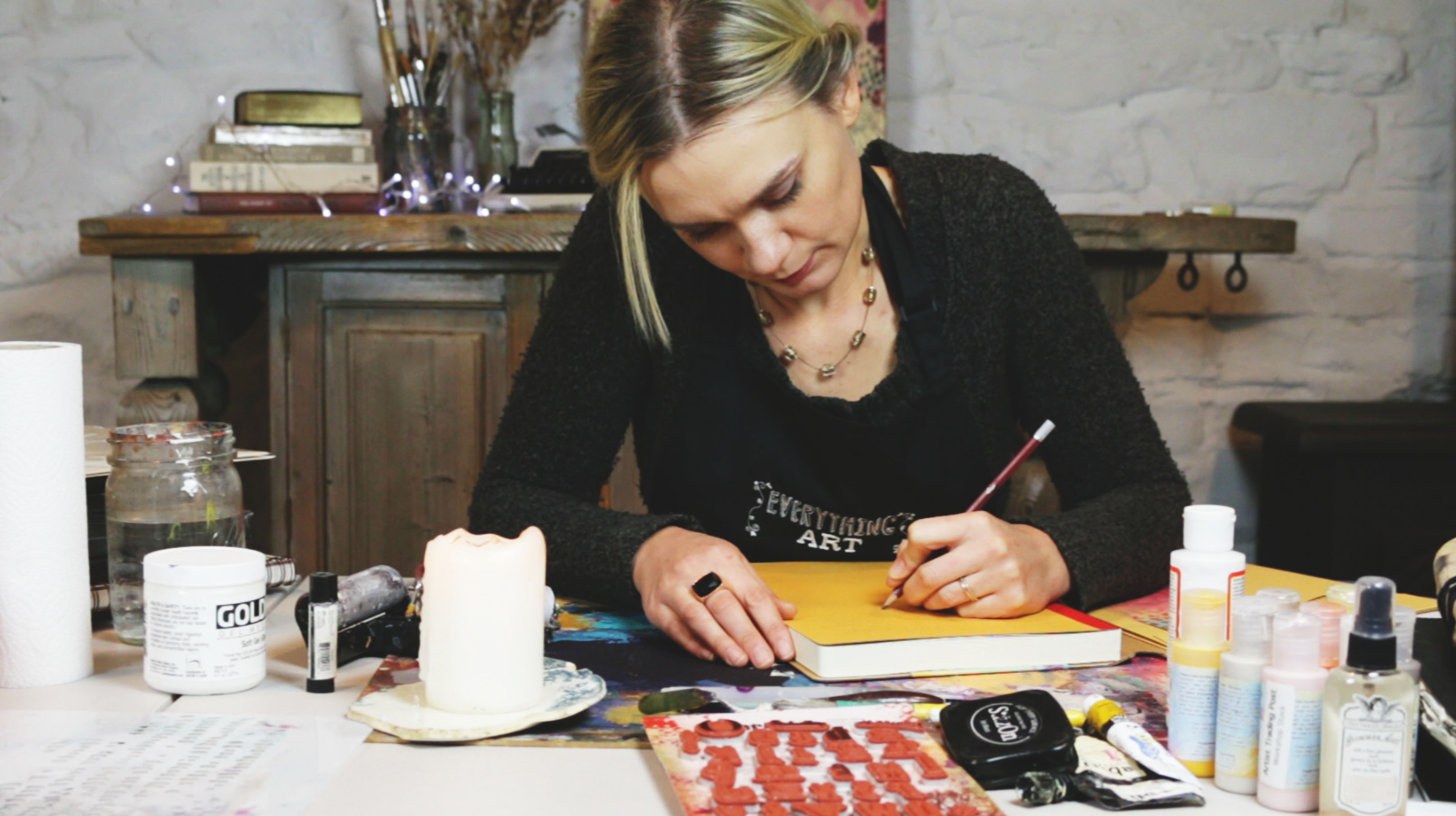 Wanderlust has been one of the best things I have done in a while. My new years resolution was to make art a priority this year and Wanderlust has helped me acheive that goal. So many artist with different ideas and techniques, it has been such a treat. You can go at your own pace and there is at least one week a month that you can use to catch up. There is no pressure to buy supplies, you are actually encouraged to use what you have. I have been very happy with Wanderlust 2017 -- Kimberly O'Connell

First of all, I have to say that I think both Kasia and Jamie are very comfortable to listen to. Calm and smiling and very talented. I have had great pleasure from Wanderlust due to the vast diversity of both artists and techniques that have been learned. I have even discovered new art forms that I did not know that I liked before I saw Wanderlust. I would highly recommend participating in Wanderlust both now and and on later occasions. I'm definitely going to sign up next year too. Thank you Kasia and Jamie! -- Anita Sæløen
Signing up for Wanderlust is one of the best things I have done. There is no pressure to do everything, it is at your own pace, you can learn something new, but most of all you have fun. The best part is that no matter how bad a week you have had, there is a little surprise to open at the end of it to make you smile --Debby Thornton

Read more testimonials about previous year of Wanderlust here.
* Life-long access means as long as Everything Art and out host platform are existing, we love our jobs and hope this will be for many years!