The enrolments to this course are now closed.
Don't miss out on the next opportunity to join Wanderlust. Sign up to the waiting list and you'll be the first one to know when the enrolments to Wanderlust 2022 open.
- - - - - - - - - - - - - - - -


Bring your creativity to the table in 2021!


Discover your artistic voice and start using it to create true, honest and expressive art. 
This is Wanderlust 2021 - our best-selling year-long online course
in mixed-media art journaling.
The registration closes in...
Do you want the most powerful tool to help you practice art regularly whilst learning about techniques through step-by-step videos?
Do you long for connection with people who share your desire for self-expression?
Do you want your art practice to finally feel freeing and joyful, rather than limited and rigid?
Do you want to start using the supplies that you've collected but never used to their full potential?
Read on if you answered a big sparkly YES to any of these questions, because Wanderlust is for YOU!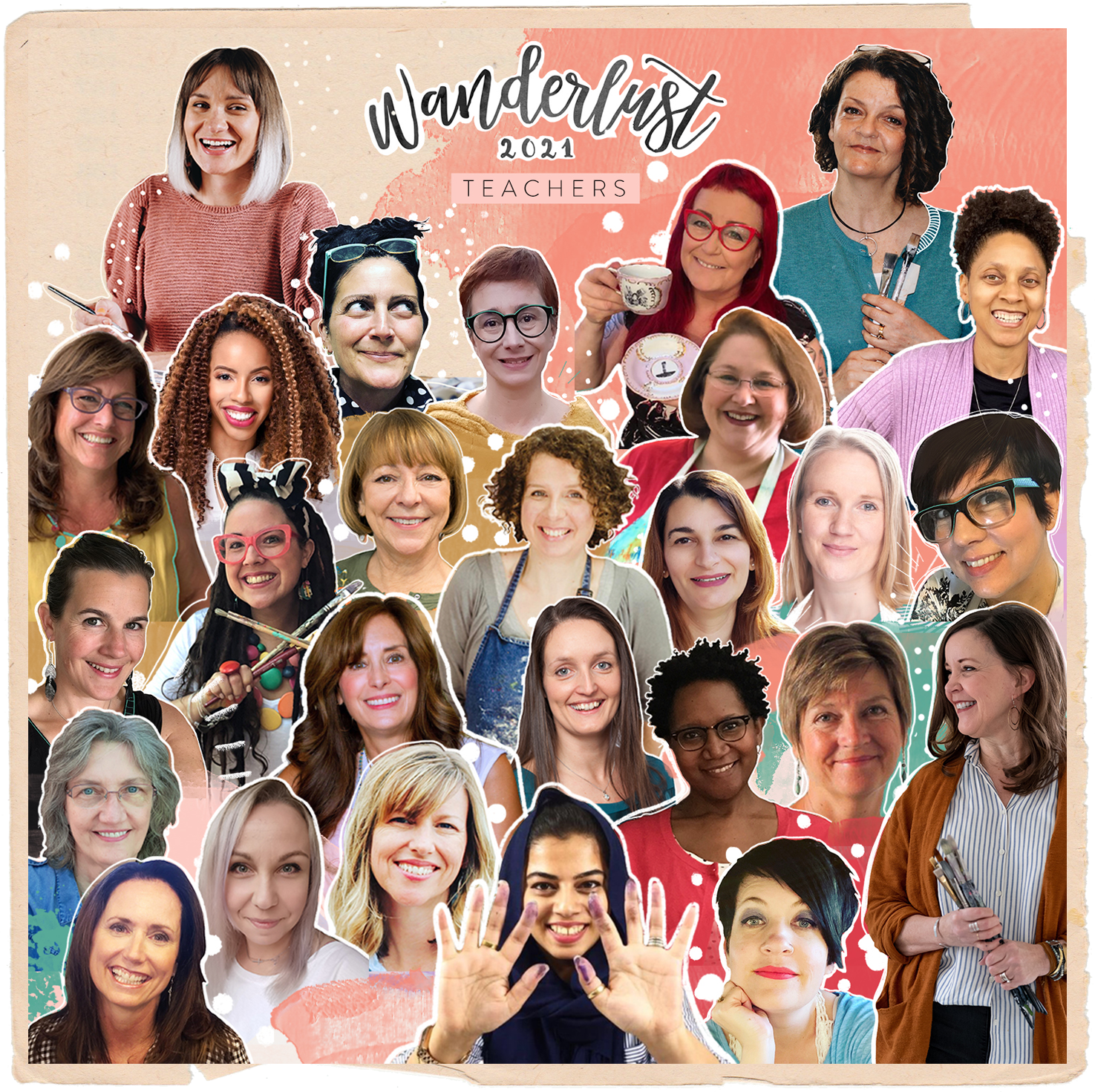 A year of learning and inspiration!
We bring together 28 inspiring Teachers, and we give you 50 high-quality video lessons, one for every week in 2021. Each lesson comes with a printable handout to help you through the process.
Wanderlust 2021 Teachers include Kasia Avery (the Host), Kate Crane (Guest Host), Dina Wakley, Carolyn Dube, Dyan Reaveley, Laly Mille, Mary Beth Shaw, Mystele Kirkeeng, Wendy Brightbill, Rae Missigman and more.
Click the button below to see the full list of Teachers and to learn more about them.
Have you ever...
...followed a step-by-step tutorial and ended up with a result that was almost dot to dot your instructor's project? There are no feelings expressed, no story told, no experience shared. Just a process repeated. It leaves a bitter aftertaste.
On Wanderlust there's none of that. Step into the classroom and you'll see a different way of following lessons. We will introduce you to our signature teaching style that encourages expressing your own personality on EACH of the pieces that you make.
Our lessons are not about the teachers and products, they are about you and all the practical ways in which you can make every project a feast of self-expression. 
This is a pre-sale, the course starts on January 1st, 2021. Join now, and you'll get instant access to an abundance of introductory material lessons and
19 exclusive bonuses from our Teachers. Just so you can have a little warm-up before the main course starts.
Early Bird spots sold out, but you can still sign up to the course.
Hurry up, Wanderlust 2021 is only available to purchase until the 31st of December.
Above - artwork by our 2021 Teachers. From top left: Franscisca Nunes, Dina Wakley, Wendy Brightbill, Kasia Avery, Renee Mueller, Kasia Avery.
Learn more about our Teachers here.
Join Wanderlust 2021 and follow the weekly lessons with life-time access! Show up to discover numerous techniques, products and approaches and your art skills and confidence will go through the roof. Pinky promise!
Each week there will be a new project and a new idea to try out. With our Teachers' expert guidance you'll be lead through every step to create your unique and personal piece of art.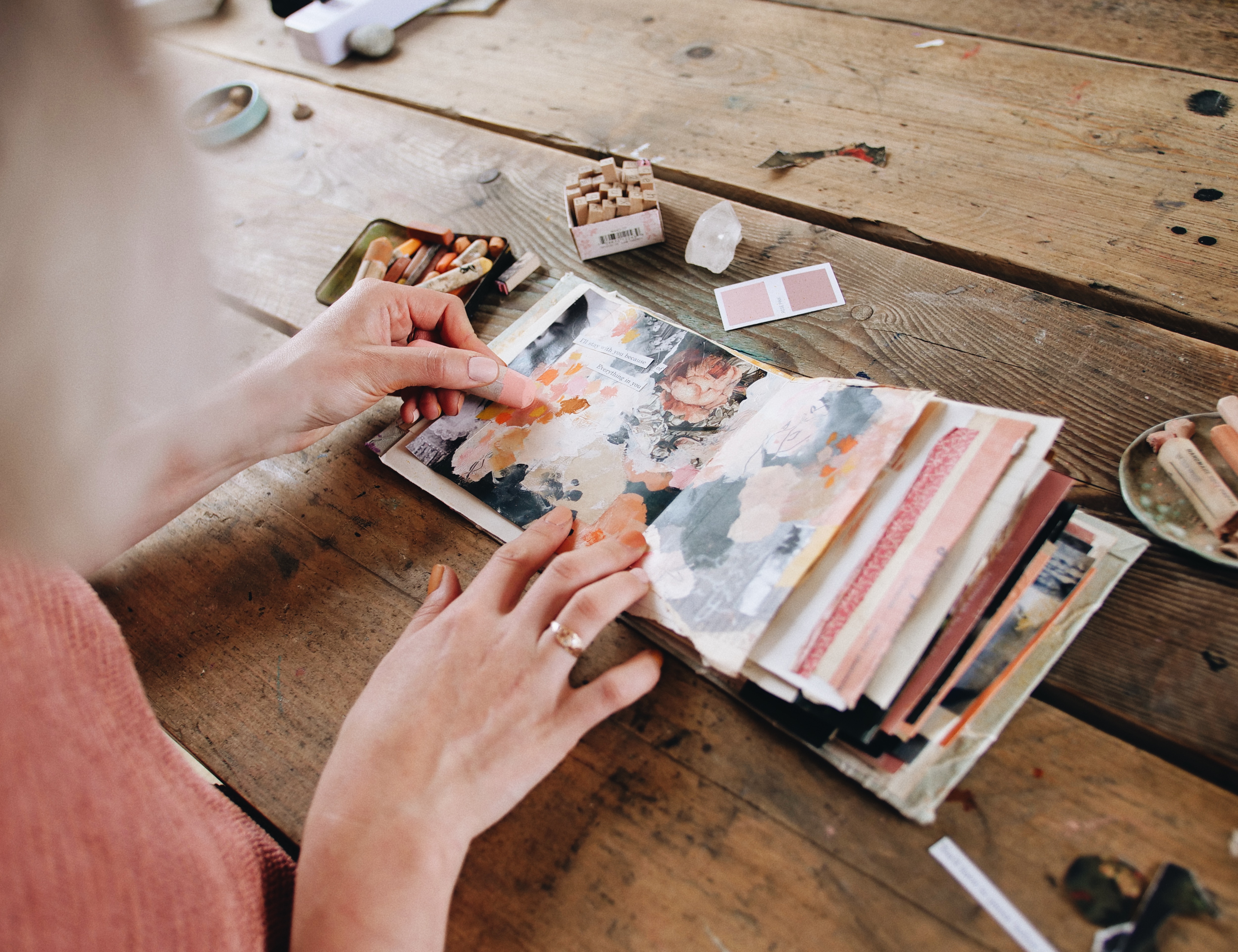 Discover art journaling!
We will introduce you to the most freeing form of art - art journaling using mixed-media techniques. All lessons will be based in a book (art journal) but they are easily translatable into a canvas, paper pad or a canvas board.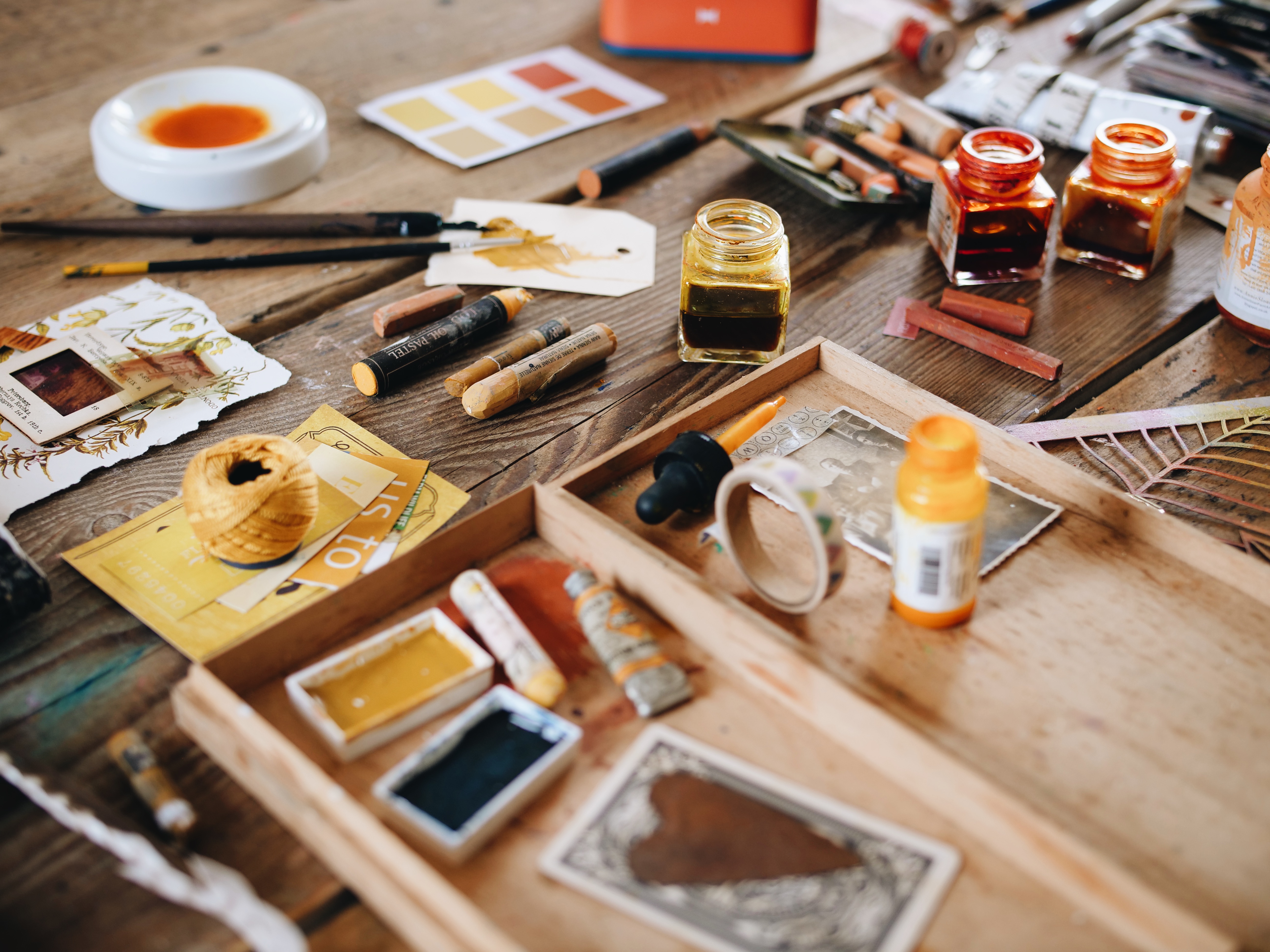 Go wild with what you've got!
We'll show you how to use the supplies that you already have (check the basic supply list here) and if you're missing a product, we'll give you a substitute and alternative ideas so you don't have to buy new stuff all the time.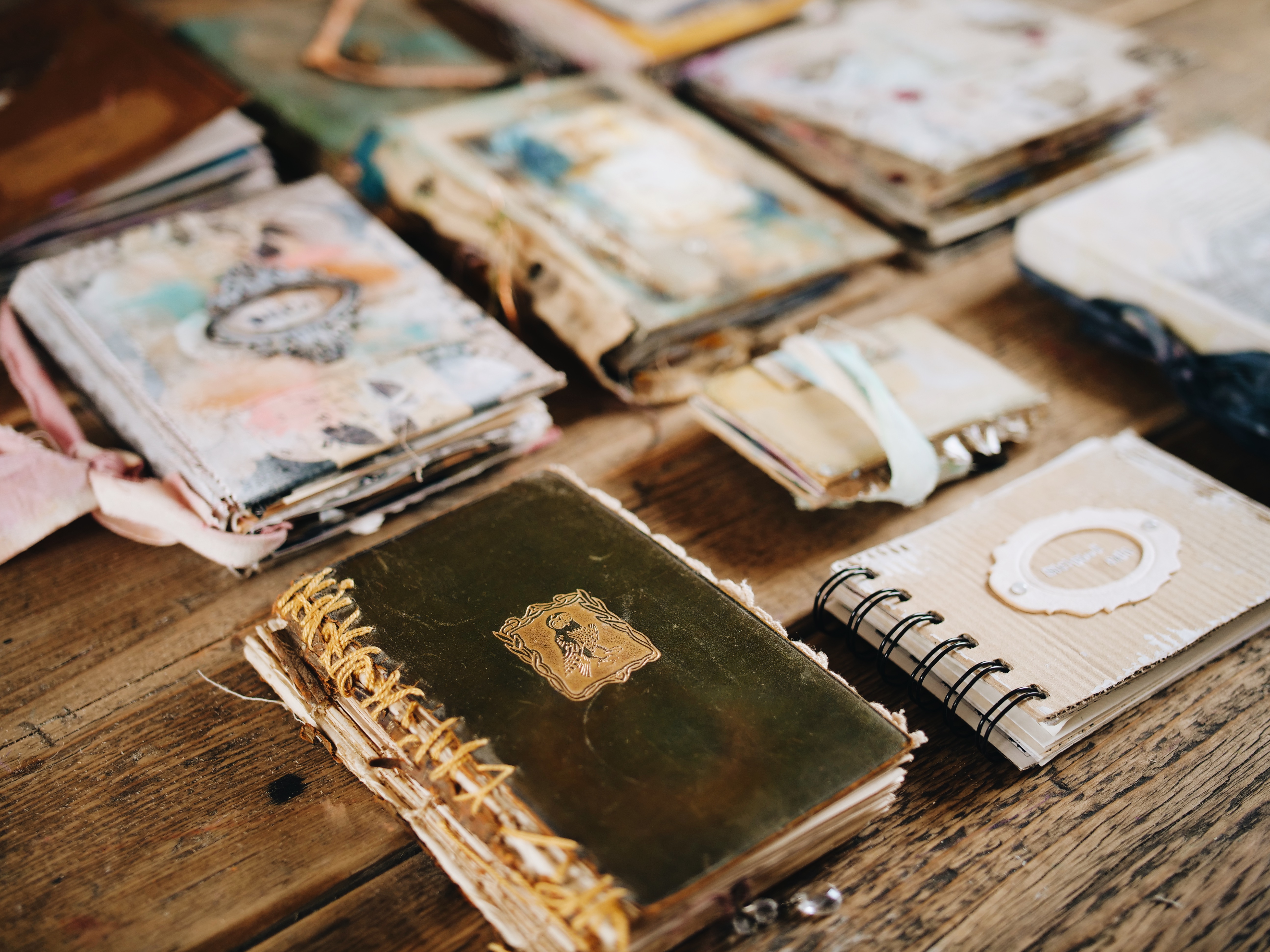 Fridays will be your favourite!
Join Wanderlust and you'll have our brilliant weekly lessons, new projects and a supportive community to look forward to. You'll be itching to go back to your desk and dive in deeper. And get a drink and snacks too, because you won't want to leave!
Wanderlust 2021 in a nutshell:
50 video lessons released weekly, on Fridays starting from the 1st of January 2021.
26 Guest Teachers (each teaching one lesson) + 2 hosts - Kasia Avery (18 lessons) and Kate Crane (6 lessons)
incredibly easy to use platform and help whenever you need it from our tech man Jamie.
printable handouts and supply lists with every lesson
community within the classroom.
life-time access 
weekly encouraging emails
all materials are downloadable, including the videos
19 bonuses already waiting for you in the classroom
introductory pack already waiting for you in the classroom (including beginners guide to art journaling)
$175 US for all of this!
available to join only until the end of December
Above artwork by our 2021 Teachers. From top left: Andrea Okeson, Nicole Warrington, Dyan Reaveley. Learn more about the Teachers here.
Course Curriculum
Click the "preview" buttons to learn more and  get a taste of what it's like to be a Student of Wanderlust.
F.A.Q.
When does this course start and finish?
The course starts on the 1st of January 2021, but if you sign up now there is already content available in the classroom. Simply scroll up to the Curriculum to see what's in there already.
How long do I have access to the course?
How does lifetime access sound? After enrolling, you have unlimited access to this course for as long as you like - across any and all devices you own. You can also download all of the videos, so you can watch them even when you are offline.
What is your refund policy?
Once a classroom has been accessed, no refunds will be issued.
What sort of art will I be learning on this course?
Wanderlust is about mixed-media art journaling. All lessons will be done in an art journal, but can be easily translated into a canvas, a paper pad or a board. There are no dimensional projects on Wanderlust, but we tackle lots of different styles, techniques and subjects. Check this page to see examples of work that you'll be creating on this course.
Do I have to buy lots of supplies to do the course?
You will need to have some basics. Please find out more here.
Can I find out what each lesson during the year is going to be about?
Yes! Check out our printable schedule.
Are there any extra costs during the year?
Nope! This is a one-off payment and there are no extra costs that this course requires. You pay once and you get full access to all lessons released weekly.
Do you have a payment plan, can I pay in instalments?
At this moment we cannot offer instalments.
Can I use my smartphone to watch the lessons?
Yes! Our website and classrooms work very well on tablets and smartphones.
What supplies will I need?
To start your journey you'll only need basics supplies. A list of supplies is available in the Curriculum - scroll up.
Are the lessons all new content from the teachers (never been offered on any other platform)?
Yes! It's all new and exclusive to Wanderlust. All of the lessons on Wanderlust are brand new, available only through Wanderlust and have been made for us. You won't find them anywhere else.
Can I buy Wanderlust as a gift?
Of course, Wanderlust makes a wonderful gift that keeps on giving. All you need to do is to email us ([email protected]) and tell us your PayPal address and who you want to purchase the course for (their email address and their name). We will send you a bill and then after you've paid we will manually add your loved-one to the classroom and let them know (whenever you want us to let them know).
I've done Wanderlust last year. Is this a repeat?
No, Wanderlust never repeats, but the level of learning stays same. We always start with lessons that are a little easier and as the year goes by we raise the level so you can progress, learn and slowly step out of your comfort zone. Every year there are new teachers, new subjects, new lessons, new techniques.
Why there are no more Early Bird spots?
All Early Bird spots sold out in the first 24 hours. We've added another 1000 of them and these also sold out quickly. You can still sign up to Wanderlust 2021 but only until the end of December.
Still unsure if this is for you?
Click the button below to read about Wanderlust 2021 in-depth.