Sorry, Kasia's Advent Calendar is no longer open for enrolments. The registration was open only until the 5th of December. Please browse our website for other offerings and sign up to our newsletter to be the first to know about the new ones.
December can be a very challenging month. We feel pressured to buy things, to get our houses ready for Christmas, to get ourselves ready, to meet the expectations, to see people, to go places, to have to-do lists that never ends. Some of us may also feel pressured to reflect on the past 12 months - what we've achieved and what we have failed at.
This year I don't want to let myself fall into that stressful race and I decided to pay more attention to my art and creativity.
I thought, maybe there are more of us?
Maybe you would like to join and squeeze in some me-time into this hectic month? What about clearing our minds of tasks and commitments, once, daily? Let's relax and look into ourselves, let's give our minds and bodies a chance to recharge and let's do it with art.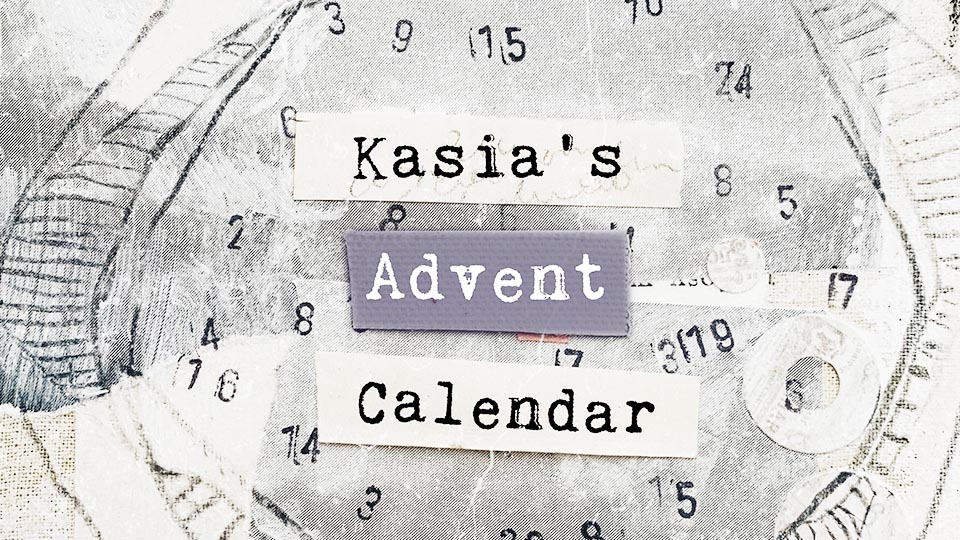 Here's our free offering for you - Kasia's Advent Calendar. Just like in a traditional Advent Calendar you will be getting a little treat every day: an inspiring prompt in a video form from Kasia + a time-lapse clip of her art journaling process. You can use the prompts for any kind of art that you do - whether it's art journaling, mixed-media, drawing, watercolour, journaling or photography. The prompts are wide and versatile.
Also, just like in a traditional Advent Calendar there will be 24 days of prompts because these 24 days are the most challenging and difficult to get through peacefully. It's a countdown and the most beautiful preparation of yourself to the big Christmas Day. This is your challenge to pay more attention to daily art making rather than to daily stress.
The registration is open only until 5th of December so don't hesitate and enroll for FREE right now. Everyone is welcome, whatever your skill level is and whatever your preferred techniques are. Come and join right now and let's all meet together to make some art.