In the craziness of festive preparations it's easy to forget about what's most important.
We feel the pressure to purchase things, to get our houses ready for Christmas, to meet expectations, to see people, to go places, to have piles of long to-do lists that never end. Some of us may also feel pressured to reflect on the past 12 months - what we've achieved and what we have failed at.
This year, as in previous years I don't want to let myself fall into that stressful race and I decided to pay more attention to my art and things that really count during this busy, but also glorious time of the year.
I thought, maybe there are more of us?
Maybe you would like to join and squeeze in some me-time into this hectic month? What about clearing our minds of tasks and commitments, once, daily? Let's relax and look into ourselves, let's give our minds and bodies a chance to recharge and let's do it with art.

Introducing your ticket to self-care this season:

Care December is 21 days of mindful, intuitive mixed-media art journaling.
This FREE offering is your permission to give more space to self-expression through daily art making, and self-care during the busy month of December.


Join and you will be getting a little treat every day:
an inspiring prompt in a video form from Kasia (or one of our brilliant guests!)
a time-lapse clip of intuitive art journaling process.
The prompts are an open invitation - take inspiration from them, then explore them in your art journals and make them your own.


Everyone is welcome!
No special art supplies are needed - work with what you have to hand in this mixed-media art journaling offering.
Whatever your skill level is and whatever your preferred techniques are - come and join right now and let's all meet together to make some art!




Our inspiring, holistic offering is big on CARE and doesn't exclude anyone.
On Care December this year:

We'll be creating a junk journal from scratch together and filling it with mixed-media art that expresses your authentic artistic voice.
We're tackling the real self-care, so no bath bombs and home spa -instead we'll be digging deep and improving the relationship we have with ourselves, and learning to nourish our mental health through art journaling.

We're caring for our most precious relationships with others through the prompts in this offering, plus sending loving care to others by contributing to the fundraiser.

And we'll be exploring a new theme, "White Edition", which ties all of the prompts in together and will be inspiring our processes. Don't worry - we'll still be using lots of colour in our art journals!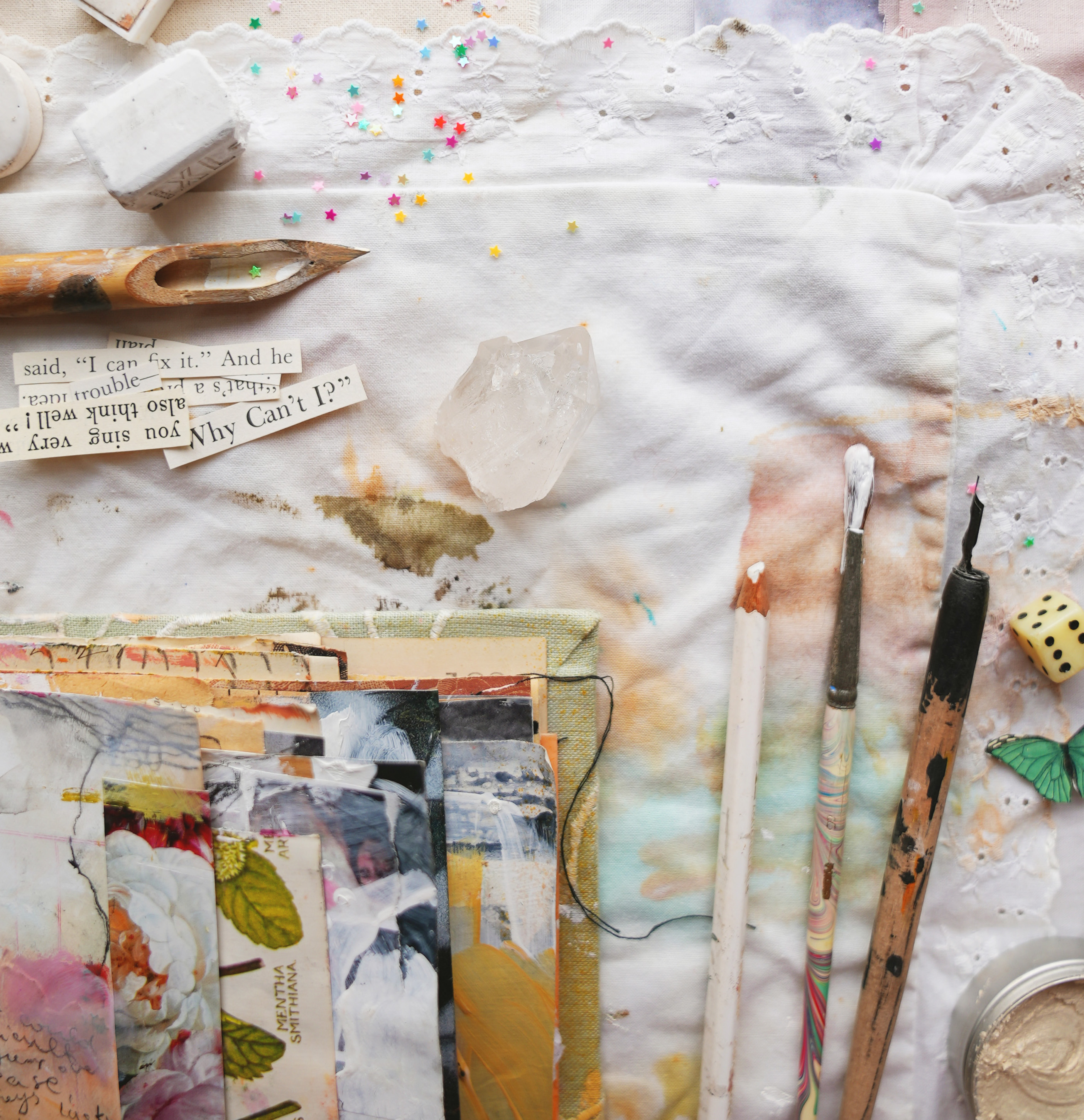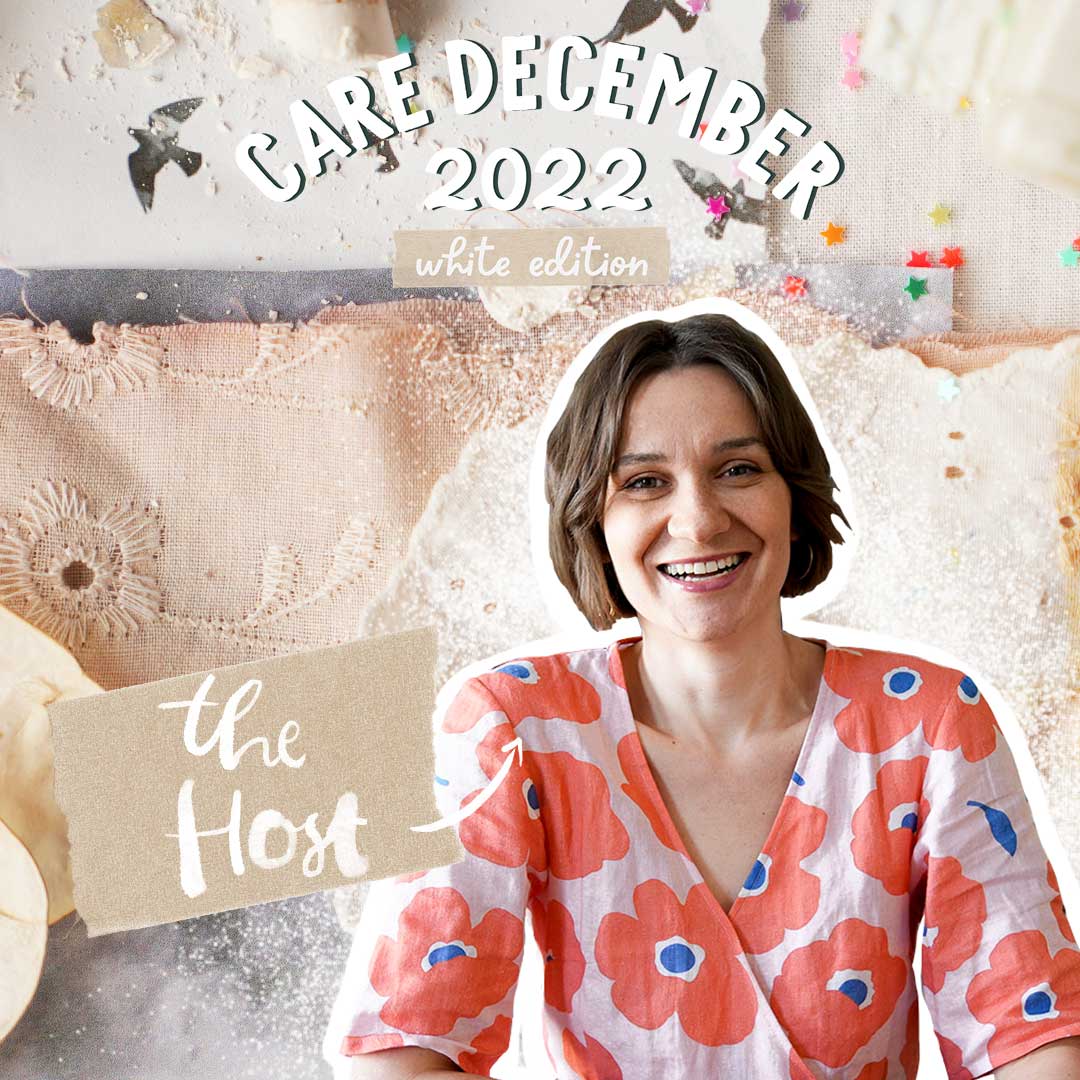 About the Host

My name is Kasia Avery and I want you to make some art with me! I'm an intuitive artist and teacher. together with my husband Jamie I founded Everything Art Ltd in 2015. 
"Art that's not realistic is not art" - ever thought that? Because I certainly have. I was literally sweating and stressing my days away when striving to become that "proper" artist, painting landscapes in oil - something that was not me in the slightest. And then one day I discovered art journaling and I was hooked. The glitter fell from the sky and I knew I was saved. I learnt that real art is self-expression, a story, and an honest experience. I discovered that the process can (and should be!) pleasant and joyful rather than a constant struggle. Since then I am constantly art journaling, (daily!) and I want you to dive in with me. 


Because we just love to treat you, this year we've invited three brilliant guest artists to enrich the Care December experience with their beautiful art journaling ideas, creative styles and mixed-media wisdom.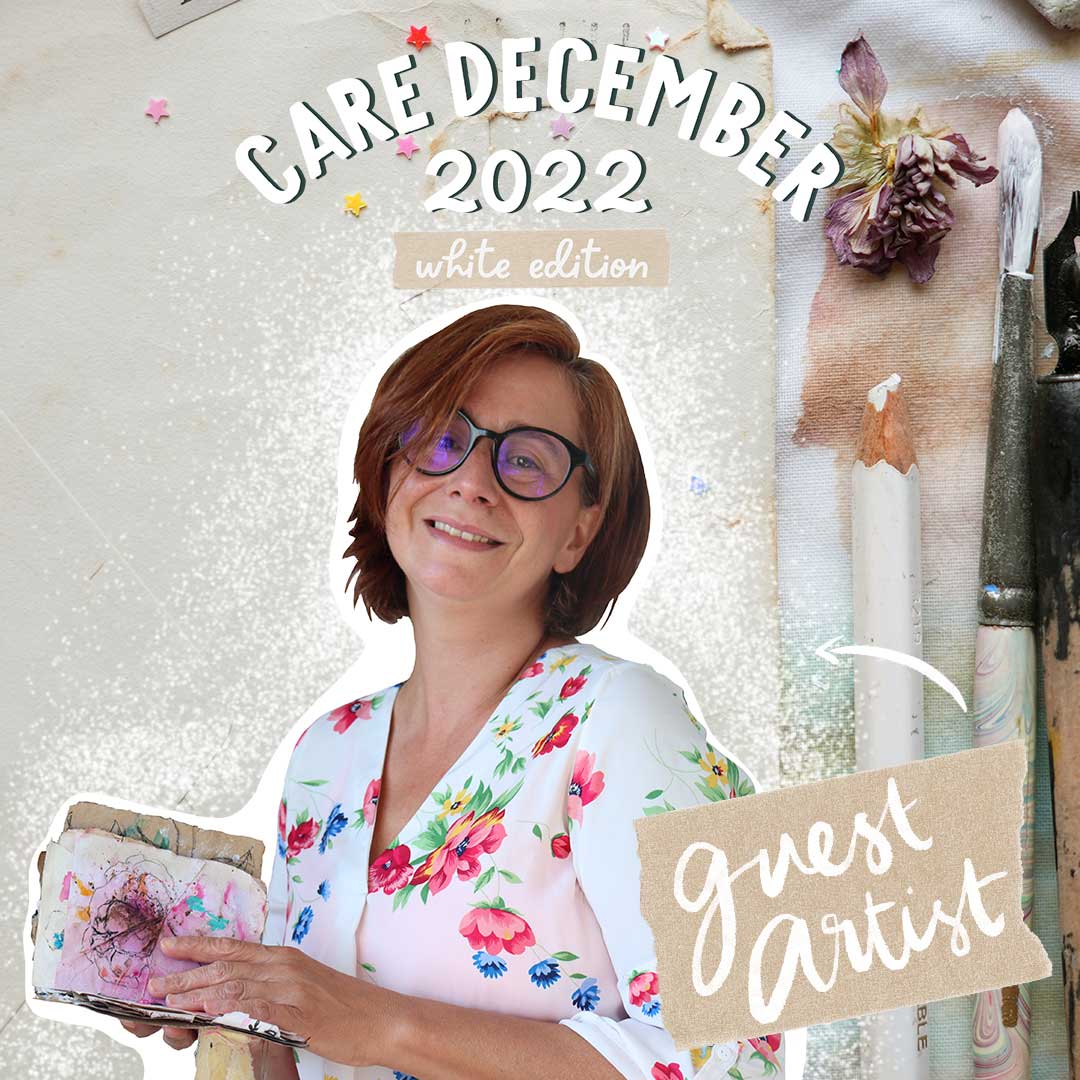 Francisca Nunes

is a Portuguese mixed media artist and art journal lover. She combines color and nature to explore intuitive expression. She's passionate about the natural process of ecodye and ecoprint and loves to create her own wild journals and then express her soul on them.
See more of Francisca's work here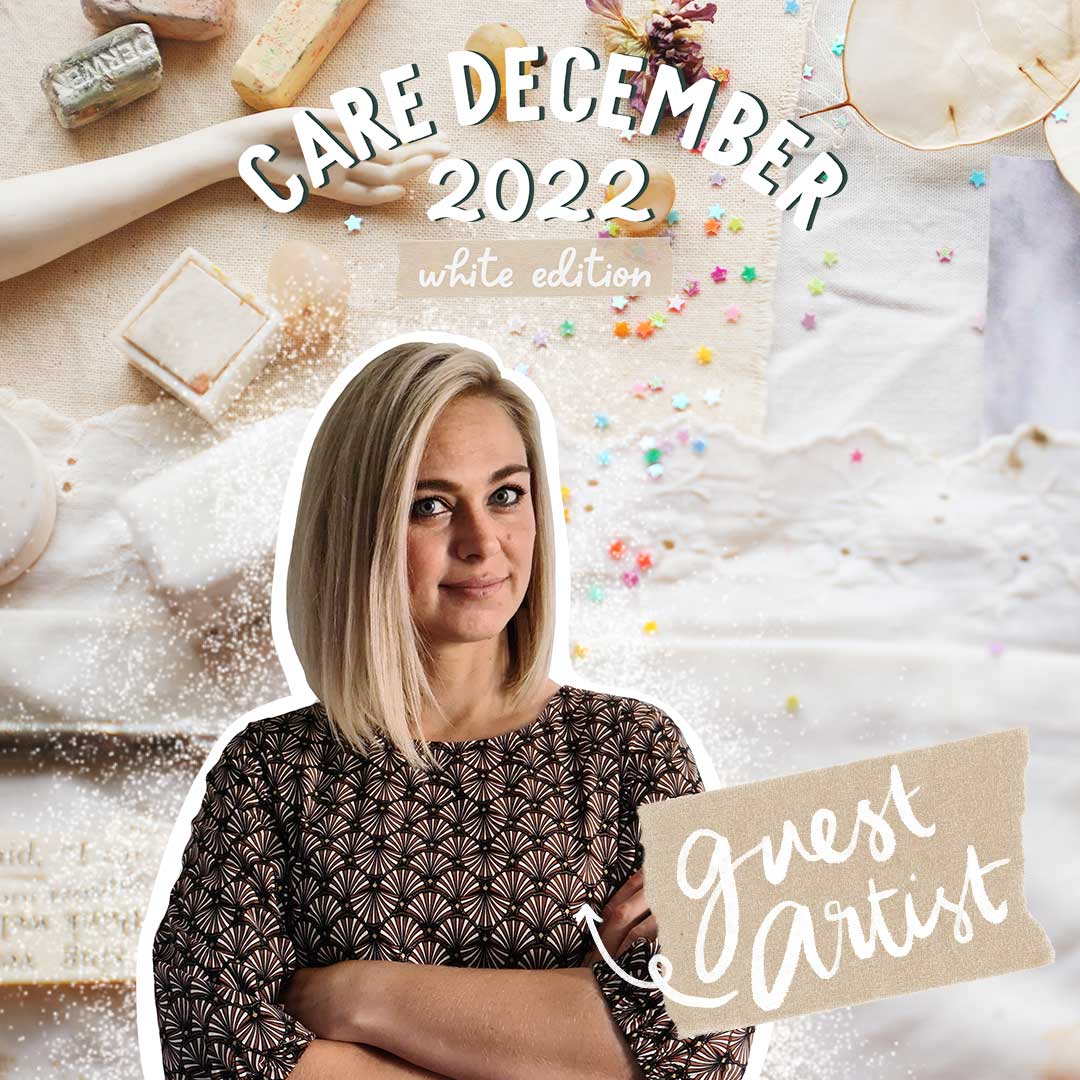 Claudette Hasenjager

is a mixed media artist who believes that art heals the soul. Her work reflects the many facets of her inner landscape and gives expression to her multi-passionate personality. Claudette strives to inspire others to heed the call of their own unique creative turning.
See more of Claudette's work here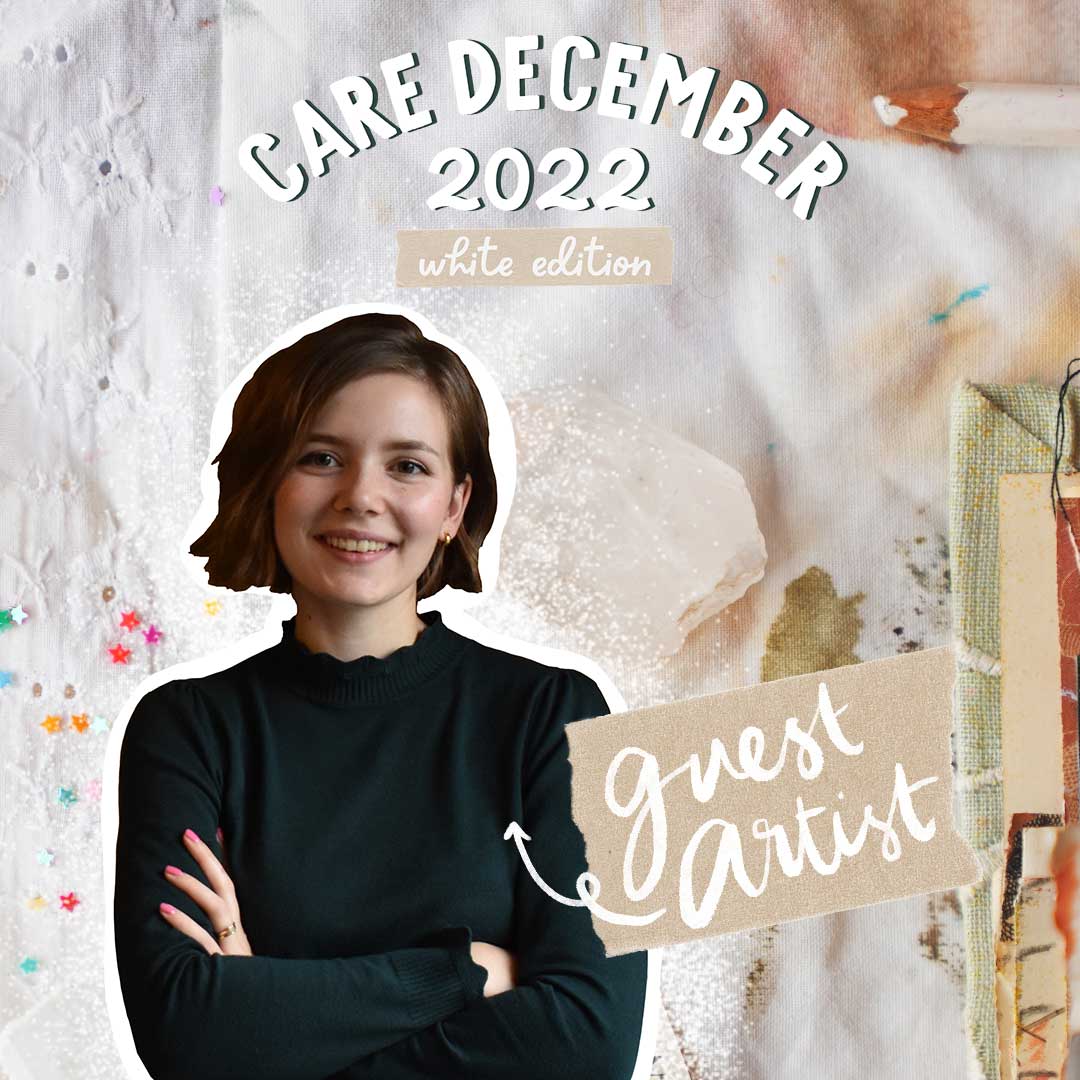 Saskia Keeling

a familiar face to our Adventurers, she has been part of the Everything Art team since 2019. Saskia loves to take a step back from her realistic pencil and oil portraits and loosen up with art journaling, where things don't have to be precise and she can express her daily emotions freely and intuitively.




Care December 2023 Fundraiser
supporting Action Against Hunger
*This course is free and everyone can join, but as with previous years of this offering, we ask you to donate to our Charity Fundraiser.
Over the years and with your generous donations through Care December, we've raised a whopping total of £15,215 and counting for Action Against Hunger! And we're not stopping there - let's allow our art practice to unite us once again, and be a powerful force for good this December:
You can donate from anywhere in the world, whatever your currency. The Fundraiser shows the sum in GBP, if you donate in a different currency it will be automatically converted and added to the pot.
Here's the thing: Christmas is coming, but not for everyone. There are people who need our help and there's no better moment to give them support than in December. Let's send those in need a big, virtual hug. Whatever you can contribute counts, even just $5. Please click here to donate and then come back to this website and enrol yourself in this Care December offering. Let's make this fundraiser sack huge! Let's see how much we can raise through our love for art journaling. Share this website with others so they can contribute too!
If you feel like this year you're in need yourself and you can't contribute to the fundraiser, enrol in Care December for free anyway. We will make you feel loved and supported and we'll also make sure that you enter the New Year with a sense of calm and peace. But please share our Fundraiser website with your friends and family.