We are thrilled to introduce you to our first ever Mini Bundle from Wanderlust 2017. Two inspiring video lessons in one self-paced package. Enjoy over 120 minutes of video guidance from Lorraine Bell and Kasia Avery.
We have decided to call this mini bundle "Capturing the Moment" because this is something that these two lessons have in common. Both Teachers show you the way they capture the moment during their travels or everyday life. This bundle is a great encouragement and excuse to put away our cameras for a moment and celebrate memories by sketching, drawing and painting.
This mini bundle is perfect for everyone willing to give a go to free drawing and learning about light, shading, layering and more. You do not have to be advanced in any art techniques. All you need are the products from the supply list and an open heart.
Every lesson is in video form and each video is available to stream with life-long access*. You will be also getting two brief handouts with extra tips from each Teacher. Here are the descriptions of each lesson included in this mini bundle:
"The Traveling Artist" by Lorraine Bell
Being a Wandering Artist is an exciting endeavor. I have taken my two favorite things, travel & art, and combined them to document my journeys in a unique way! I will show you some tips for sketching and watercolor on the go by capturing the essence of your subject quickly and letting the viewer finish the story! If you can learn to capture the most important elements in any scene; shape and value, you will have a successful sketch every time! Join me as I show you how you can learn these skills to create your own visual chronicles of your journeys! Not a traveler? You can still use these techniques to document every day of your beautiful life!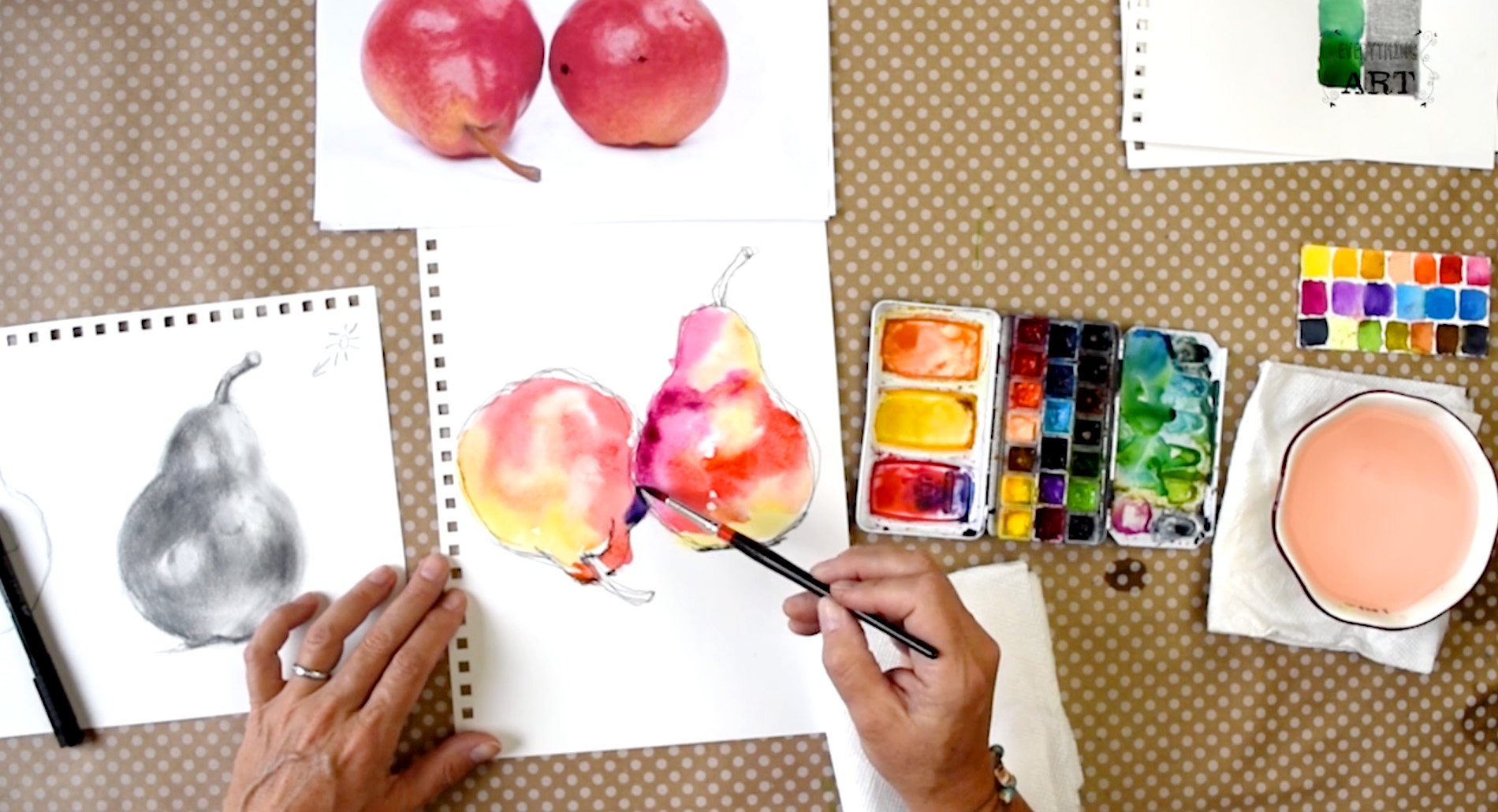 "Celebrating the Ordinary" by Kasia Avery
In our hectic everyday lives we often rush and don't pay enough attention to the little miracles that happen all the time. Sometimes we don't even celebrate enough the big moments in life. There's always something ahead, something to do, to achieve, to get sorted. With this lesson I invite you to stop and pay more attention to whatever happens. It's easy to capture the moment with a photograph taken with our always-handy phones, but what about drawing that moment? In this lesson we will be paying attention to every detail of that one ordinary, but precious moment - the light, the mood, the spirit and the colours. Grab your paintbrush and let's dive into layers of paint. During this lesson I'm working in an art journal but your painting can also be done on a sheet of paper, canvas board or a canvas.
Important note to Wanderlust 2017 members: If you took part in Wanderlust 2017, then you have already had access to these lessons.

* Lifelong access to us means as long as Everything Art Ltd and the hosted platform we use are in existence (hopefully a long time yet!)