https://www.everything-art.com/p/wanderlust-2020

Learn more about Wanderlust here.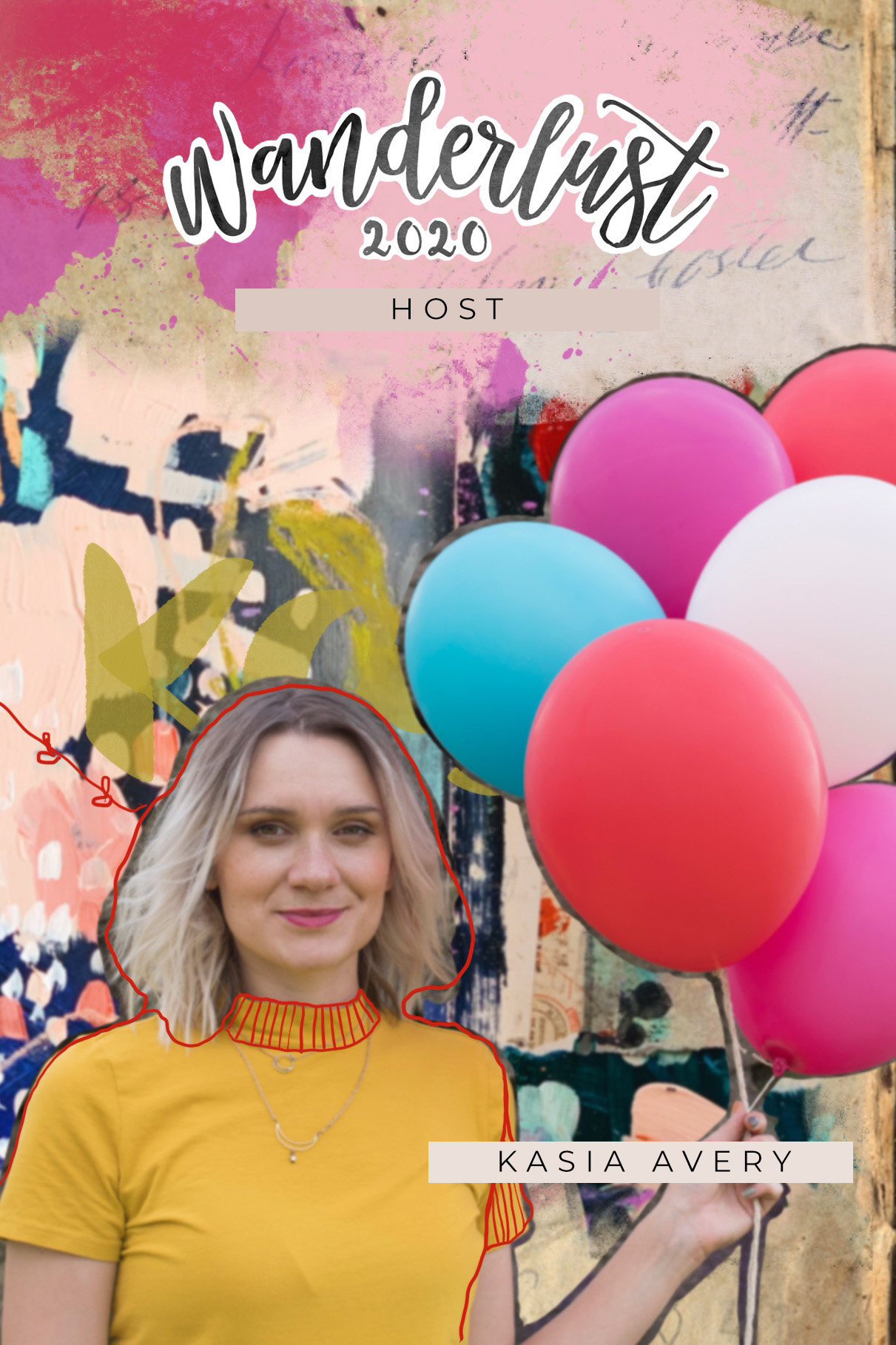 KASIA AVERY - HOST
Capturing the moment and sensations is everything to me - my language is art. I paint, collage and art journal to figure out my past, my present and future. I scribble, spill, tear, paint and write to let the emotions out. I ask questions and work out my answers through colour, texture, patterns and dynamic connections between contradictions. I'm allowing myself to put together rough and smooth, bold and subtle, quiet and noisy. My work is a perfect reflection of my everyday reality - the colours and subjects reveal the connections that I make between my past and now. I worked with several manufacturers and retailers promoting products and designing them (stamps, stencils). My works have been published many times in magazines such as Somerset Memories, Art Journaling, Somerset Life, Somerset Apprentice, Paper Haus, Die Scrapperin, Histoires De Pages. I teach mixed-media in-person and online since 2011 and everyday I'm grateful for this opportunity to have my dream job. I run Everything Art Ltd together with my husband Jamie.
On Wanderlust 2020 Kasia will be Teaching 19 full lessons in total.
---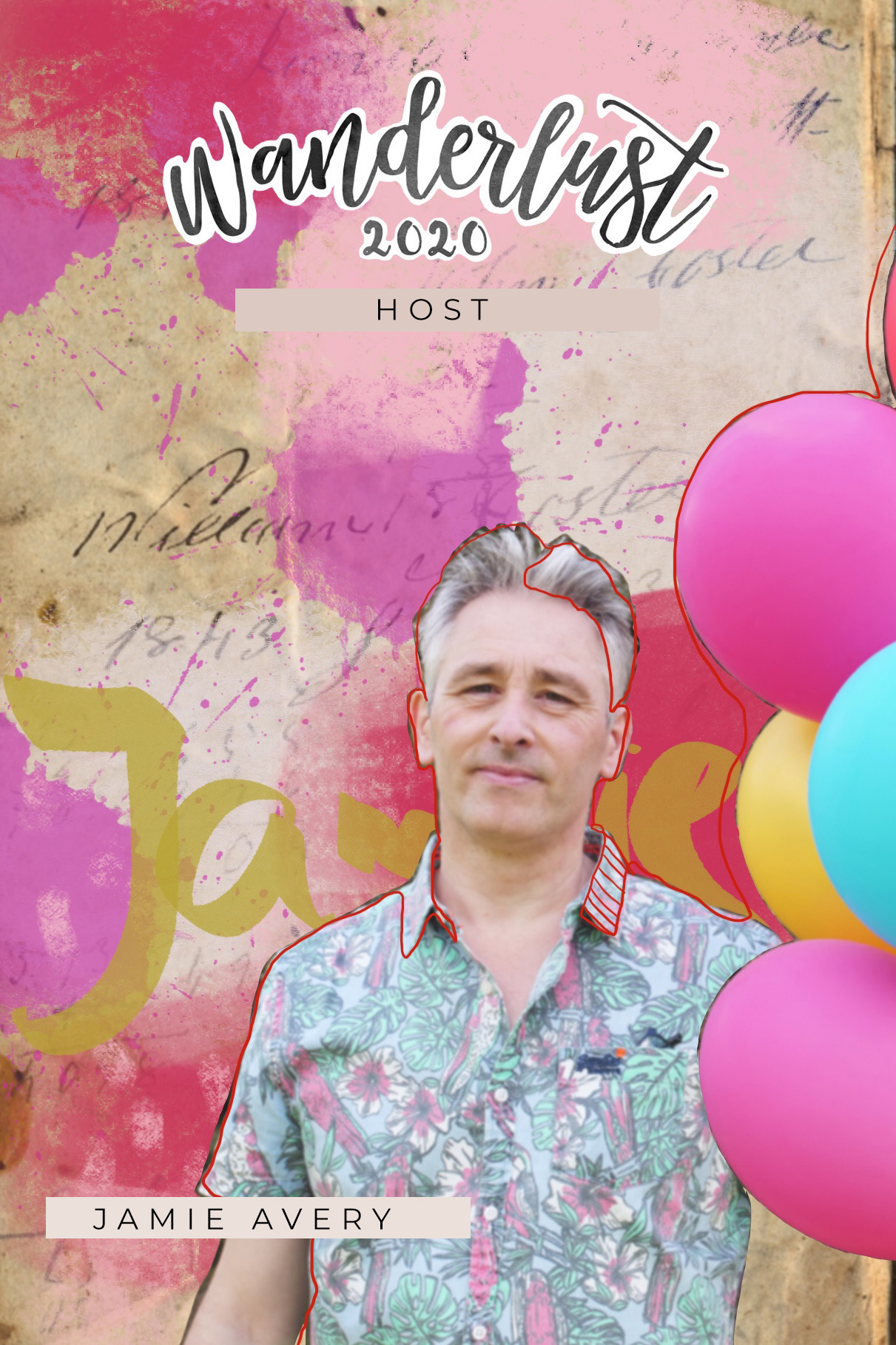 JAMIE AVERY - HOST

I grew up in a home where both my parents were painting, so I have always loved to be creative. My biggest creative passion is photography, but I also like to paint with acrylics and watercolours, draw with pencils, and am very excited to experiment in mixed media techniques.
I started life in retail, but later set up a Graphic, Animation, Video and Web-design business with my brother. We filmed for TV, created animations for many blue chip companies, and won awards for web design. This I did for many years before the retail bug bit me again, and combining the skills I had learnt over the last few years, with my love of creativity, I opened an online retail shop, Artist Trading Post, a retailer specializing in Mixed Media and Art Journaling products, which I ran successfully from 2008 until I sold the business in 2017. I love the technical aspect of how products work with each other and why, and helping people to experiment and be brave.
On Wanderlust 2020 Jamie will be teaching 12 short lesson on techniques, approaches and tips.
---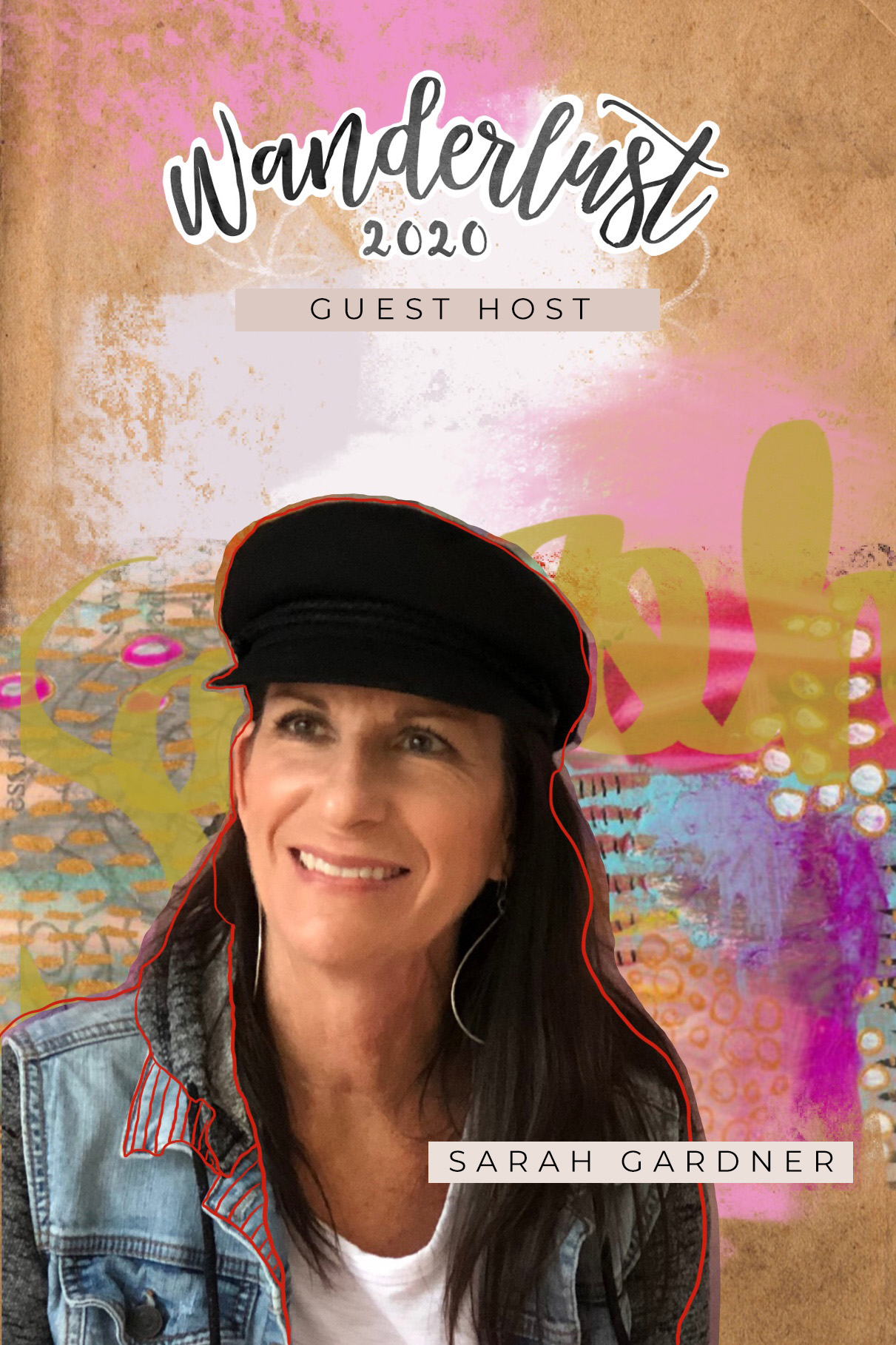 SARAH GARDNER - GUEST HOST

I'm Sarah Gardner. Juicy*S is my DJ name. I'm not a DJ. I would love to be a DJ. It's one of my fantasy dream jobs, really. I got this name when my sister, my friend, and I were slinging paint and working in our art journals, drinking wine and keeping track of the funny things we were saying on a "sign-in" sheet...just craziness. We all ended up with a DJ name that day. I started my blog with this name, and I've had it ever since. I'm a mom of two (17 and 15), and a lawyer by education and profession. I'm also the girl (yes, even though I'm fifty-something, I'm still a girl!) who has a Tutu Dance Party and makes everyone of my guests their own tutu! I'm the kind of person who thinks a lot (maybe too much) about things. I'm a voracious learner, and I want to be this way always. Art journaling has become a self-care practice for me. It is a time I take for me, to connect to my creative self, and embrace a childlike attitude of exploring, trying, and experimenting. I like to create colorful art that has meaning for me. I am present in the moment when I create something, and this contributes to my well-being.
On Wanderlust 2020 Sarah will be teaching 6 full lessons.
---
GUEST TEACHERS

Each Guest Teacher will be sharing one full-length, high-quality lesson that's project based.
Teachers in order of appearance on Wanderlust 2020: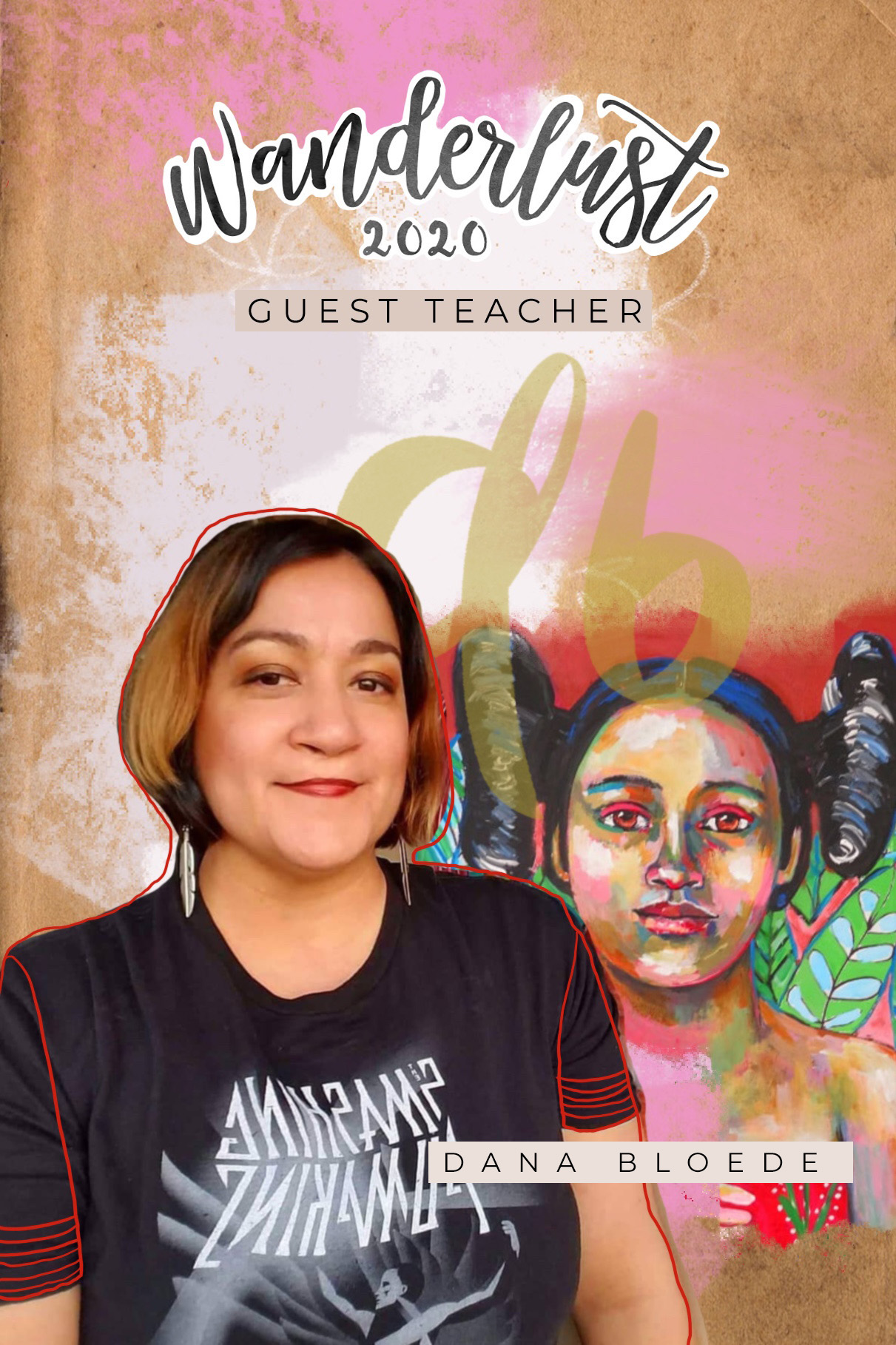 DANA BLOEDE - GUEST TEACHER
My mixed media portraits draw from my Native American and Mexican ancestry. Captivated by forests, most of my paintings have a serene narrative with a soulful message. Each painting tells an untold story about women in a way that words cannot. You may see yourself in my paintings. They are meant to evoke a feeling of peacefulness, warmth and trust. Other times they are meant to show an open, vulnerable heart, where pain and recovery lead to healing. All my paintings are mixed media, thick with texture and vibrant with color. My artworks are intentionally aged and distressed to obtain an old world charm. When I'm not painting, I am passionate about art journaling with friends, walking my two dogs "Bella" & "Pickles" and facilitating fun, creative and educational art workshops for public libraries.
---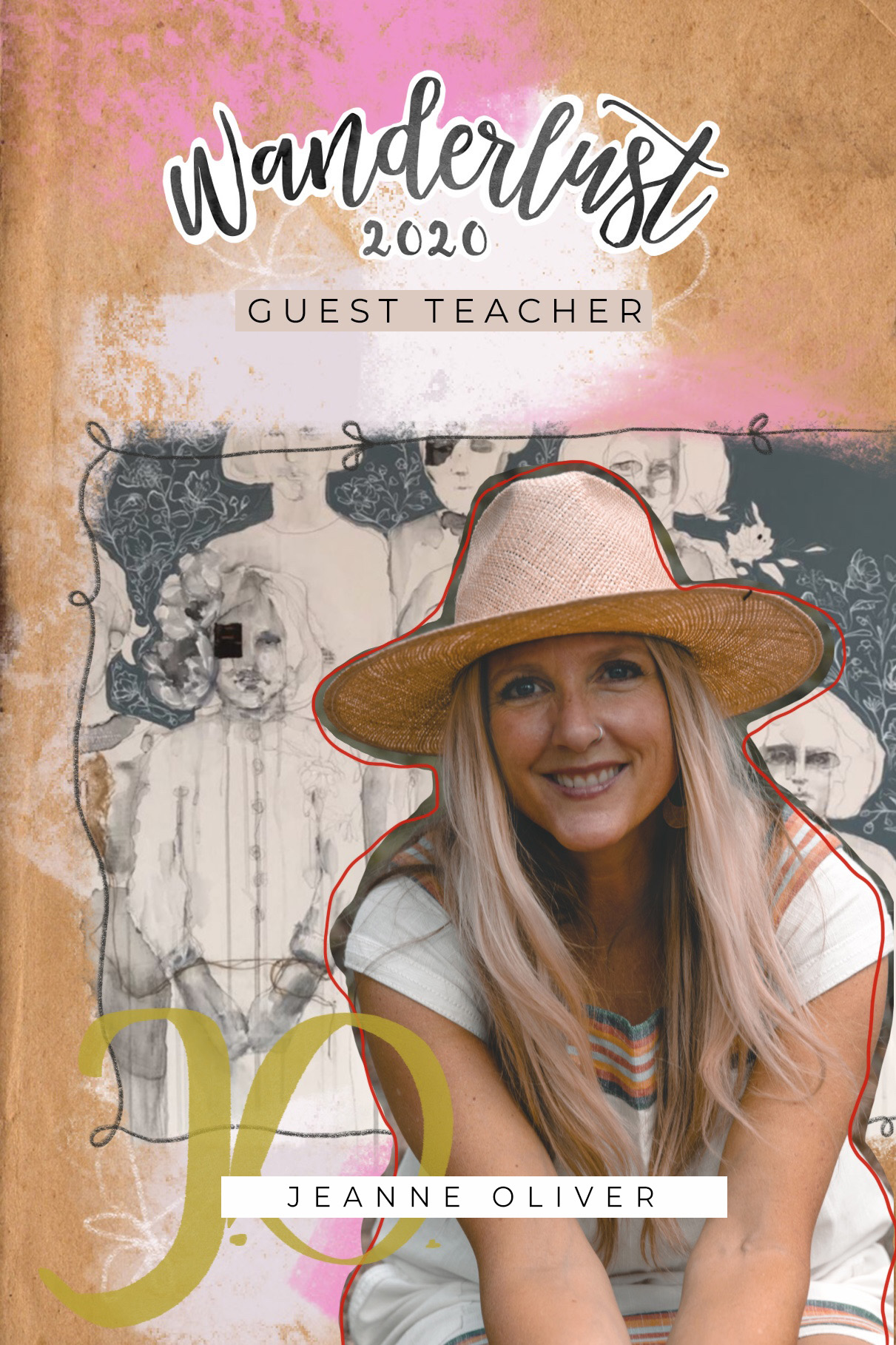 JEANNE OLIVER - GUEST TEACHER
Jeanne is married to her dream maker, Kelly, and the mother to three funny and creative kiddos. She home schools her children even though she has tried to get out of it a few times. You can often find her hiking in her state of Colorado, making creative messes in her studio and finding an excuse to have another cup of coffee.
She speaks and teaches all around the country and sometimes she even gets to cross the pond. She was told that she needed to find that one thing but she doesn't like listening to directions so she embraces many loves and that has given her a sweet mash-up of family, art, decorating and fashion. Connecting with women and sharing that each of us has been creatively made is one of her passions. The Lord is showing her each day to trust in him and in doing that the adventure continues.
---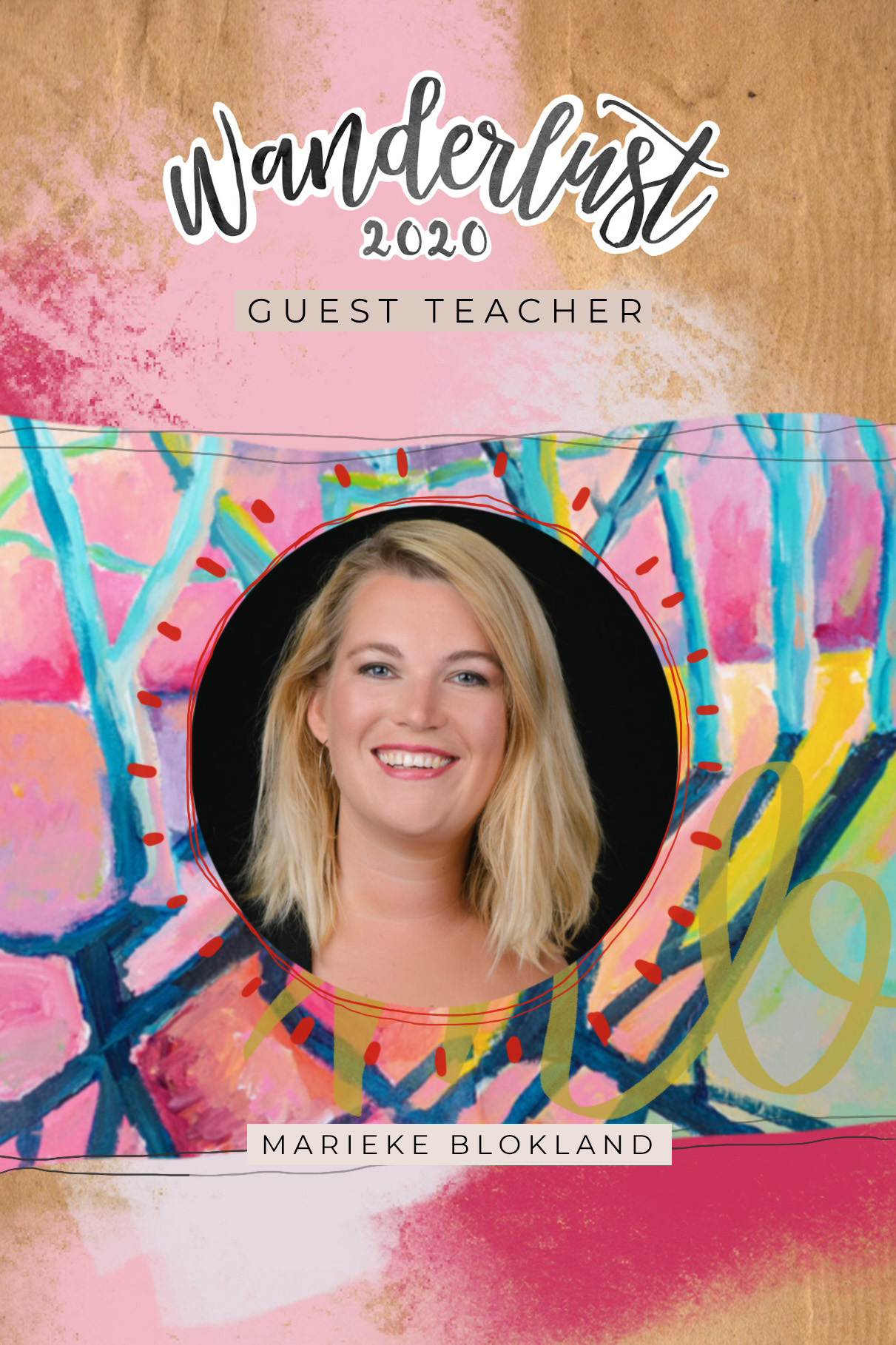 MARIEKE BLOKLAND - GUEST TEACHER

I am Marieke Blokland a.k.a. Bloknote.nl, an art teacher, artist, designer and illustrator from the Netherlands. After studying graphic design, I worked in marketing of craft supplies for a decade. Since 2014 I work full time as an online art teacher, creating courses for my online school Bloknote Academy.
Art journaling is my biggest passion. In my art journals I love to play with art supplies and express myself visually. My quirky work is often graphical and illustrative.
An 'art geek' is what I call myself, as I am very fond of modern art and design. I love to incorporate snippets of art history in many of my art classes. I love art by artists like Picasso, David Hockney, Francis Bacon and Grayson Perry a lot. But I can also feel inspired by watching a Tim Burton movie, old Japanese woodblock prints, African masks, folk art or street art.
I am married to Floris and we have two kids, Mathilde (11) and Silvester (8).
---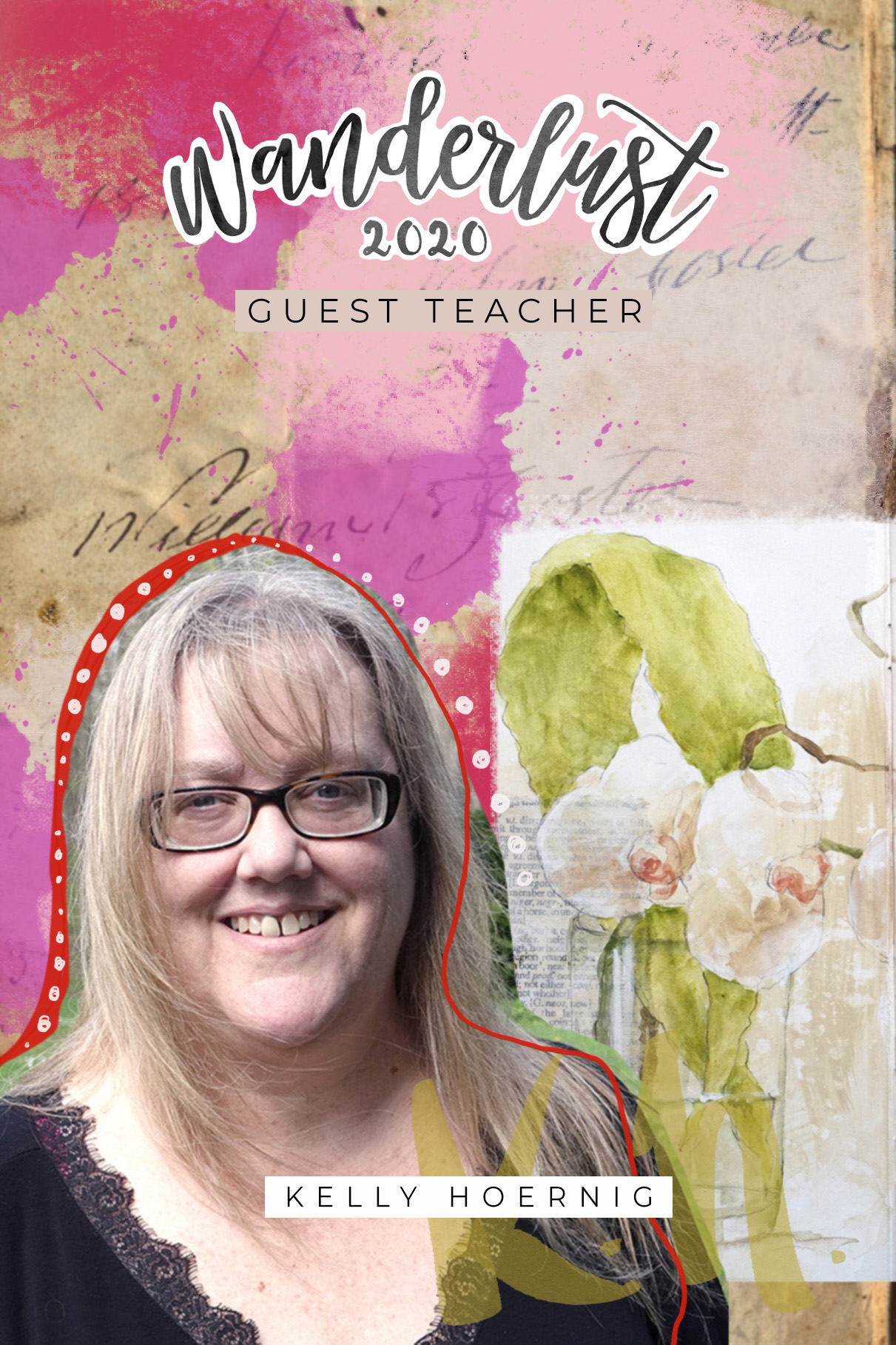 KELLY HOERNIG - GUEST TEACHER

I have been a full time artist since 1996 and still pinch myself that this is what I get to do for a living. Inspiration, creating and teaching has taken me across the United States and now Worldwide thanks to the online market. I love painting, photography and realism. I dabble with writing, colored pencils and watercolor. I challenge growth, learning and myself daily. But most of all, I live to inspire others, enjoy an artful life, and try to create something each and every day.
My husband John has been a constant supporter and love of mine since I was 15 (where does the time go?). Our family is completed with Captain Jack and Princess Sophie (shih tzu/bichon mix puppies, well they are really 9 now but still puppies to us) and over 80 fresh water fish tanks. Yes, you read that right, 80 fish tanks – nuts right? We live on 10 wooded acres surrounded by nature, a pond, flowers and so many beautiful gifts hidden to discover. It's a little slice of heaven honestly and there are days I still can't believe I live here.
---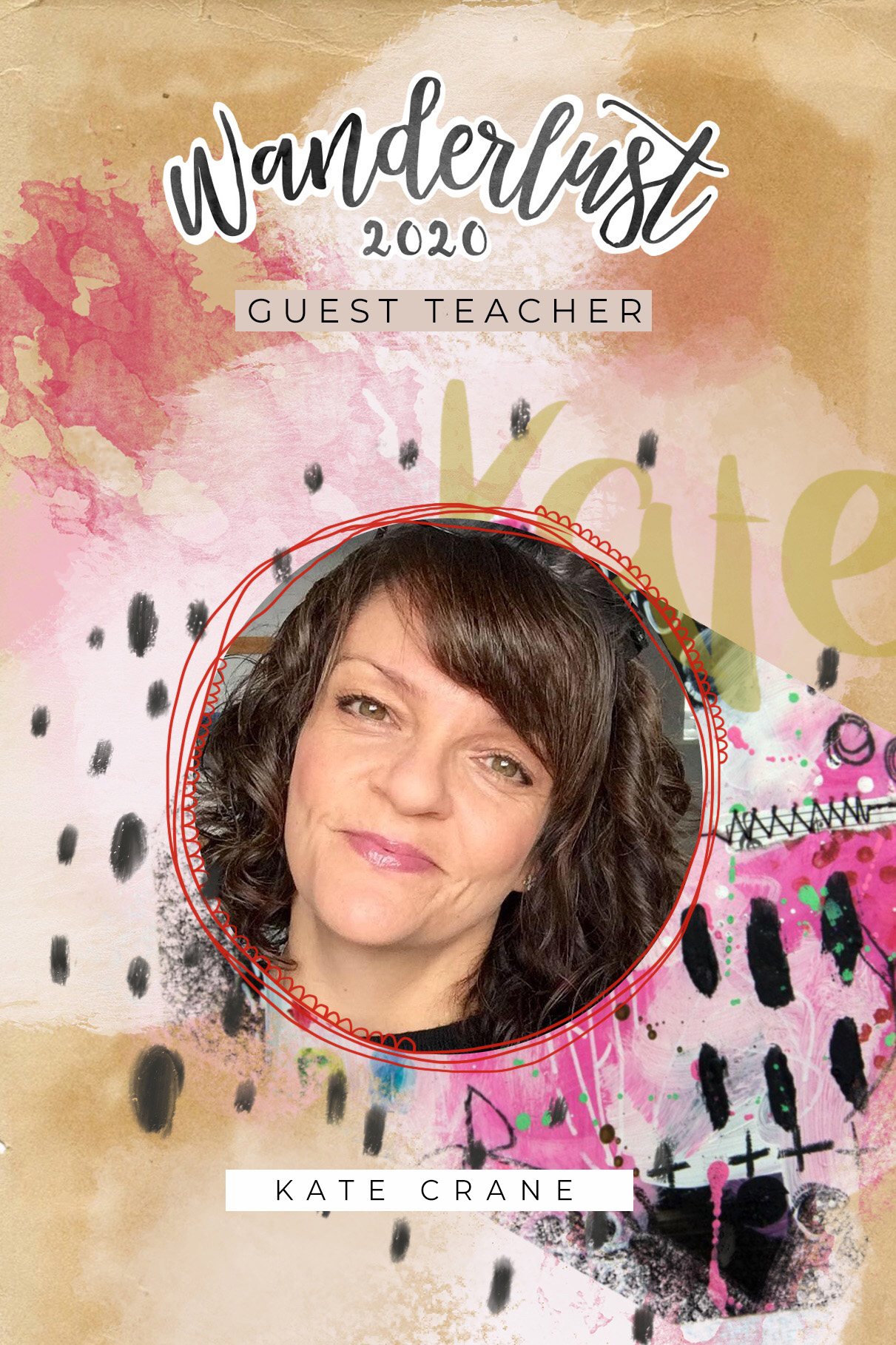 KATE CRANE - GUEST TEACHER
I am happily married with two teenage children, and we all live in a rural village in the north of England, UK, with various small animals. I am also a crafts tutor teaching in the UK and other parts of Europe, and love to share my passion for all things arty with others. I have contributed regularly to various magazine in the UK and USA, and have been on several design teams. I currently design rubber stamps, art printing plates, and stencils for Carabelle Studio. I am a helping artist for DecoArt, and also contributing artist for Gel Press and produce FREE instructional videos every month. I have had my art published in several publications including Somerset Art Journaling, Stampers Sampler, Artful Blogging, Somerset Studio, Somerset Apprentice, and Art Specially for You (NL).
---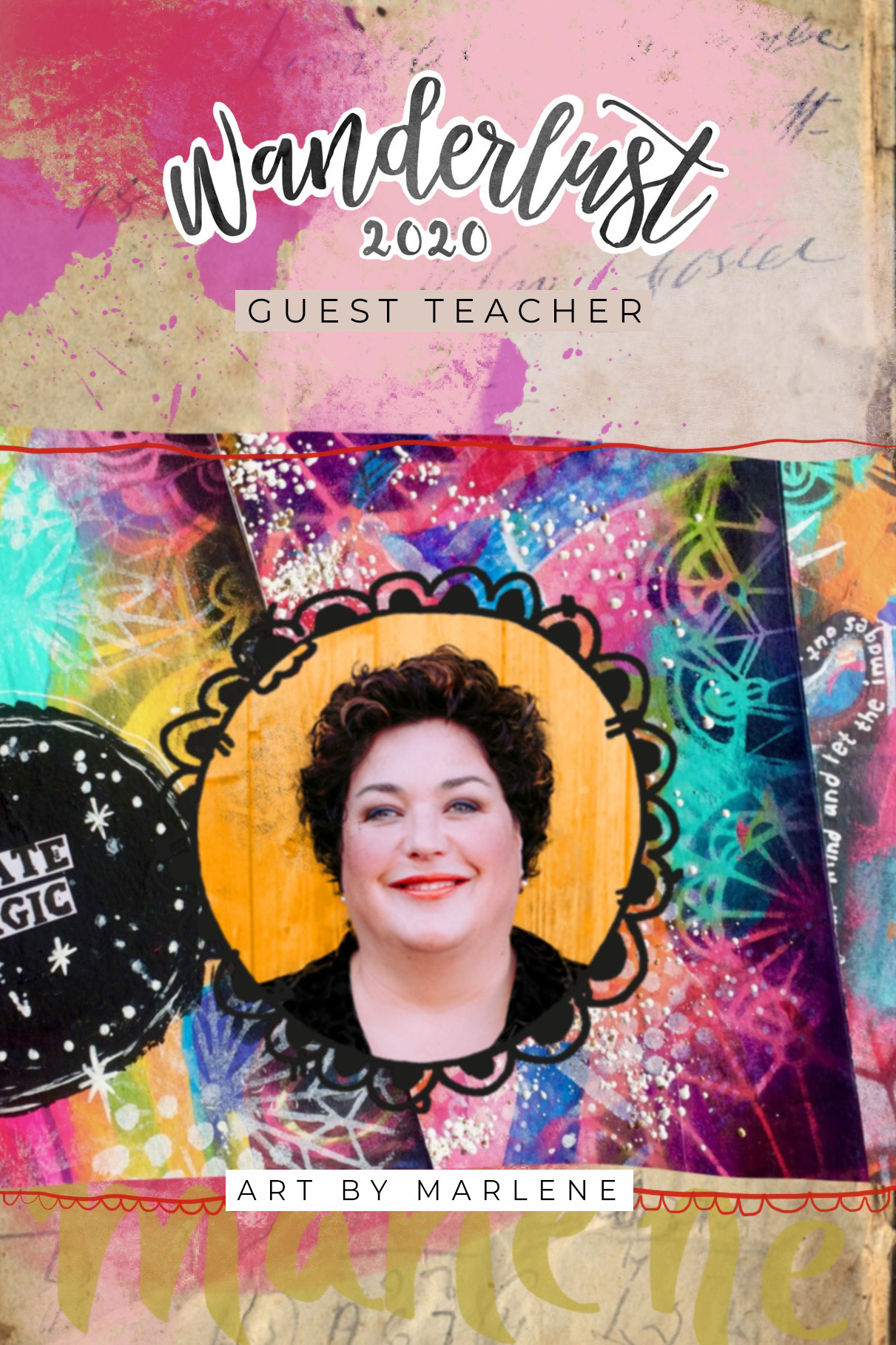 ART BY MARLENE - GUEST TEACHER

Hallo there! I'm Marlene Meijer-van Niekerk. I was born in sunny South Africa, and I currently live in a small coastal town in The Netherlands with my husband and 2 teenagers.
I've been making art, in some form or another since I was a small child. Whether it was making pottery, canvas painting, designing , decor painting, print making, sewing or even make-up design, the need to express myself artistically has been as natural as breathing. Mixed-Media and Art Journaling are just the latest outlets for my creative energy, but it surely has changed my life. The freedom that I experience when I'm art journaling excites me and get's my creative juices flowing! I have a large collection of journaling products with Studio Light. It is called the ART BY MARLENE SIGNATURE COLLECTION. I also have signature designs with lovely companies like Artfoamies, The Crafter's Workshop and Grafix arts.
My style is best described as vibrant, colorful and happy. My wish is to bring joy to the world with my art, I have no intention to provoke any negativity , I believe there is enough sadness in the world, so my mission is to uplift the mood and share happiness with with the world. Please join me on this artistic adventure...
---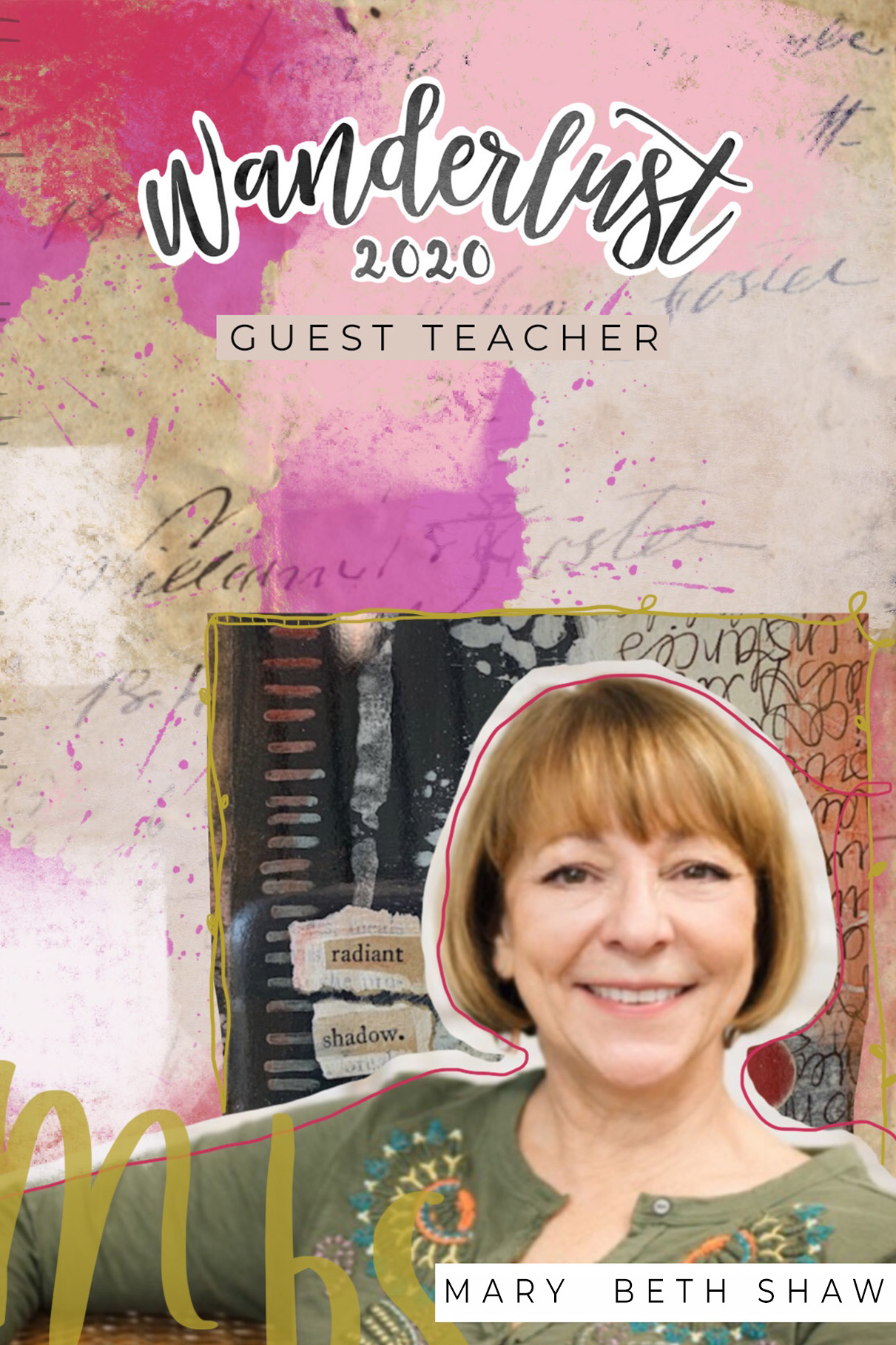 MARY BETH SHAW - GUEST TEACHER

Mary Beth Shaw worked in the insurance industry for 18 years before she quit her job in 2000 to re-ignite a childhood love of art. Since then she has spent all her waking hours exploring life as a painter working in mixed media, primarily acrylic, encaustic and collage. She initially put in lots of hours as a road gypsy, exhibiting at outdoor art fairs and selling as many as 300 paintings in one very blurry year. She transitioned into being a workshop instructor in 2008 and finds pleasure helping students find their own voice as a painter. Her personal creative process is a dance between spontaneity and intent; she finds great joy in the physical act of painting and looks at her best work as a gift from a higher power. She welcomes mistakes because they so often provide a delightful detour into new territory. She is author of Flavor for Mixed Media and Stencil Girl, is a columnist for Somerset Studios Magazine and a Golden Artist Educator. She is the founder of StencilGirl® Products, LLC and the recently opened StencilGirl Studio.

---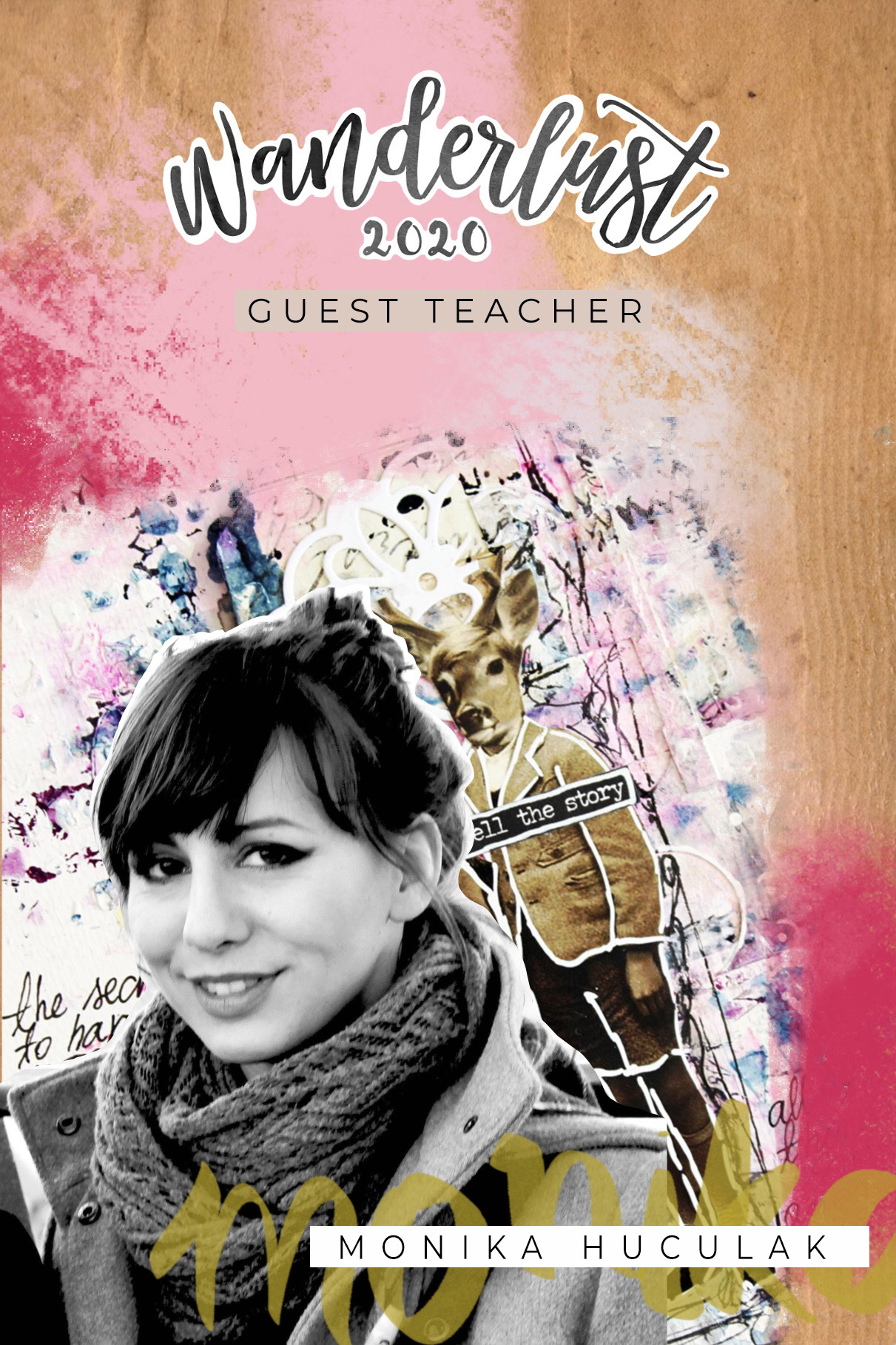 MONIKA HUCULAK - GUEST TEACHER

Hi! My name's Monika Huculak (a.k.a. Kolorowy Ptak - which means 'A Colorful Bird' in Polish) and I'm a 34 year old teacher from the south of Poland. I work with special needs youth and I also work in the Primary School as a history teacher. I love history, art and I'm a happy owner of adopted shelter dog, Milo. I started my blog in 2010 but even before that I would be creating pieces out of magazine cutouts not knowing that I could be calling it collaging or art journaling. :) When I was browsing the internet looking for gift ideas for a friend, I came across scrapbooking blogs and I thought to myself that I would like to try making such pretty things myself. After trying out different kinds of art, I discovered that my favorite outlets are: altered art, large layouts and the closest to my heart - art journaling. I fell in love with the creative possibility to express myself and unwind at the same time. I like to create just for the sake of it. I don't need a special reason or a particular idea in mind, the point is - the pure joy of creating.

---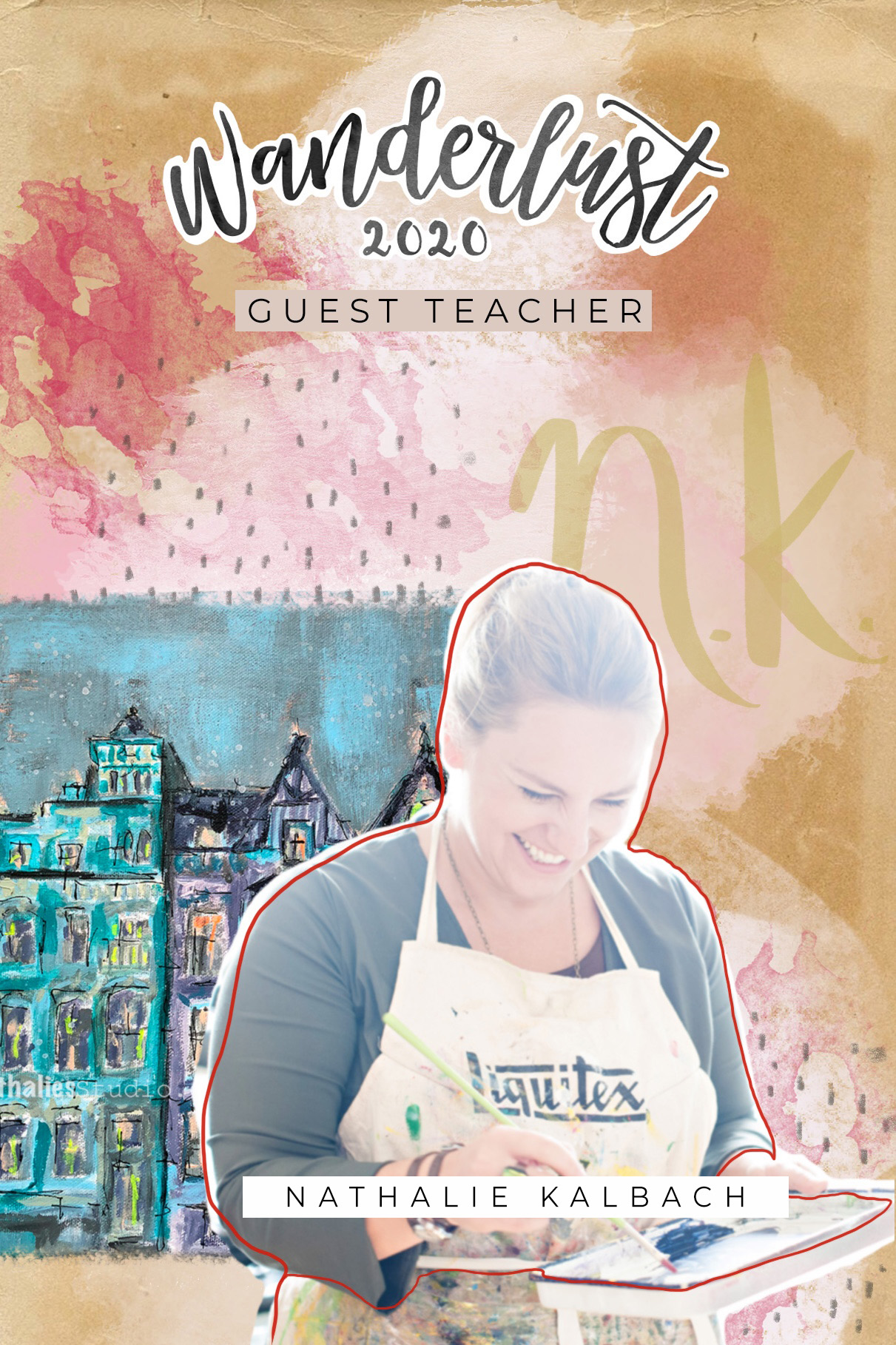 NATHALIE KALBACH - GUEST TEACHER
I am a self-taught mixed media artist. I was born in Germany and lived most of my adult life in Hamburg before moving to the United States in 2013. I worked as a paralegal for seventeen years and might have remained in the "wrong" profession had I not discovered mixed media in 2004.I regained confidence in my creativity and have spent the last decade exploring the possibilities of creating dimension and texture by layering different materials and paint media. I have worked in art journals and on canvases, incorporating collage and found objects. Since 2006 I have taught workshops in Europe, Canada, the U.S., Australia, Israel, Malaysia and online. I am also teaching Mixed Media Workshops at Pratt Institute SCPS. By 2011 I was able to give up working as a paralegal to become a full-time artist.In my workshops I share what I know about tools, supplies and techniques, with the goal of helping each student unlock his/her personal creativity. My artwork is licensed through StencilGirl Products, RubberMoon, Stampendous and ArtFoamies. My Book Artful Adventures in Mixed Media with North Light Books was released in June 2017.
---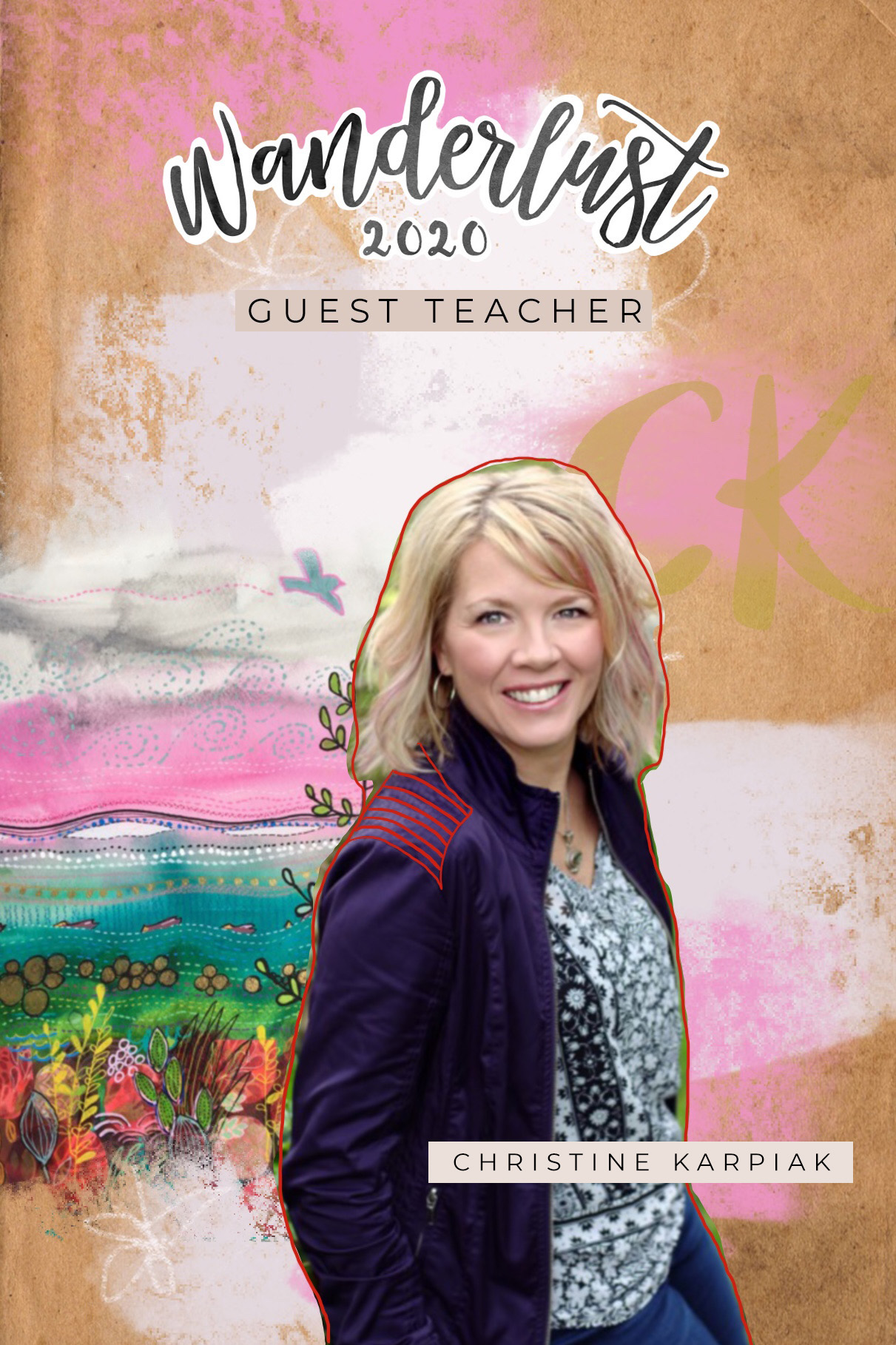 CHRISTINE KARPIAK - GUEST TEACHER

Christine paints, glues, tears, collects and constructs her way through life. For her, the creative process is a necessary part of her every day being. Christine makes a general mess painting, art journalling, and exploring all manner of materials. She enjoys inspiring others to express themselves through art by playing and trying new things. Christine lives with her husband, son, and dog in Brentwood Bay on Canada's Pacific Ocean.
---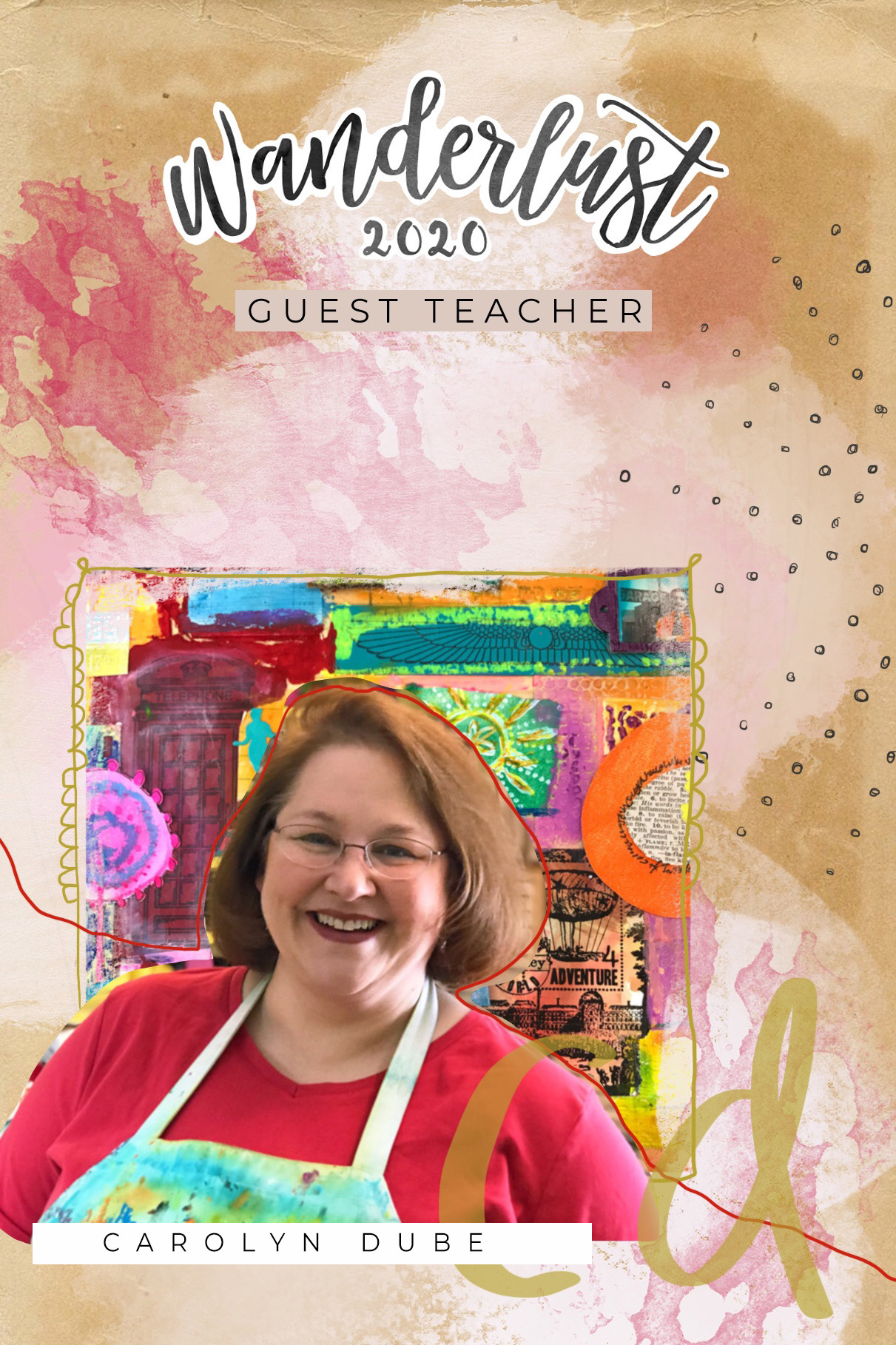 CAROLYN DUBE - GUEST TEACHER

Carolyn Dube is a mixed media art adventurer who takes the intimidation out of supplies so that you can find freedom through creativity. Play with every color of the rainbow, avoid rules whenever possible, and let the little kid inside of you free through art. You can find her designing stencils for StencilGirl Products, teaching in person and online workshops, her articles in magazines such as Somerset Studio and Art Journaling Magazine, and sharing the message of O.O.P.S. through her YouTube videos and blog, aColorfulJourney.com
---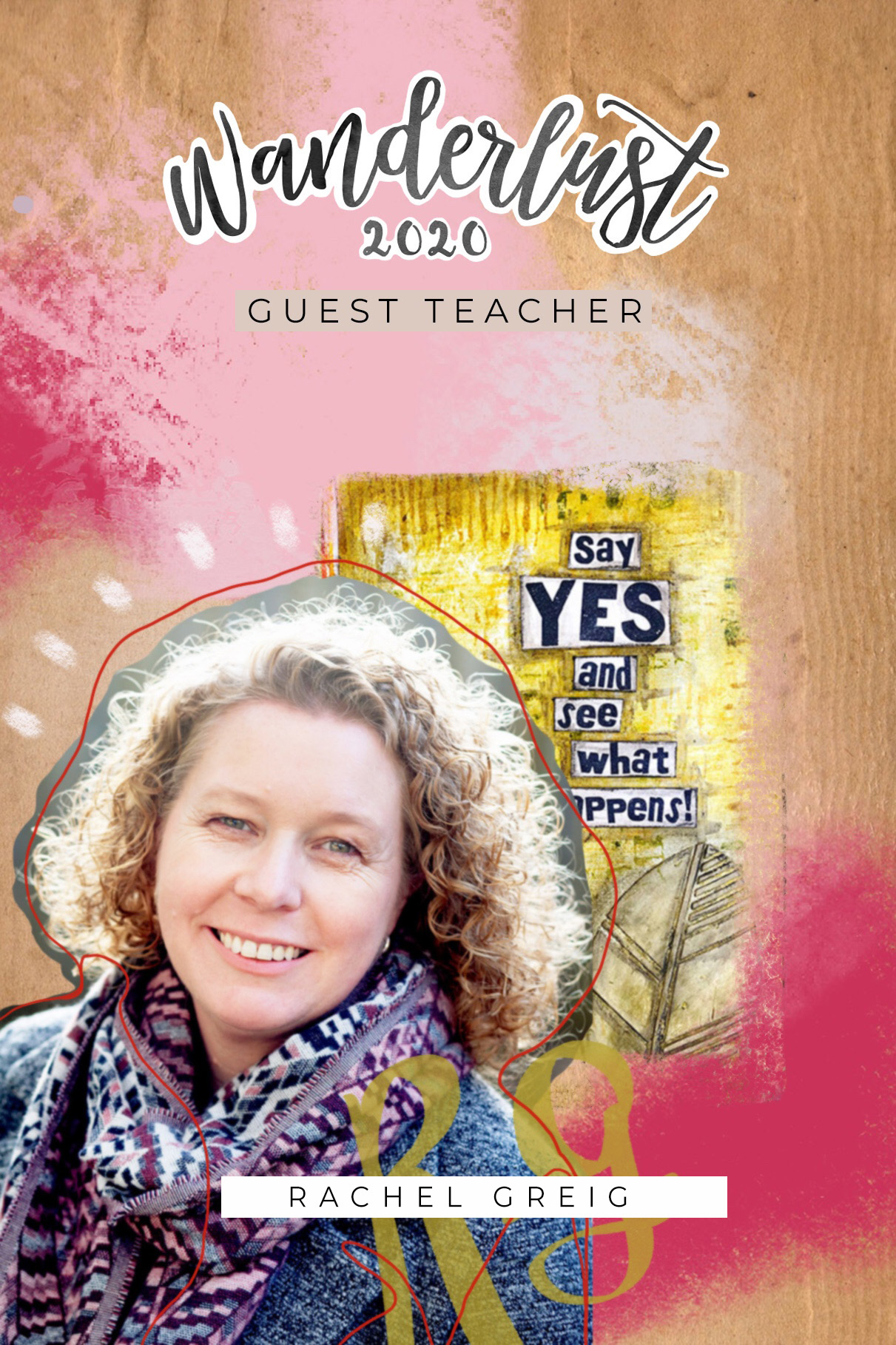 RACHEL GREIG - GUEST TEACHER
Rachel Greig is a photographer and mixed media artist and proud owner and designer of Darkroom Door rubber stamps. Rachel's photographs and artwork have appeared in art galleries, TV, books, magazines, and have been created into homewares, stationery and art and craft products.At age 10, Rachel earned her first camera by cooking for the shearer's on her mother's farm, and later went on to complete a Bachelor of Visual Art (Photography) degree in 1994. While at University, Rachel studied printmaking, fibre arts (bookbinding & paper making), painting and illustration, and chose photography as her major subject. Rachel now combines her love of art, photography and travel by designing products for Darkroom Door and teaching workshops in art journaling, paper craft and mixed media.Rachel was awarded the 'Master of Scrapbooking' by Scrapbooking Memories magazine in 2001 and became Photography Editor of My Reflections magazine and Scrapbooking Memories magazine for several years. Her photography articles and craft projects have been published in Somerset Studio, The Stampers Sampler, Take Ten, Craft Stamper, Scrapbooking Memories, Cardmaking Stamping & Papercraft to name a few. Rachel is a Ranger Certified Instructor, and has presented on Scrap-it TV and QVC UK.
Rachel currently lives near the ocean on the Australian NSW Central Coast with her husband, Stewart and two teenage children, and a cute dog called Sally.
Darkroom Door:
---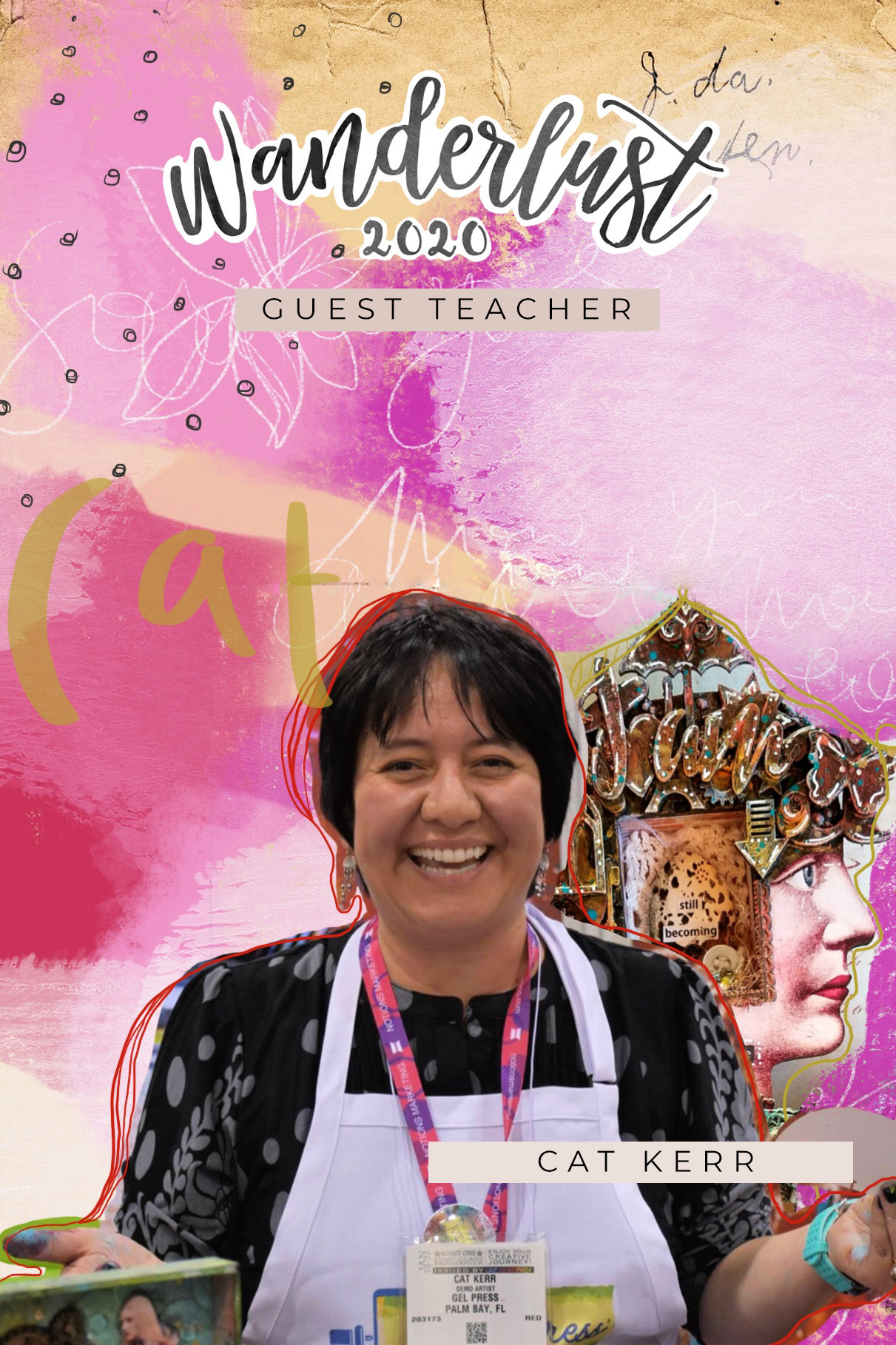 CAT KERR - GUEST TEACHER
Cat Kerr is a Mixed Media Artist, Instructor and Product Designer living in Central Florida. Her work has been featured heavily in numerous worldwide publications as well as appearing on multiple seasons of the PBS show "Make it Artsy". She has collaborated with companies in the Arts industry and created multiple product lines including foam stamps, stencils, and texture plates. She is also a 2019 product educator for companies such as Marabu Creative USA and Gel Press. To inquire about her work, teaching schedule or have any questions, you can find her at www.catkerr.com
---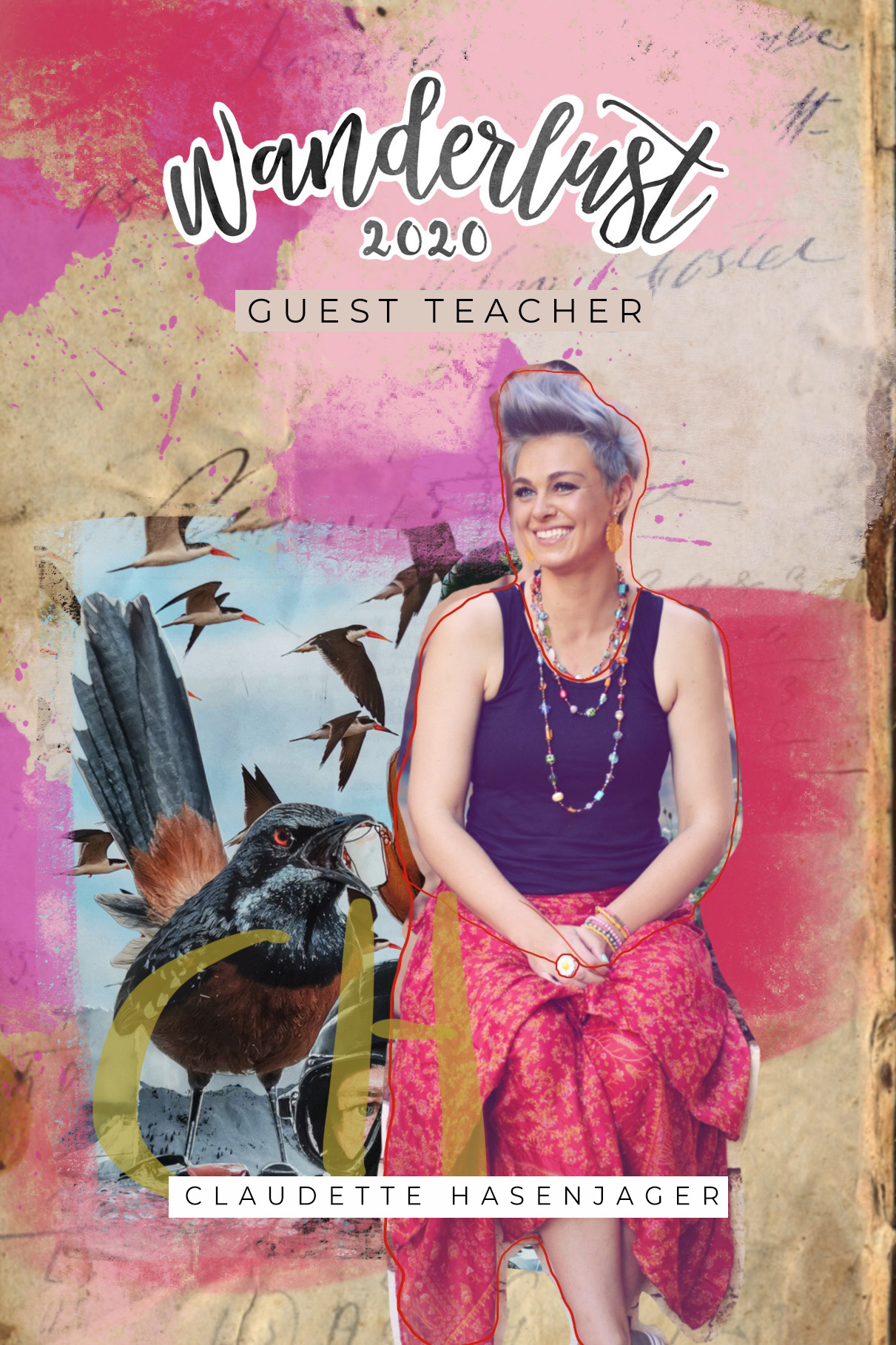 CLAUDETTE HASENJAGER - GUEST TEACHER
For a long time, I only allowed myself to be a mom of six. That meant all my thoughts, energy and focus were dedicated to this role. For many years I sedated myself, promising that I would create once the children were older; once I had more time; once life was more settled. Of course, this set of perfect circumstances never arrived. I found myself feeling more and more frustrated, overwhelmed and angry. I eventually woke to the realization that I, like so many others, have an internal need to express myself through artistic creation. This call grew from a whisper to a deafening scream, and it would not be ignored any longer. Through listening to myself, following my instinct, and honoring my voice I discovered the powerful practice of intuitive collage. Today, creating art that speaks to my soul and feeds my intuition has become part of what I do every single day of my life, and I could not imagine being without it.
FB: https://www.facebook.com/pages/category/Artist/Cla...
---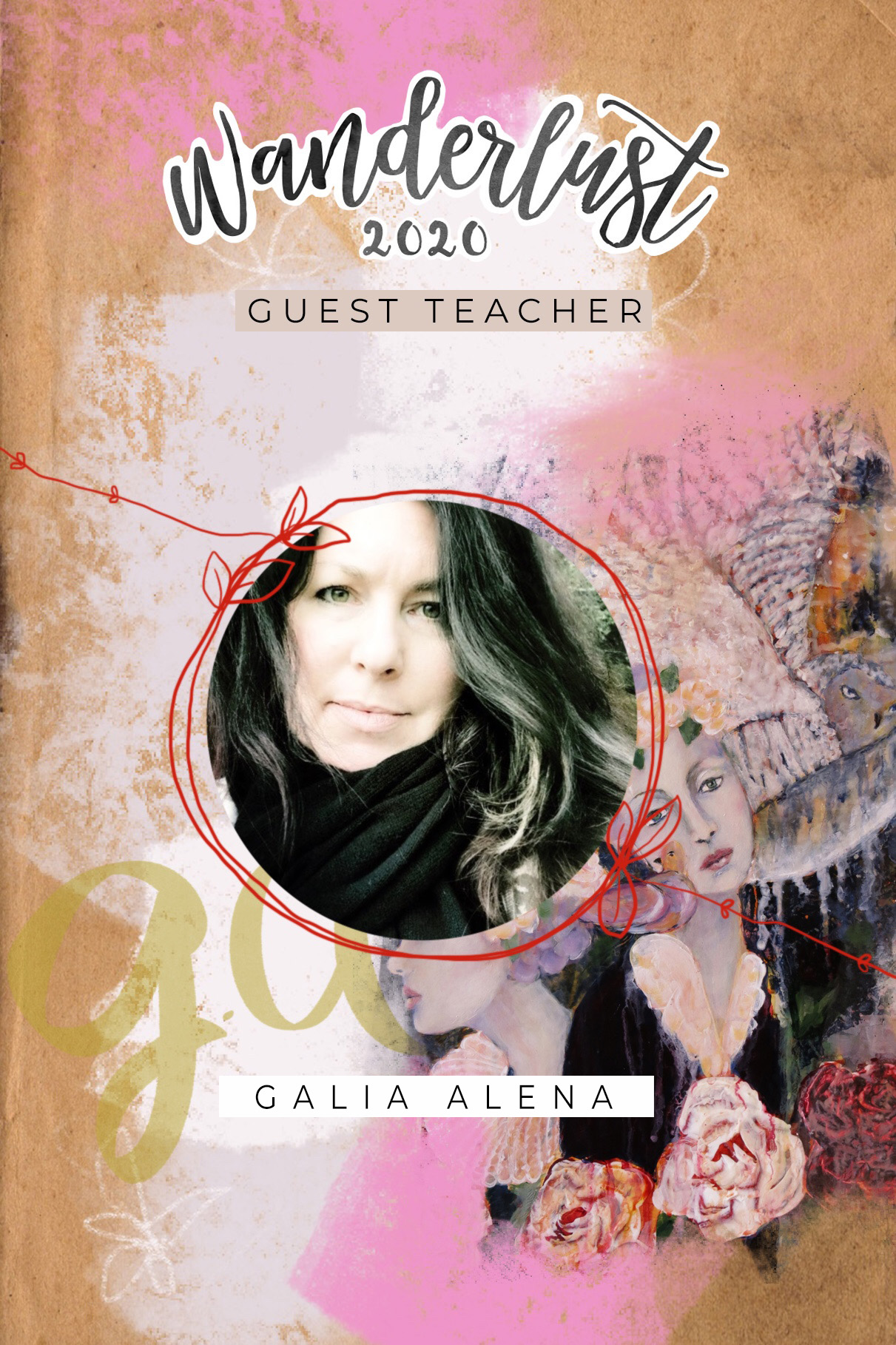 GALIA ALENA - GUEST TEACHER
Hi, my name is Galia Alena.I am a visual poet, earth mystic and mist walker. I walk in beauty dreaming with the divine to create sacred art and to partner with intuitive healing practices. I create in dialogue with the sacred feminine and my practice involves listening to the magic as it appears in dreams, journey, tarot, nature and other daily blessings. I'm a beauty unveiler, light huntress, moment caresser, mythologist, archetype weaver and visionary poetess. Ultimately, all of my work is about helping people peel back the layers to experience the intense beauty of each moment allowing them access to both their intuitive wisdom and a deeper connection to spirit and self, helping them find their own truths in connected stillness. In this way I am a guidess helping others find their own mystery school of wisdom and sacred being.
(Because the beauty of this life cracks our hearts open and it is through the cracks that light can flow both in and out and connect us back to our divine selves).
Oh... and I believe in the magic of this life.
I live in the insanely beautiful Blue Mountains, just shy of Sydney, amoung the clouds and mist, with my family, our kitten and all the winged ones who frequent our garden. Each day here is a wondrous delight of tiny miracles through either the glorious light or magical mists.
---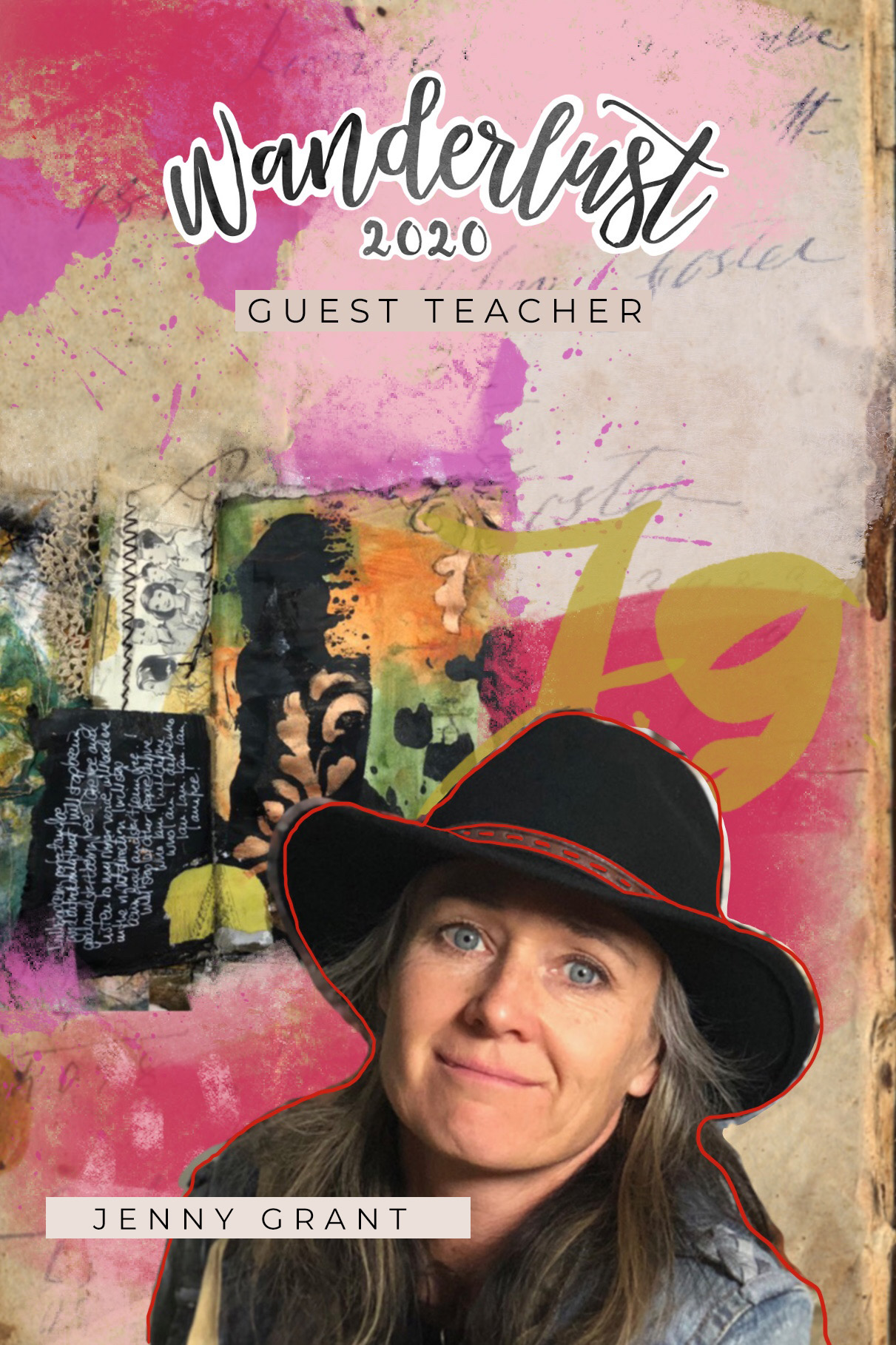 JENNY GRANT - GUEST TEACHER

I am Swedish living just north of Stockholm. I am a Mixed Media artist and teacher on a mission to inspire people to be brave, to use their creativity and do more of what they love. My work is very rich with many layers that add depth and texture to my work. People often find my art very peaceful even though it is colorful and full of energy. My works are hanging in private collections around the world.
I also love art journaling. Art journaling is a resting place for me and it gives me time to recover. I make my own art journals out of scrap and my art journaling process is totally free from requirements, rules, results or obligations. Art Journaling is a way for my creative soul to be totally free and a way to find the unique creative source within myself. It is an important part of my creative process and it is a way to prevent creative block by helping me to let go and to find my flow. When working in my journal I feel safe. For me art journaling opens up the magic of what is unique within myself.
I run workshops both in-person and on-line. My in-person workshops and retreats are available in many places around the world. I do mixed media workshops on big canvases and art journaling.
I have practiced yoga for more than 14 years. Yoga is essential for my wellbeing and gives me both mental and physical strength. I believes that we all have the power and knowledge within ourselves to live our lives in tune with ourselves.
---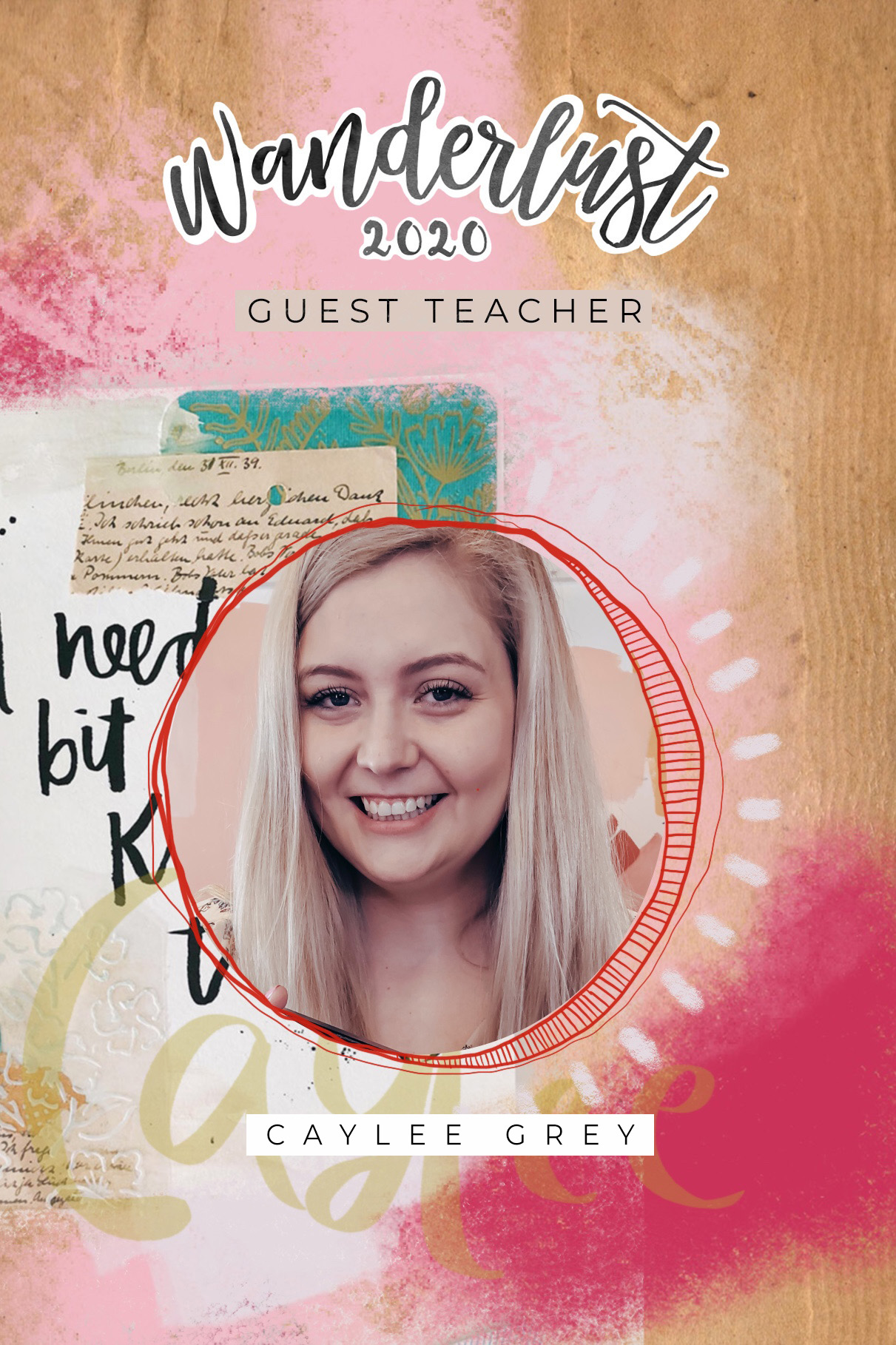 CAYLEE GREY - GUEST TEACHER
Caylee Grey is a human artist who discovered art journaling as a very good way to beat her perfectionism. She is the fairy artmother at Get Messy, an art community of over 2000 artists. She believes in three things above all: creating more than you consume, purposeful hustling, and garlic. Almost anything can be made better with one or all of these three things.

---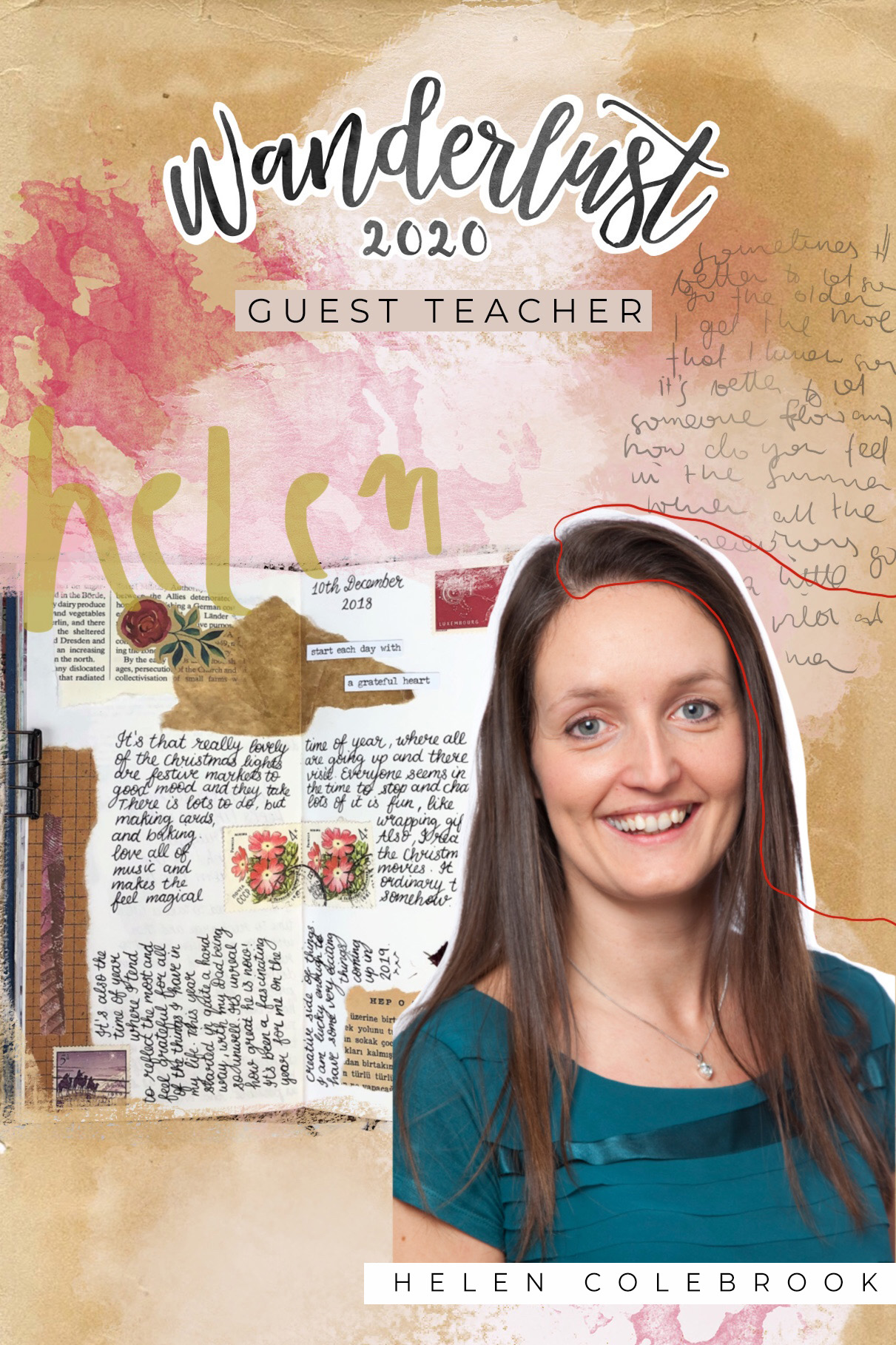 HELEN COLEBROOK - GUEST TEACHER
Helen Colebrook's day job is running a human resources consultancy business. She did not think of herself as creative until she found her 'thing' – creative journaling - and began her blog Journal with Purpose.
The freedom and lack of rules made journal-keeping the perfect hobby for her and creativity has now become a very important part of her everyday life. Her journal pages have been featured in two books on journaling. She has also been featured on podcasts and in the national press and her work has been exhibited at The London Stationery Show.
She works with several pen and stationery companies and also runs journaling workshops. She has attracted a large social media following, on where she shares her passion for all things journal-related and creative. Her first book on creative journaling will be published by FW Media in October 2019. She also has her own range of journaling products, including stamps, stickers, paper packs, ephemera and washi tape.
---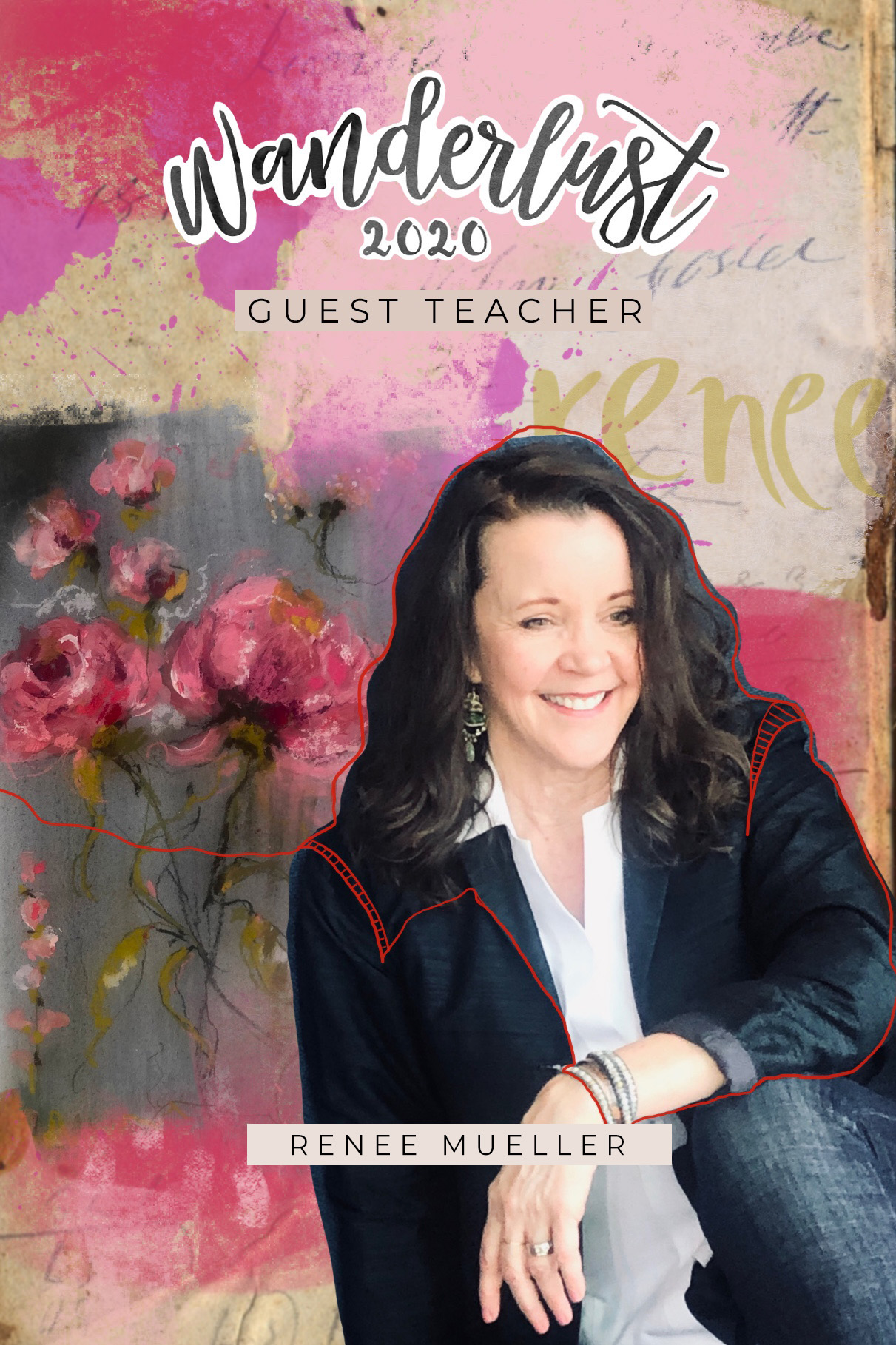 RENEE MUELLER - GUEST TEACHER
I received a BFA from the University of Michigan in Dance and Choreography. I danced professionally and had the honor of teaching dance at the University of Michigan's Musical Theater and Theater Departments.
Growing up in the magical world of theater and dance I was exposed to so many gifted and talented artists. Collaborating with dancers, actors, choreographers, musicians, set, costume and lighting designers was an incredibly rich experience. It was fascinating to watch how a small idea would unfold into beautiful productions.
My love for theater and dance is a constant source of inspiration for my art. I hope that by sharing my techniques and creative practices, you will find something to spark your imagination.
I currently live in Ann Arbor, Michigan with my husband Marc, who continues support all my creative dreams, and our beautiful daughter Olivia.
---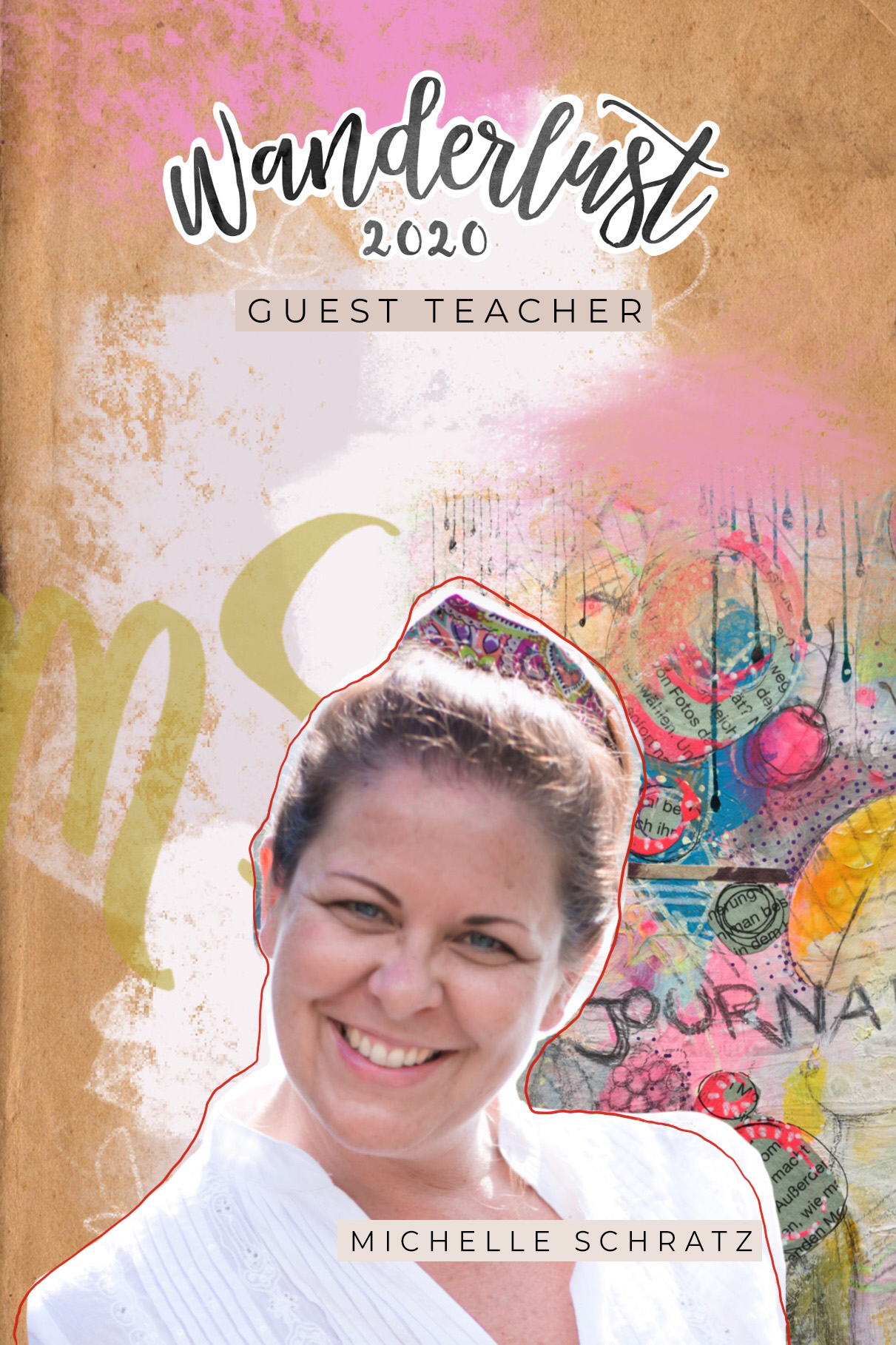 MICHELLE SCHRATZ - GUEST TEACHER
Creative bohemian gypsy soul by land. Mermaid by sea. Originally from the United States, Michelle now calls a small town in southern Germany her home. And if she's not in the studio, you will definitely find her at the nearby Ammersee (Lake Ammer).
"I create, therefore I am."
---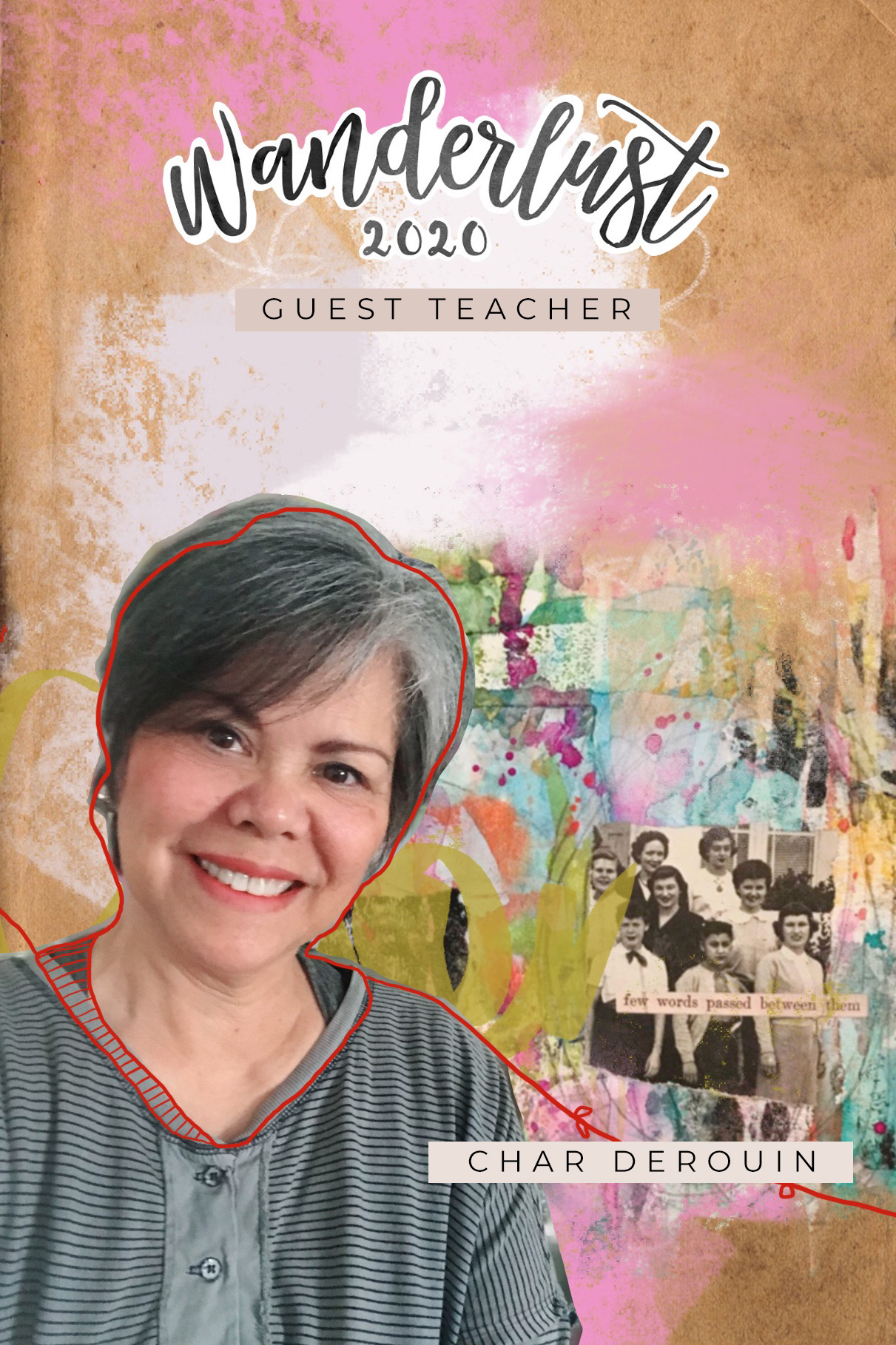 CHAR DEROUIN - GUEST TEACHER
Char is an artist, designer and maker who has her hands in just about everything: painting, journal making, collage, costume design, sewing, and dreaming-up new crafty adventures. Her work is abstract, intuitive and organic with a no-rules approach; influenced by color and pattern, often times peppered with vintage or mid-century elements. Char enjoys using her creativity for personal expression and to connect with others.
---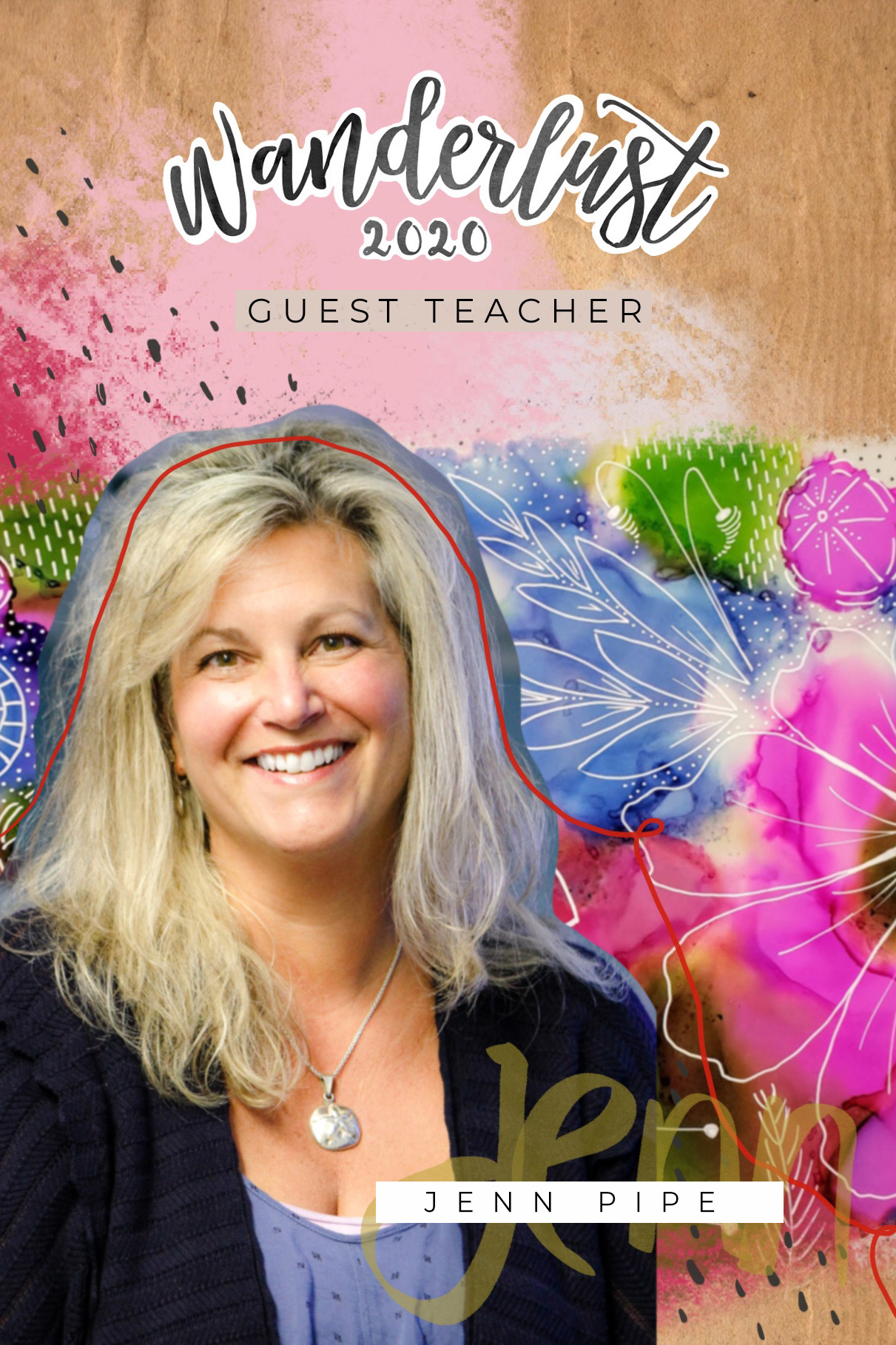 JENN PIPE - GUEST TEACHER
Jenn Pipe is a self-taught mixed-media artist and the Founder and Chief Creative Officer of Self Esteem Through Art. She has always believed in the power of creativity as an unparalleled personal and spiritual growth tool. This belief helped her to develop a unique style that effortlessly combines empowerment with her art-based approach. Jenn is an artist, an entrepreneur, a speaker, a coach, and a mentor. Her studio and her online classrooms are safe havens for her predominantly female clientele of both women and girls.
Jenn's mission has always been to positively impact the world through the healing combination of community and creativity. She hopes to add Published Author to her résumé in the near future. She currently lives in Massachusetts with her husband, two teenage daughters, and their rescue dog, Angus.
---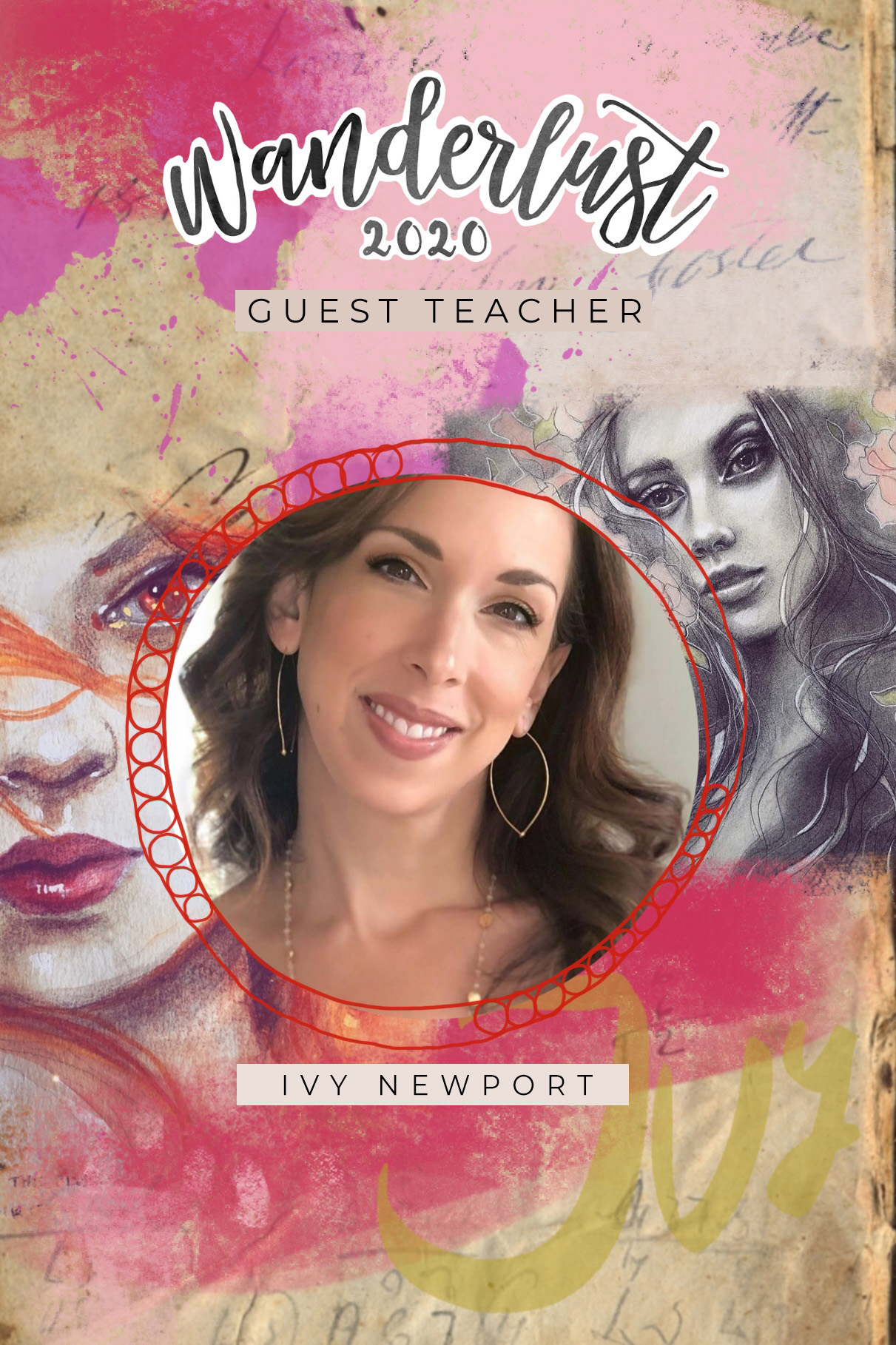 IVY NEWPORT - GUEST TEACHER
Ivy is a published artist, art instructor and creative guide. Her online collection of artistic workshops have served thousands of students internationally and she prides herself on giving devoted care and support to her student body.
She spent most of her childhood growing up in Sydney, Australia and received private art education from a well known Australian artist as a young girl of 8 until her family was relocated to America when she was 16. She went on to finish high school in Connecticut and attended the Ringling College of Art and Design in Sarasota, Florida, receiving her BFA in Illustration.
After graduating she relocated to Austin, Texas where she was employed to create and implement an elaborate art education program at a local Montessori school. Life then took her to New York City, where she was employed by the Whitney Museum of Art working in the President's office and assisting both the President and the museum's Trustees. Finally a move to Portland, Oregon led her into the interior design business as a design assistant. A few years later, she owned and operated her own successful Interior Design company.
She left this fast paced role to become a mother to her two girls. While at home, Ivy engrossed herself in creative discovery and began to passionately shoot photography and author a blog. These endeavors ultimately led her to the online creative community - which inspired a fruitful and gratifying career as an Art Instructor - teaching both online and in person. Her domestic and international workshops offer rich and expansive creative experiences, with a focus on personal growth and renewal.
Ivy's artistic message is to guide others to their creativity and nurture those special gifts in each of us. She strongly believes that every soul is creative and finding ways to express that creativity is paramount to joy and healing.
She has been published in several magazines including, Somerset Apprentice, Somerset Digital Studio, and Artful Blogging.
---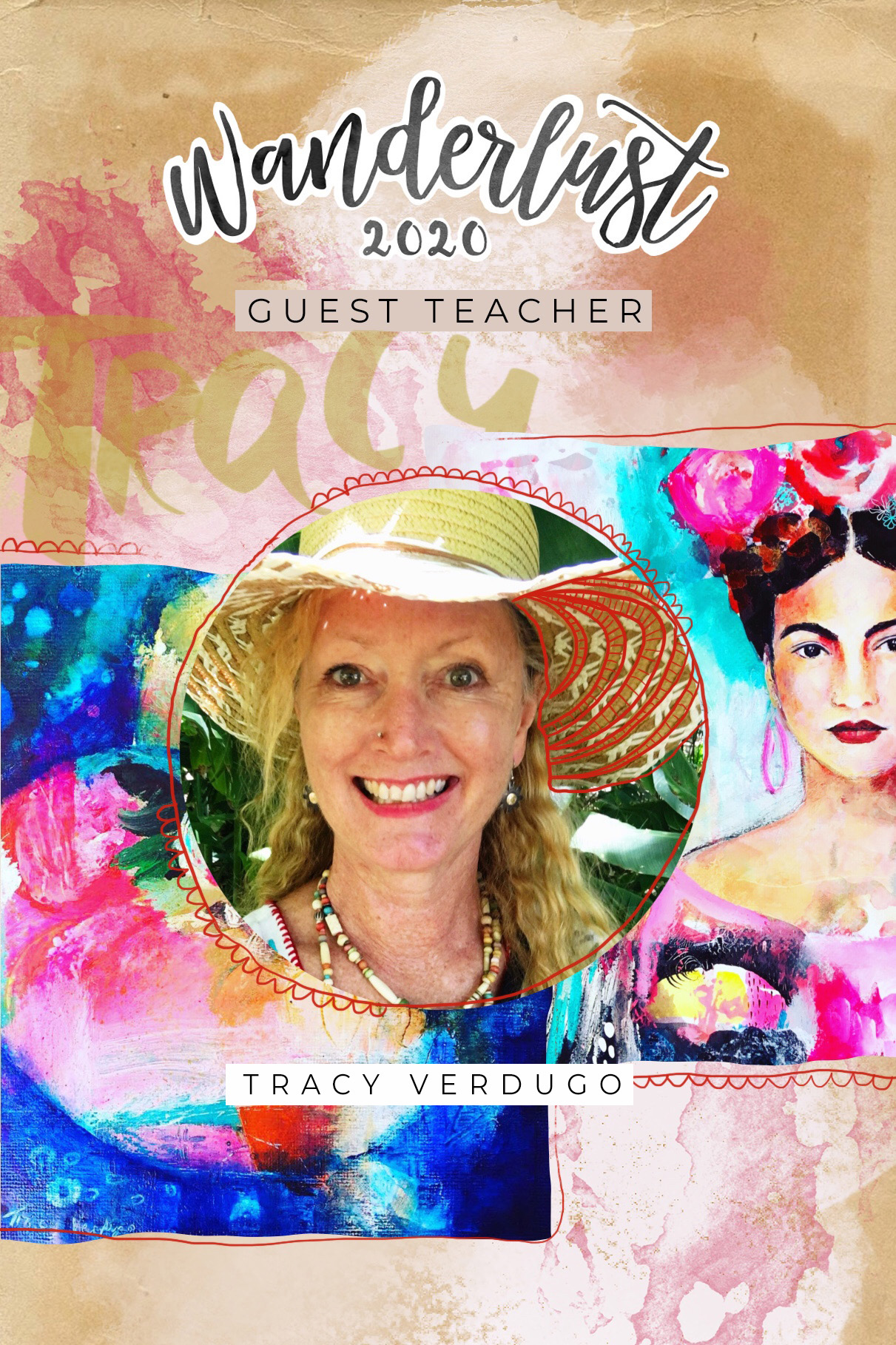 TRACY VERDUGO - GUEST TEACHER
If Tracy Verdugo was given the opportunity to coin a term for a new art movement based around what she teaches she might call it "Curiosity and Wonderism" or maybe "Loosen-upism" or "Endless possibilitism".
When she is not hanging out with her family in their artsy adobe home in a small village on the shores of Jervis Bay, Australia, or throwing paint around in her little purple studio in their backyard, you may find her painting beside thermal pools on an Italian island with an eager group of students, Aperol Spritz in one hand, paintbrush in the other, or sitting in a circle on St Pete Beach, Florida, listening intently as women share their stories of creative longing.
Tracy is an inspiration instigator, prolific painter, bestselling author and lover of the written word, smitten traveller and soaker up of all that is beauty-full. She teaches her Paint Mojo and other creative workshops all over this amazing planet and reminds her students of the wonder that already resides within them.
Her works are vibrant and filled with joy, inspired both by global travels and the simple beauty of the focused moment. Since 2000 Tracy has held 18 successful solo exhibitions and her works are held in collections both in Australia and internationally.
Mostly though, she is mama bear to two gorgeous, zest-filled daughters, Santana and Cece, and co-adventurer in life with her amor of 34 years, the talented and brilliant Marco.