It's Kasia and Jamie and we are happy to report that Autumn has arrived and if you are in the northern hemisphere we urge you to be totally enthusiastic about it. Let's put away those "summer is gone" thoughts for now and let's let all the autumnal wonderfulness in. This gorgeous season needs to be celebrated and every year I feel like it just doesn't get enough praise. We put on the gloomy faces presuming that now all there is to look forward to is the Spring. But hold on, is there a better time for art making than Autumn?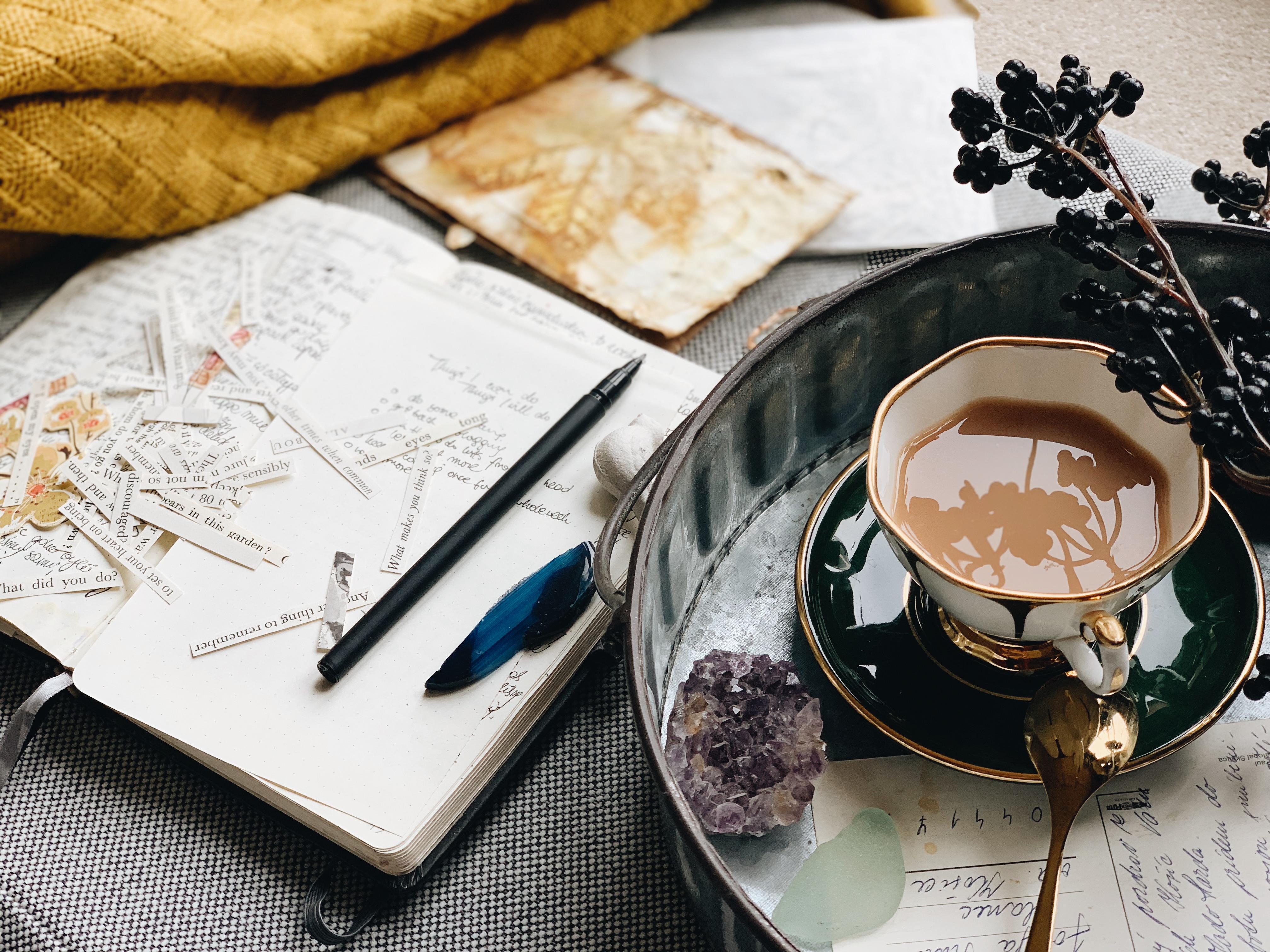 The evenings just got longer, everyone is fully entitled to at least three chai or pumpkin spice lattes per day, the world just turned into these delightful soft tones of grey, red, brown, green and blue, everything is quieter (unless it rains, oh how glorious can the rain sound!) and the aromatic candles are allowed 24h a day.

It's the perfect time for taking loving care of yourself and paying that extra attention to the needs of our bodies and souls. What about making a list of things that you would like to do for yourself this Autumn?
Make yourself a cuppa, light the said candle and have a good think. List the things that will make your heart feel warmer, inspired and rested. It doesn't have to be huge resolutions, but simple and achievable things that you usually put aside for later. But let me warn you, "go shopping" won't do. Try to dig deeper and find these few things that you really need to do in order to feel like yourself.
Here are a few of mine to give some ideas and encouragement. Also click here to download a free printable Autumnal sheet to fill in with your own resolutions. I want to...
Start blogging and writing again. This is a big one for me. I used to blog and write a lot in past and that brought me lots of joy. For quite a while now I dream of finding some quiet time out of the busy week when I can just write my evening away. I will attempt it and this is my highest priority. Want to check how I'm doing? Visit my blog: kasiaavery.com
Ban the fat and crazy "to-do" lists from my head. No more of this stuff, seriously. I have enough of setting myself high expectations as to what I achieve and how productive I'm going to be. It doesn't do me any good so I'm making a resolution that this Autumn I'll try to focus on one thing at a time.
Keep on cooking once a week. I love cooking and ideally I want to make and eat something different every day, but the lack of time and energy is killing me. Cooking three meals every day doesn't work so recently I tried cooking on Sunday for the rest of the week. I think that if it's planned well it works fabulously. We have homemade, delicious food that takes no time to get ready during the day - perfect.
Now it's your turn - do a list and make sure that you keep it handy all the time (maybe hang it above your desk) so it will remind you of the ways that you can take care of yourself.